"A failure to plan is a plan to fail". This quote by Benjamin Franklin is applicable to all eCommerce businesses and functional verticals. Especially, for those who are working on their eCommerce digital marketing strategies.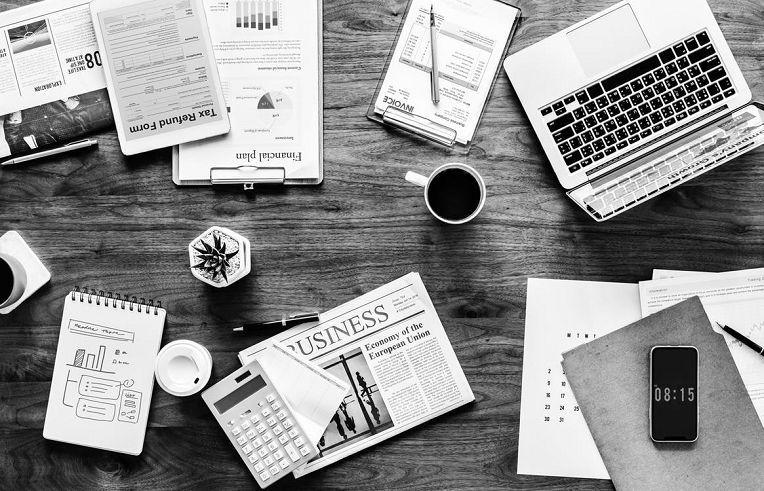 With competition levels steeply rising in the world of eCommerce, standing out, and building a dedicated base of customers is becoming a challenging task for eCommerce businesses.
This is even more relevant for new online retail businesses and eCommerce startups looking to forge their way through the market share of existing online businesses and build a loyal following amidst the bigger, more prominent players.
The best way to outdo the competition and get people to learn about your eCommerce brand and engage with it is to have a solid and unassuming eCommerce digital marketing strategy in place right from the get-go.
In this article, we're going to cover everything you need to know about eCommerce digital marketing and how you can do it right for your eCommerce business or online retail business.
What Is eCommerce Marketing?
There's no one size fits all approach to eCommerce marketing as there are multiple ways to go about doing it.
Having said that, there are a few common practices such as using eCommerce SEO to build a steady stream of organic traffic, using Facebook or Google ads to drive targeted traffic.
For your eCommerce business, you can use a mix of both paid and organic strategies in an effort to build both funnels and to figure out which strategy gets more people to convert into loyal customers.
Search your .Store domain now!

Search for your business name or category. cookies.store or summercookies.store
They Key Tactic To Get Your eCommerce Marketing Strategy Right
Ecommerce marketers can use social media, content marketing, search engine optimization, search engine marketing, and email campaigns to build traction and drive traffic to attract visitors and facilitate conversions.
The first step towards marketing your eCommerce business is to craft a bulletproof marketing strategy. This is a multi-faceted function because it requires a deep understanding of the various elements that go into building a solid eCommerce marketing plan.
Omnichannel Marketing for eCommerce
Modern customers prefer to bounce between channels when interacting with an online eCommerce brand to make an informed purchase decision.
Interactions with multiple channels bring confidence and trust in their connection with an online business brand.
Omnichannel marketing for eCommerce allows the building of highly personalized customer experience through a seamless message.
Omnichannel marketing involves using diverse marketing channels to serve eCommerce customers based on their behavior through the sales funnel.
For example, it is common for brands to send across emails and SMSs regarding promotions as customers shop in-store.
Other common causes of omnichannel marketing for eCommerce include warning customers about cart abandonment through FB Messenger and pushing retargeting ads for the abandoned product.
Thus, omnichannel marketing for eCommerce is all about creating a well-integrated start-to-end online shopping experience for customers.
It is the kind of marketing that combines multiple marketing channels to build a unified voice and brand for the eCommerce business.
How should you make the shift to an omnichannel marketing strategy for eCommerce?
Get the Whole Marketing Team Onboard to go to Omnichannel

Research About Your Customers

Target Your Messages Strategically

Test Rigorously
Examples of Omnichannel Marketing Strategy that Worked in eCommerce
1. Sephora
Sephora wanted to convert an overwhelming shopping experience into an engaging one through omnichannel initiatives.
The beauty giant launched a hit omnichannel strategy for their beauty insider and beauty bag members.
Their programs allow members to get insider news from the beauty industry, which is nothing less than a privilege for beauty lovers.
They can also access their beauty bag account from several channels like email, mobile app, in-store, and official website.
This omnichannel strategy focuses on boosting conversion rates through robust an email list for direct marketing.
2. Neiman Marcus
Luxury lovers who seek to shop in an elevated experience often log on to Neiman Marcus.
The company leverages analytics to create marketing strategies that get smarter with every engagement.
The online website remembers the size preferences from past searches and even uses advanced tech like geolocation to feature items in nearby stores.
Their email marketing campaign pushes forward new arrivals known to be of interest to the customer.
The official app even allows users to upload a photo of an item they like and view all similar items available in the store.
Digital & Social Media Marketing For eCommerce
Marketing, as an eCommerce business function, has evolved significantly over time. And digital marketing is at the forefront of eCommerce marketing evolution. Digital marketing is one of those terms we hear on a daily basis, yet some of us never truly know what it means.
What Is Digital Marketing for eCommerce?
Digital marketing is a way of marketing products or services that is done through the use of electronic devices and social media.
Most people usually associate digital marketing with online marketing, but in reality, digital marketing can be done not only online but also offline.
The most important element about digital marketing is creating a strategy that will help you spread the word about your products and services and increase your audience and your sales.
Search your .Store domain now!

Search for your business name or category. cookies.store or summercookies.store
Importance Of eCommerce Digital Marketing
Digital marketing enables eCommerce businesses such as yourself to come up with new and efficient ways to connect with your target buyers and a relevant audience.
In order for you to be able to attract a bigger following and increase your eCommerce business's sales, you need to start thinking like your target audience and ensure that all the content you post will be enjoyed by them.
Digital marketing will essentially help you come closer to your audience and attract more people to your brand without you having to invest too much effort.
This will happen as gradually, as you learn about your audience's preferences. It will help you determine what ingredients you need to mix to cook up a successful digital marketing strategy.
5 Tactics To Plan Your eCommerce Digital Marketing Strategy
1. Measure eCommerce content ROI & create purposeful content
Content marketing is one of the best digital marketing methods out there, and it'll continue to be in 2020. But what's important for your eCommerce content strategy is to ensure you are getting maximum ROI from your efforts.
Effective eCommerce content marketing can include original or guest blog posts, tutorial videos, style guides, and lookbooks, or regular newsletters. The key is to keep it visual, lively, and relevant. Stick closely to core brand concepts and you will find content marketing to be an effective part of your sales strategy.
It is important to quantify how successful your campaigns are in terms of content return on investment (ROI). If, for example, you spend $500 on eBooks, which in turn generates $1500 of revenue, you will have a 200% ROI on your content once you subtract its initial $500 cost.
ROI = ($1500gain – $500cost)
The calculation can vary depending on the product you sell, so be sure to look into how you can calculate content ROI and stay on top of your business finances. The best content marketing results are the ones that are quantifiable and bring you more sales in 2020.
2. Facebook is still your friend
Facebook still ranks as the top social media site, a status sure to continue well into 2019 thanks to its innovative ad platform that includes sequences and videos. Which is why it should be an integral part of your eCommerce Digital Marketing.
To capitalize on Facebook, you need to implement dynamic retargeting. Retargeting campaigns are a great way to close sales for your store and have been a massive sales driver for many new eCommerce startups in 2018.
Retargeting lets you sway the minds of potential customers who may have dithered from making a purchase before. You can also optimize your retargeting to appeal to individuals by investing in clever creative ads and ad sequences that build momentum.
Facebook also allows advertisers to implement split testing, a method through which you can create two different ads and see which one performs better. This approach allows you to tailor your campaigns to maximize the result.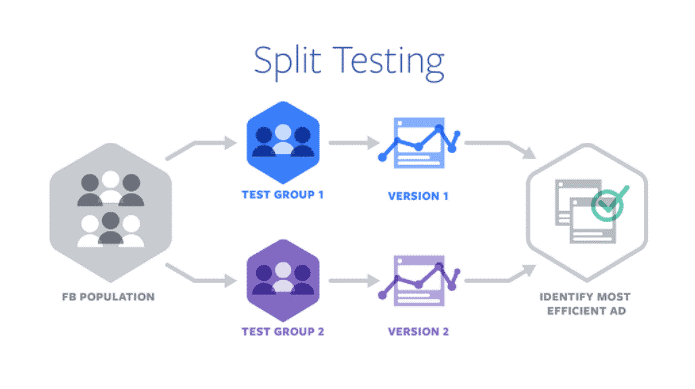 3. Diversify your social media strategy with UGC & influencers
Social media's popularity isn't going to fade away, and that's good news for marketers. Social platforms offer a diverse and ever-changing array of methods for businesses to market themselves, so you need to stay abreast of them to stay ahead.
Influencers and UGC (user-generated content) are both great social media strategies that need to be part of your eCommerce digital marketing plan.
2019 is still the year of the influencer. Use influencer marketing to generate hype around your product. This is a tactic employed to great effect by a huge number of brands, both established and independent (especially on Instagram).
Associating with influencers is an excellent way to get your customers to trust your brand. There are lots of influencer marketing platforms available for brands to connect with top bloggers and personalities. Be sure to do your research and take the time to find the best fit for your product.
Why not get your audience to engage with you through UGC? Engaging with customers through competitions or getting them to share their photos is a great way of boosting your brand image on the cheap.
The perfect example of this is Coca Cola's #ShareACoke campaign, which sparked 235,000 tweets from 111,000 users in 2014 alone. While this might not have necessarily increased sales immediately, it did a world of good for the brand's image.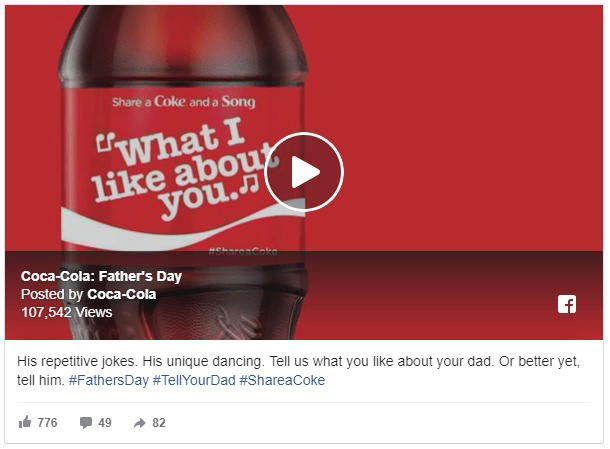 4. Personalize your eCommerce digital marketing strategy & go micro
Personalization is central to effective eCommerce digital marketing strategy. To engage customers, you need to make the most of customer data and analytics in order to provide them with an in-store experience they won't forget.
When it comes to data tracking — Google Analytics and Google Tag Manager are your friends. Analytics information can help you tailor your campaigns to a specific audience — even down to the individual level.
If one of your customer segments are in a specific area, try including references to relevant events specific to that area in your content campaign. Or offer localized and personalized voucher codes and deals. Your audience will appreciate your customized approach.
A personalized approach ensures a customer's experience of your brand is specifically tailored to their needs. It's also a cheap means of utilizing customer data which is already available to you (names, birthdays, locations, etc) and is easy to scale up as your eCommerce business expands.
Take advantage of mobile eCommerce technology to help get closer to your customers and intervene during crucial everyday micro-moments. Be ready with your store and roll out the red carpet with some awesome personalized content through mobile messenger and push notifications.
5. Simplify your strategy through automation
Make the most of automation in 2020. — it's an eCommerce gamechanger that will help you crush your margins. Thanks to recent developments in AI, more aspects of your eCommerce business can be automated — even beyond the confines of marketing.
Automating your eCommerce digital marketing strategy saves you a ton of time and effort, letting you more specifically tailor each campaign for different audiences and platforms. The key here is to figure out your core value proposition and then use that same messaging as you cascade it out across different platforms.
Automation also helps in dealing with cart abandonment prevention. With the average rate of abandonment exceeding 60%, it accounts for a huge segment of missed sales. However, automation tools can help you cut that figure right down by sending out compelling reminders and emails.
Personalize the chaser to the individual, and include discounts or offers to sweeten the deal, making this an even more effective tactic in your eCommerce digital marketing arsenal.
But remember, just because your marketing is automated doesn't mean your attitude has to be too. Keep your communications helpful and authentic, and you'll strengthen that valuable bond with your customer.
6 Ways Social Media Marketing Can Help eCommerce Businesses
It's not about having a presence on social media. It's about having an effective one. Online branding and social media go hand in hand.
Twitter, Facebook, Instagram, LinkedIn are now household names. When you have something to say, it's only obvious to go where your listeners are, and right now most of them are on social platforms, ready to listen.
For eCommerce businesses, effective social media marketing illustrates real substance in terms of revenue.
The social platform serves a brilliant opportunity for entrepreneurs to connect with their specific target audience, entice prospective customers, and continue delighting the existing ones.
Search your .Store domain now!

Search for your business name or category. cookies.store or summercookies.store
Now the question is, how do you make the most of social platforms to drive buyers to your website? Here are six ways to help you do that.
1. Don't Just Talk, Engage
One of the biggest advantages of social media that traditional advertising platforms don't offer is the ability to have a dialogue.
Use this opportunity to create meaningful connections with your prospects. On a platform that says 'social', it helps to be that by using slightly casual language.
Your readers want to know they are talking to a human, not a corporate robot.
Here are some ideas to keep your audience engaged:
Share photos of your company's daily activities. Perhaps some events you've attended, or your staff attending an event

Ask questions, conduct polls for your followers to participate in

Give value to your followers by sharing content (news, videos, etc) from external sources.
2. Harness The Power Of YouTube
YouTube is the second largest, most-visited website and can drive major traffic to your eCommerce site.
Also, since it's Google's company, the search engine indexes the videos on search results.
You can use the video platform to share videos of your products creatively and dominate the searches.
Invest in some high-quality videos that describe your product and also educate your users on how to use it.
Use the YouTube Playlists feature that helps keep visitors longer on your channel.
3. Integrate Social Media On Your Website
The easier you make your visitor's journey, the better your sales. Integrating social media sharing buttons on your website makes it easier for your visitors to share your products.
Be active on different social media platforms and create a community of loyal followers. In fact, use a blog and let content marketing add more value to your social media efforts.
Share content about the industry, your products, and the problems they solve, share tips, announcements, etc. this exercise helps generate traffic to the website.
Make social media work for your business by helping improve your brand and product exposure.
4. Pick Social Media Platform
Consider some of these platforms:
Facebook: The world's largest social network with a massive audience, Facebook is highly sought-after by online businesses.
A consistent presence of valuable content that includes informational content, industry news, product promotions, entertaining content can generate brand loyalty and increased sales.
Instagram: One of the mediums that highly impact eCommerce performance is product images.
Which makes this visually-dominated social platform a wonderful opportunity to spread brand awareness.
Consistently sharing product images and lifestyle images relevant to your brand and following certain platform related tricks like using hashtags can go a long way in expanding your audience.
Twitter: If done properly, engagement and popularity on Twitter can be just as good as Facebook.
It involves staying consistent and actively engaging with users. Use this along with the content marketing strategies employed on Facebook and reinforce your presence on other social media platforms to create awareness among new prospects.
LinkedIn: Most well-known as a professional networking platform, LinkedIn enables individuals and companies with similar interests to connect.
This platform can be best leveraged to share thought leadership content, particularly for high-AOV brands.
CEOs and many executives share business wisdom and industry-related content to indirectly promote their company.
Search your .Store domain now!

Search for your business name or category. cookies.store or summercookies.store
5. Optimize Your Posts
Just like your website, to perform better on social media, you need to optimize your posts.
This is similar to SEO. Use keywords in your post that will help you increase your visibility.
Do thorough keyword research or take a page from your SEO efforts and use those posts to increase visibility and conversions.
This exercise will help you reach an even larger audience than your current followers.
It is important to note here, that every platform has different functions and ways in which you could optimize but, in general, go with your basic desired keywords and you should be good.
6. Share Reviews
This is like letting your customers do the marketing for you. Nothing sells a product faster than a positive review from a happy customer. This is similar to word-of-mouth.
People are more likely to trust an objective third party that says your product is the bomb compared to the brand tooting its own horn.
Here are some tried and tested ways to get reviews:
Simply ask: One of the best ways to get something is to ask for it. However, be careful of Google's guidelines that say you can't offer any incentives in return.
Point of Purchase (POP): Create POP displays that ask buyers to review you. Identify places where customers come in contact with your product and then tactfully place these POPs there.
Send them emails: When a customer buys your product, send them an email a couple of days later asking them to review it. This email marketing technique can help you gain reviews.
Ask the loyal: If a customer buys from you more than twice, chances are they like you and will be happy to leave you a positive review. Reach out to them.
Leverage social: Since we are on the topic, this is obvious. Ask your followers on social platforms if they would be kind enough to leave you a positive review.
Thanks to the wealth of tools and strategies available, engaging with people on social media has become a lot easier.
With marketers giving more emphasis to conversions, we're discovering tactics and tools that put us in a position to yield meaningful social interactions.
Email Marketing For eCommerce
Email marketing is a fundamental component of eCommerce marketing. This is probably why investing in a solid e-mail marketing strategy is the best way to go.
"The simple truth is that email is how modern business is done". – Neil Patel, founder of Crazy Egg and Hello Bar.
Email marketing is undoubtedly one of the most effective ways to drive sales.
The biggest advantage – you already own your audience. They opted-in to hear from you.
In fact, 81% of online shoppers who receive e-mails based on previous shopping habits are at least somewhat likely to make a purchase.
Another factor to consider here is that apart from that inbuilt email delivery cost, it doesn't cost you anything extra at all.
Surprisingly, for every $1 spent, email marketing generates $44 in ROI.
These stats just go to show that email is a high priority channel for all established and new businesses alike.
Globally, 30% of marketers cite email marketing as having the highest ROI and why not, over 61% of consumers prefer to be contacted by brands through email.
Is there a downside? Well, of course, there is.
Considering all the above-cited advantages, you might just be a tad bit tempted to get a little sloppy and shoot those e-mails at every given opportunity.
Hold your guns for it turns out that to get the best out of email marketing, you need to have a sure shot strategy in place.
A list of subscribers and email content without an e-mail marketing strategy is 'not worth a tinker's dam'.
To help you get started, here are 13 tactics for you to build your email marketing strategy for your online store.
What Is An Email List?
An email list, as the name suggests, is a list of email addresses that you have permission to send emails and email marketing campaigns. Users may subscribe to email lists for the following and more reasons:
New Product Notifications
Offers & Discounts on products they like
Discount Codes
Newsletters/updates about the company
Email List Best Practices
Before we venture into the methods by which you can gather data for your email list, it is important to establish three best practices to keep in mind while building an email list:
Quality: The information in your email list should be genuine and authentic. As far as possible, do not purchase an email list
Relevance: Your email list should consist of people who have either consented to receive emails from you, or those you know would be genuinely interested in purchasing your products
Quantity: After the first two criteria are met, you can focus on growing the numbers on your list and building an exhaustive list of authentic email addresses
How To Build An Email List The Right Way
Your eCommerce store or website is an important online property that belongs to you and is under your direct control.
It is the single most crucial asset which can give you maximum insights into your existing and potential customers – who they are, their preferences, habits, purchase behavior, etc.
When someone makes a purchase on your eCommerce store, they are far more likely to provide you with their email addresses, thus giving you the perfect platform for collecting authentic data.
The only foreseeable struggle with building an email list through your website data is the apprehension of a visitor to share their email address.
Additionally, it is even more difficult to collect the email addresses of those who have visited your eCommerce store but not made a purchase. The main objective of email lists is to target this demographic.
We explore some ways in which you can convince them to share their email address with you.
Search your .Store domain now!
Search for your business name or category. cookies.store or summercookies.store
1. Display Website Pop-Ups
While pop-ups have earned a bad name for coming across as annoying and hampering eCommerce user experience, statistics show that pop-ups have the potential of delivering an 11% conversion rate when done right.
Pop-ups are a great tool for collecting email addresses from users who have visited your eCommerce store but are navigating towards the 'back' or 'close' button, thus leaving you with not much scope of interaction.
Context is key here. By offering customers something that appeals to them in terms of exclusive offers in lieu of their email address is an effective way of collecting email addresses helping you build your email list.
Exit-intent pop-up or simply exit pop-ups appear when a visitor is navigating off the page moving towards the back or close button. On desktops, it is triggered when the mouse is moving towards the back button and on a mobile phone, when the visitor clicks on the back button.
There are targeting options available where you can disable the pop-ups for those who have earlier purchased from your store or whose information is already on your email list. This helps in only collecting data from new customers, leading to a valuable addition to your email list.
Discounts or freebies are powerful tools for engaging customers however you might end up with a lot of email addresses that may not be relevant.
To overcome this, you can follow the example of SockFancy and offer a gift with purchase on subscribing to emails.
2. Include Email Sign-Up Form
Email sign-up forms can be in the form of pop-ups or part of the page where visitors will navigate only when they are looking for additional information, such as the footer of the page. You can test small offers through the email sign up form.
The conversion rate might be low for the locations but over time, it will help add to the email list. The content of the signup form must be relevant to what the visitor might be looking for, such that they would be willing to subscribe.
For example, Beardbrand has added an email sign-up form just below the section describing their journey and milestones. It talks about the kind of value the subscribers can expect to receive not only in terms of updates and offers but in learning the art of grooming.
3. Collect Data At Events
Even if you are an eCommerce brand, temporary pop-up shops or participation in flea markets and events is a great way of promoting your brand. It helps customers interact with your brand and experience your products first-hand.
Events and pop-up stores are also a great way to gather data and build a strong email list of potential customers who may or may not have made a purchase at your store but have shown interest in your products.
You can give them a small physical form to fill up or keep an iPad where they can fill in their details or display something as easy as a QR code to visit your website / download your app.
If possible, segment your email list by events that will help you send personalized emails.
4. Embed Call-To-Action Button On Social Media
According to a study done by SproutSocial, a major reason why people follow brands on social media is that they are interested in their product and would like to stay informed about them.
Also, people are more likely to buy from eCommerce stores and retail brands that they follow on social media.
Building your email list through social media is therefore effective, as you know that your followers are invested in your brand and willing to make a purchase from you.
You can add call-to-action button or a direct link to subscribe to your email list in the post copy or even your bio. Bear in mind that not all social media platforms are link-friendly, but there is always a way to work around it.
Instagram, for example, does not let you add a link to your image and video posts. You can only add one link in the bio of your Instagram profile. However, there are services available such as Linktree which let you add multiple links in your Instagram bio.
5. Use Chatbots
Chatbots are another great way of collecting email addresses from visitors to your website. Visitors who interact with chatbots on your site are usually looking for some answers and you know that they are engaged.
You can also utilize the chatbots to give special offers to visitors and encourage them to share their email addresses.
6. Share An Engagement Questionnaire
For any market research survey or dipstick study that you conduct, add a field of including email addresses of responders and add a note at the end which lets them know they're being added to your email list.
Google Forms or Typeform are easy to use tools for creating surveys.
You can promote your forms via your existing network of followers on social media, through your website pop-ups, friends and family. You can also offer a special discount to those who are filling your questionnaire.
7. Offer Downloadable Content
While this is more effective for business websites or blogs, offering valuable downloadable content in lieu of email addresses is an effective and prevalent way of collecting email addresses.
It could be how-to content, DIY content or a free guide in the form of additional tips and tricks around your products that you have specially created.
You can give short glimpses of the content that will be available for download and add a link at the end "Read More" which then asks visitors for their email id where the content will be sent to them.
10 Tactics To Help You Build A Solid Email Marketing Strategy For Your Online Store
1. Know Your Audience
Every customer is different. Then why send the same email to every customer on your mailing list?
At the least, the email needs to be in line with their interests. And this can be achieved only when you know and understand your target audience.
What does knowing your target audience mean?
Simply put, it means creating buyer personas and segmenting your email list into smaller and more specific sub-groups.
Marketers who invest in and used segmented campaigns witnessed a  whopping 760% increase in revenue.
Segmentation of the mailing list based on factors like age, gender, demographics, and buying habits helps you send relevant emails.
This, in turn, improves your sales in the long run.
Search your .Store domain now!

Search for your business name or category. cookies.store or summercookies.store
2. Let Your Subject Line Do The Talking
The subject line of an email is like a movie trailer; make it interesting enough for your consumers to want to watch the 'whole movie'.
Even statistics show that emails with personalized subject lines are 26% more likely to be opened. 
Note that a good email marketing strategy is dual fold and focuses on the subject line along with the timing of the email.
Subject line

– Yes, the subject line is the most important factor in deciding the success rate of your email.
Hence, trying to be clever is a good idea but being clear in communicating the essence of your email is a better idea. Keep it short and to the point.
Timing

– 'When' you send the email is as important as 'what' you send.
Research shows that the best day for a high open-rate is Thursday, while Tuesday is the best day for click-through.
However, these are just statistics and there's 'no one-size-fits-all'.
Work out an email marketing strategy that gives you a framework for your customer's habits and schedules.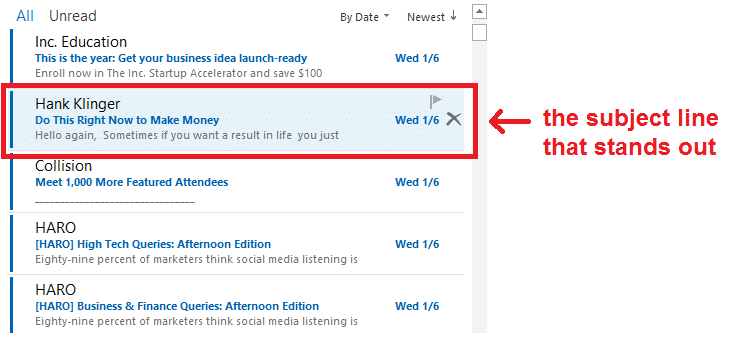 3. Indulge in email segmentation
Email segmentation sounds complex, does it?
email segmentation is nothing but breaking up your email subscribers into smaller targeted groups based on factors like customer type, location, level of engagement, and interests.
The trick here is to send personalized emails to the 'right people at the right time'.
Segmentation ensures that each email has a better chance of a conversion.
Three main categories of email that you can send to these segments of customers are:
4. Send personalized emails
Email is all about building relationships and what better way to build those relationships than 'personalization'.
In all probability, your customers will appreciate the email more if it is personalized for them.
emails with personalized subject lines are 26% more likely to be opened and deliver 6x higher transaction rates.
You can try and create a unique email for each customer based on past browsing behavior on your website.
There are marketing tools available that allow you to automate and personalize those marketing campaigns.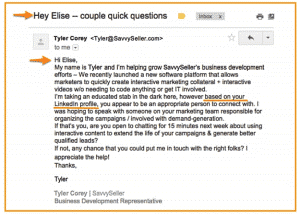 5. Include call-to-action buttons
Between all these email marketing strategies and the pressure to get those conversion rates, it's easy to lose track of the actual intention of your email.
Is your email drawing attention to an abandoned cart or new offers & discounts or displaying a whole new array of products?
You can increase engagement drastically by employing a dedicated CTA button. 
A strategy that creates urgency for action with words and phrases like "limited time", "limited number", "Buy now" or "Get started today" improves click-through rates.
Including a call to action button can increase conversion rates by as much as 28%.
6. Encourage user-generated content
User-generated content or UGC simply means any form of content that is created by consumers and is publically available to other consumers.
This email marketing strategy gives customers a chance to interact directly with the brand and influence other people in the process.
Aerie, a swimwear and lingerie brand that fights against the heavily edited and photoshopped images encourages UGC with the hashtag #AerieReal.
Consumers are asked to submit their untouched images with the hashtag and a dollar is donated to the National Eating Disorders Association for every photo submitted. (Additional motivation, right?)
7. Promote social sharing
Integrating your social media strategy with your email marketing strategy can work wonders for you as it will help to add to your existing email database.
Posting something on your social media handle or advertise with a signup form. In both ways, you end up with a refreshed subscriber database.
You can also encourage your contacts to share a version of your message directly on their social media handle.
This will increase your social media following. But ensure that your emails should be so designed for a direct share.
Doing this will increase your exposure and engagement.
8. Ask for referrals
As Mark Zuckerberg says, "People influence people. Nothing influences people more than a recommendation from a trusted friend. A trusted referral is the holy grail of advertising".
Try and exploit this strategy to your advantage by encouraging satisfied customers to refer you. Give them an incentive to do so.
Consider the referral strategy of Airbnb; you earn $ 25 when your referral takes a trip and $75 when they rent out their place on Airbnb's website. Win-win for all!
9. Be consistent
Turns out there is no rule-book on how often to send out those marketing emails.
Studies show that sending out four emails every month increases the chances of consumers opening more than one email significantly.
The key takeaway here is to 'be consistent'.
You can create a poll to ask your consumers how often they want to hear from you.
Give them the power to be in control and then design your email marketing strategy keeping that response in mind.
10. Create upsell campaigns
Selling to existing customers is the easiest and most cost-effective method to boost sales.
Repeat customers are less influenced by competition, have more faith in your brand with shorter buying cycles, and are not that price sensitive.
The entire 'upsell' campaign is all about 'targeting'. Promote your entire range to existing consumers with an understanding of their purchase history; a powerful intelligence that you can use to your advantage.
11. Ask for a review
We are already well acquainted with the importance of word-of-mouth advertisement especially for an eCommerce business where products are sold on merit.
Hence assurance from an existing customer is a persuasive influencer. Try and include automated and direct links in your emails to the review sites.
Direct links will most likely sway satisfied customers to submit a review.
12. Follow up for abandoned carts
Numerous shoppers are in the habit of abandoning carts and not completing the entire purchase process.
Sadly, a very common phenomenon in the eCommerce sales business!
But does it mean that those sales are lost forever?
Well, not really. If you've collected the email addresses of those customers earlier on in the process, you can get them to complete their transaction.
You can send out an email with a special offer that sways the customer to complete that purchase.
Throw in a free accessory or eliminate the shipping charges or double up with future discounts.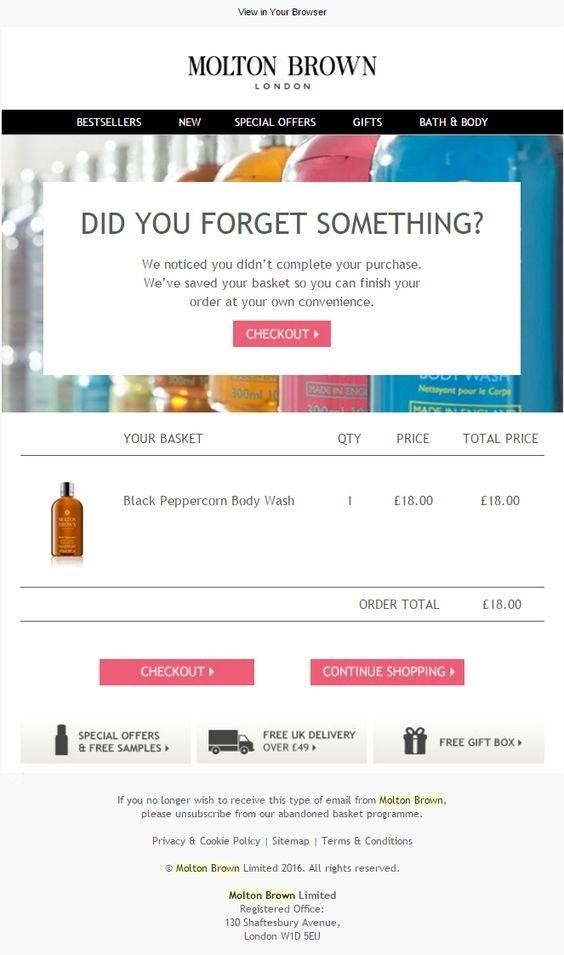 13. Continuously update your email list
A stale and outdated mailing list is almost as good as not having an email list. It is very important to update your list with new subscribers.
Imagine the revenue you can lose if your list is not updated to include these new customers.
Also, numerous email addresses are abandoned every year. These addresses need to be removed from your database as sending out emails to these people is futile.
It is only going to cost your business with no hopes of any revenue generation.
Email marketing should be a top-level priority to maximize eCommerce sales.
Not taking advantage of these eCommerce marketing strategies will surely cost you a lot of customers.
Start by sending simple emails to all the customers on your mailing list.
Once you get the hang of it, experiment with other email marketing tips discussed above.
Remember, these tips won't boost your sales overnight. It is an uphill journey and will start to take shape with consistent efforts.
Your email marketing campaigns will surely prove profitable if you take care of the little details and proactively engage in it.
Content Marketing For eCommerce
Let's talk about content marketing and its pivotal role in eCommerce digital marketing strategies.
Many eCommerce business owners, entrepreneurs, and marketers undermine the true potential of content marketing and the wonders it can do to drive traffic to their online store.
As an eCommerce entrepreneur, you already know that conversions are the key to survival.
This means you need to drive more traffic to your online store. Then you need to convert your traffic into loyal customers.
The best way to build traffic for your online store and subsequently convert that traffic into a loyal customer base is to include content marketing as part of your overall marketing strategy.
Don't believe us?
According to a recent survey, content marketing generates over three times as many leads as outbound marketing and costs 62% less.
That's a significant difference!
So, without further ado, let's dive into understanding the essentials of eCommerce content marketing.
What Is Content Marketing?
According to the Content Marketing Institute:
Content marketing is a strategic marketing approach focused on creating and distributing valuable, relevant, and consistent content to attract and retain a clearly defined audience–and, ultimately, to drive profitable customer action.
Typically speaking, content marketing is a marketing strategy undertaken by businesses that involve the creation of content in various formats like written articles, blogs, newsletters, videos, images, infographics, podcasts, ads, and so on, that are targeted towards a certain audience group with the aim of converting them into loyal customers.
The idea behind eCommerce content marketing is to connect and engage with your target audience by creating and sharing relevant content that adds value to their life.
This will help to increase your online store's exposure, thereby driving traffic to your store which will eventually lead to conversions.
What Are The Various Types Of Content Marketing?
When it comes to eCommerce content marketing, you have a plethora of options.
From starting a blog to Instagram marketing to video creation, the options are plentiful.
However, the penultimate goal of eCommerce content marketing is to increase conversions and grow your business.
This means you need to understand your customers' needs, study your overall target audience, see what your competitors are doing and then indulge in content creation.
Recently, HubSpot put together a list of content formats that businesses should indulge in.
Here's the list: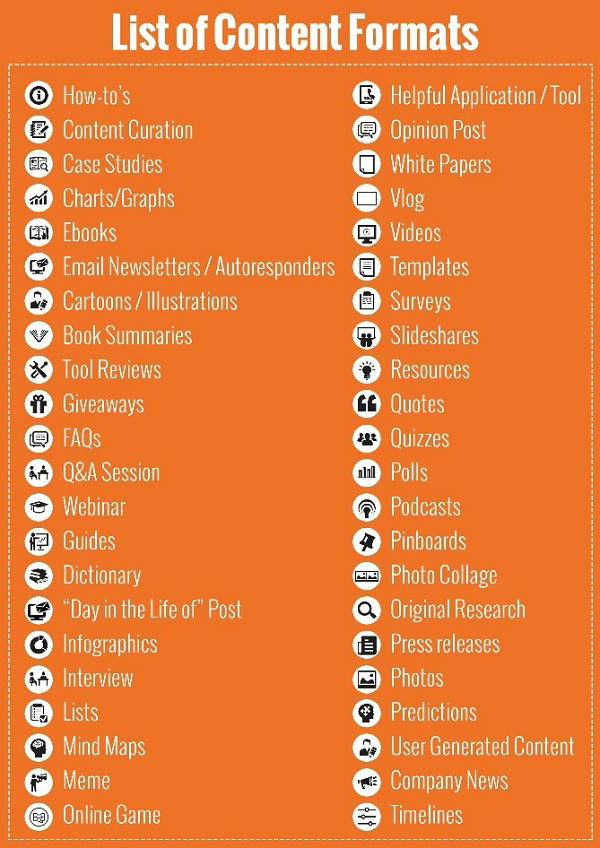 Why Should You Consider Content Marketing For Your eCommerce Business?
We've established the importance of content marketing above, but why should your eCommerce business use it? What makes content marketing worthwhile?
Well, here's why:
Informative and value-driven content that is high-quality in nature will enable your eCommerce brand to actively engage with potential customers.
Insightful content such as fashion tips or DIY tricks or guidelines will help your target audience connect with your online store.
As a new eCommerce startup that nobody knows about, sharing well-crafted content that talks about who you are, the products you offer, and what your brand stands for is a great way to build trust in your niche.
Active engagement and trust-building will catapult your eCommerce store to rise above the rest and build credibility in the minds of your target audience.
Value-driven content coupled with a solid content marketing strategy will enable your eCommerce website to come across as an expert in your niche.
This will do wonder to increase your brand awareness and to build credibility.
5 Reasons Why Content Marketing Is Not Working For Your Ecommerce Business
Content marketing is one of the smartest investments a company can make. It is simply a strategic marketing approach that focuses on the creation and distribution of consistent, relevant, and valuable content to attract as well as retain a well-defined audience, with the goal of converting them into long term customers.
The idea is to pitch useful content, instead of products and services to solve their problems.
Why every organization runs after it is because it can increase business' traffic and also attract high leads. However, even after building a content marketing strategy and trying to execute it, many eCommerce businesses don't achieve the desired results.
It's not that content marketing does not work for them. In fact, the concern is that a few basic content marketing mistakes can reverse the whole impact that you could have otherwise achieved.
This guide is to outline 5 content marketing mistakes that you can avoid to achieve great results:
1. Ignoring SEO
One of the main reasons why content marketing does not work is because eCommerce businesses ignore Search Engine Optimization or SEO. With the help of the right keywords and other SEO techniques, you can optimize your blog for SEO.
People keep looking for something or the other online and if you have a lot of content and it is optimized for SEO, your blogs would rank higher in their search results, hence attracting a lot of traffic.
Search engines like Google have the capacity of driving more traffic to your site than through any other marketing channel.
Some of the ways to optimize your content for search engines are:
Focus on keywords –

The right use of keywords is highly important for your content's SEO. If you use too popular keywords, your content is going to drown in the huge sea of content online. And if your keywords are too unique, no one would be searching for them, again defeating the purpose. You need to use keywords from the best of both worlds, that are popular up to a limit but also fall into a particular niche

Right Headings –

Most content writers feel that headings don't play an important role in SEO, but that's not the case. In fact, using long-tail keywords in headings sometimes can do wonders for you.

Length of the post –

The length of your post is also important in determining whether it would rank higher in SERPs or not. Too long or too short articles aren't preferred by

Google

. It should be brief and yet not too brief to compromise on information and its quality.

Location –

If your products or services are concentrated on a particular region, use location-based keywords, to rank higher in local searches.

Backlinks –

Make sure you add backlinks to external sources or even other content pieces from your blog, as it helps google in interpreting your content and ranking it higher.
Search your .Store domain now!

Search for your business name or category. cookies.store or summercookies.store
2. Wrong Target Audience
Writing to the wrong target audience is a huge content marketing mistake that companies usually make. They work really hard and write great pieces, but only to see their content marketing fail. You need to ask yourself three questions:
Who is the target audience for the post?

What to include in the post for them to find what they are looking for?

What value does it provide to them?
By answering these questions, you will be able to understand whom to target with your blog.
Build a buyer persona for your company. It is a profile depicting your ideal customer after researching your market and existing customers deeply.
It describes who your ideal customer is, what their day is like, what kind of challenges they face, and how they make decisions.
Once you have a buyer persona, you can plan your content to suit their requirements specifically.
3. Not Promoting Your Content
Content marketing doesn't simply stop after the publishing process.
Many eCommerce businesses focus on creating a lot of content, and publish it, but fail to realize that they also need to put it out in front of the audience repeatedly to create an impact.
Content marketing does not work without promotion, even if it's the best piece of content you have ever written.
It's like manufacturing products but not selling them. Just like the products won't sell on their own, neither will your content.
Maybe a few dedicated people read your content irrespectively, but to retain the whole of your audience and for it to get bigger, you need to promote it.
In fact, marketers should spend more time promoting their content than in creating it.
One idea is to follow the 80/20 rule, where you spend 20% of the time in creating content, and the other 80% to promote it.
Another idea is to have two dedicated teams for the respective tasks. One team will solely focus on creating content and the other will focus on promoting it.
4. Not Creating Reusable Content
Content creation is a tedious task and highly creative. If you don't keep coming up with good ideas for your content, it is going to gradually start to bore your audience with its low-quality and monotony.
It's understood that not every content piece would work well with the audience.
On the contrary, sometimes, there will also be some content pieces that your audience would simply love more than the other. The idea is to identify such content that worked so well with your audience, that they even engaged a lot with it and shared it with their friends and family.
Once you have identified such content pieces, you can repurpose them and reuse them through different platforms.
For example, a blog post had worked really well for you in the past. What you can do is, create a video on that topic, and publish it on your video marketing platform like YouTube channel.
Since the blog post had worked really well, chances are that even your video would give you great results. The second benefit is that you can cross-promote both forms of content by adding respective backlinks.
5. Not Reviewing Performance
The biggest content marketing mistake marketing teams make is failing to review the performance of their efforts. Without looking at the data, there's simply no way to know what is working and what is not.
For instance, if something is performing better than you expected, you can find ways to repurpose it or focus more on that specific tactic.
On the other hand, if something isn't working, you can start focusing on a different initiative that adds more value.
You can do that every quarter, or even in one or two months. What is important is to identify both the well-performing and low performing areas.
Engagement metrics like social media shares, page views, and the time the visitors spent looking at pieces of content can help you improve your content marketing campaigns continuously. 
There are many reasons why eCommerce businesses fail miserably at content marketing, but if you look closely, the problem is never usually that big.
It just requires identifying the areas that can be worked upon and then fixing them. Make sure you are researching your target audience well and creating content that suits their needs.
Optimize your content for SEO so that it actually shows up when people are looking for relevant material. Don't just create your content but also promote it. Repurpose content that has performed well in the past.
Lastly, keep reviewing your performance, and take steps to make it better every time.
Search your .Store domain now!

Search for your business name or category. cookies.store or summercookies.store
eCommerce Content Marketing and SEO
Content marketing is the basis of organic marketing. In fact, content marketing goes hand in hand with eCommerce SEO.
For starters, search engines love new content. From blogs to customer reviews to FAQs, high-quality fresh content that is periodically published is great for SEO.
So, when you regularly publish well-crafted blogs that are rich in keywords, search engines will push your website to rank higher for those particular keywords.
Another advantage of blog creation is down to the fact that you can use long-tail keywords and attract backlinks for your posts.
A major chunk of SEO depends on backlinking and the use of relevant longtail keywords.
Creating blogs gives you the flexibility of ranking for a host of relevant phrases or longtail keywords that you wish to rank for.
Depending on the nature of your eCommerce business and your target audience, perform keyword research to understand which keywords you want to rank for, and which ones are doing well in your niche.
You can use tools such as Google Keyword Planner, SEMrush, Ahrefs, to name a few, to search for relevant keywords.
Creating blogs also gives the opportunity to interlink your own posts and attract backlinks from credible websites.
Receiving backlinks on anchor texts from high-ranking websites gives search engines a positive indication of the authenticity of your eCommerce website.
How To Get Started With Content Marketing For Your eCommerce Store?
1. Don't get confused
As shown above, there are numerous content formats and platforms to choose from. However, there is no point in trying to indulge in all of them.
The best way to do get started with eCommerce content marketing is to pick one or maybe two content formats and then to diligently stick to it.
Your content marketing format will depend on what your selling, who you're selling it to, and where you are selling it.
Don't know how to edit videos or go about YouTube, no problem! Start a blog and periodically write about things your customers want answers to.
As seen above, long-form content has a great impact on SEO and so writing two to three articles a week will do wonders for your content marketing agenda.
Don't know what to write about? Simply see what your competitors or industry leaders are writing about.
Repurpose it, add your own flavor, and publish it. You can even turn a YouTube video or podcast into a blog post.
2. Get instructional
The best way to drive engagement is to offer your customers a handy guide about how to use your products or how to go about putting together the products you offer to create a stellar ensemble.
The agenda here is to educate customers and instruct them on how to make the most of your product. It shouldn't be mixed with the motive of selling them something.
A great way of creating instructional content is to write informative blogs or FAQs and clubbing them with visual elements.
A short video or infographic or instructional image is a great way for consumers to understand how things work and how they can assemble your product or how a particular piece of attire will look when clubbed with other clothing.
Such engaging content will prompt people to share it with their network of people which means your brand will reach new people and this will garner backlinks to your eCommerce website. Talk about winning big!
3. Offer vital information
FAQs aren't exactly content marketing tools, but they can make for a great avenue to be used as content formats.
FAQs are great for answering common questions pertaining to your product and to answer general queries.
It works as a resource center for customers to find answers to their queries in a timely and orderly fashion.
Optimize your FAQs with relevant keywords and you'll have a winning recipe!
Are you offering a product? Think about the following questions:
Do you deliver to my location?

What if the product is damaged or broken?

What's the difference between product 1 and product 2?

What are the shipping costs?

How long does shipping take?

What is your return policy?

Can this product be repaired?

What is the warranty?
4. Share customer testimonials and case studies
Getting your customers to share their positive experience is the smartest content marketing format.
Sharing this on your eCommerce store will give potential customers a positive indication about your products and this will help to capture their trust in your brand.
Furthermore, testimonials are authentic, have no cost attached to them, and they do exceptionally well to build social proof for your brand and your products.
And if you've received great product reviews or comments on social media in the past, then you should reach out to these customers and get them to give you a testimonial that you can showcase on your website.
Additionally, including case studies will help prospective customers make a clear purchase decision.
Search your .Store domain now!

Search for your business name or category. cookies.store or summercookies.store
Be sure to highlight how your product or service helped customers address their needs and requirements.
This way when other people have similar needs, they will have a better chance to understand how your product works.
You never know, they just might buy from you!
5. Reveal tricks, tips, and hacks
The best way to get eCommerce content marketing to work well as an exceptional engagement avenue is to write about things that your customer can connect with and learn from.
This includes revealing wacky new ideas and novel applications of your products and how your customers can make the most of it.
Revealing smart hacks, valuable tips, and nifty tricks for your customers to learn from is a great way to entice people to read your content, engage with it, and even buy from you!
6. Share roundup posts
Just like FAQs, round up posts make for a centralized resource center that provides all the information your readers are interested in.
And let's face it, people love curated posts.
Topics such as '10 influential eCommerce business owners share their top marketing tips' or '10 eCommerce blog posts you need to follow right now' or '20 social media marketing statistics every marketer should know'.
This type of content does well and is easy to combine since most of this content is already out there and you're simply curating them together.
7. Get guest bloggers to write for you
If you're one of those eCommerce business owners that doesn't have the time to create content or doesn't have the attribution to create content, you can simply get other people to do it for you.
Yes! You can get guest bloggers to create content for your eCommerce website without any cost attached to it.
However, there are times when you may have to include backlinks to their website or write a post for them in exchange.
HARO is a great tool to reach out to people and get them to write for you.
On the flip side, you can hunt for eCommerce experts and do an interview with them.
Their valuable insights will make for an interesting read and when they share the interview with their circle, it will help you rank higher and build a following.
Alternatively, you can create a dedicated page to invite guest bloggers to write for you. Include the terms, conditions, and requirements for your blog.
People willing to write for you will reach out to you and you'll be spared the effort of creating content all by yourself.
8. Get influencers on board
Influencers are individuals who have a large-scale appeal and a massive list of admirers with your target audience.
And the world of eCommerce and fashion is sprawled with influencers galore.
To appeal to a large chunk of your target audience, you can collaborate with an influencer to write a blog for you or feature your product on their YouTube or Instagram page.
Carefully chalk out which influencer you want to work with and what you want to offer them in exchange for it.
You may even have to simply pay for the shout out or offer a sponsorship.
The first step is to simply start with content creation. You will learn and evolve as you go deeper into the process.
Once you get the hang of it, you should invest your efforts towards developing a well thought out content marketing strategy.
This strategy will help you plan your overall content goals and will also help you to measure and analyze what topics are working well and where you need to tweak your approach.
Video Marketing For eCommerce
If you're a business, you must get comfortable with video marketing. There's no other way to put it – video marketing is the future of immersive marketing for eCommerce and retail brands.
Let's face it, people are doing a lot more research before making an online purchase than they ever did before.
This isn't just in terms of major purchases like jewelry online or even high-end luxury items. Even for simple purchases like a pair of flip flops or a set of new headphones, people want to be absolutely certain that their hard-earned money is going to the right place.
The thing is, they don't just want to read about products before they make a purchase. They want an enhanced experience with the product.
This is a large part of the reason why including even one video on a landing page has the potential to increase that page's conversion rate by as much as 80%. 
Video isn't just compelling – it's emotionally engaging in a way that a lot of other types of marketing content just can't match. This is why it must be an integral part of your eCommerce marketing strategy in 2020.
According to a survey of more than 160 U.S. business owners, 87% are happy with the ROI it brings them.
Not only is video driving more sales, but for a majority of them, video content is "very or extremely important" for their 2019 marketing campaigns.
In this post, we'll shed some light on the main benefits of using video marketing as part of your overall marketing strategy. We'll also touch upon how you can use videos to easily get your message across and make your brand more human.
First, let's see how eCommerce businesses can take advantage of video marketing to transform into a formidable eCommerce brand.
The Benefits Of Using Video Marketing
In the world of eCommerce and small businesses, competition is more fierce than ever. Hitting the jackpot involves truly capturing the attention of potential customers, which is not an easy task anymore—especially if your marketing efforts only leverage text.
Humans are visual creatures, so no wonder video content has become a crucial part of any marketing strategy.
Here are four benefits small businesses get from using video marketing.
1. Boost Engagement & Drive Sales
There's a reason why eCommerce businesses use video marketing to attract, convert, and retain new customers – it really works.
If you don't believe us, check out the following stats:
2. Build Trust & Connections
No one likes stuffy, lifeless messaging. The advantage of using videos is you can put a face to your brand, which helps you form a more personal connection with your audience.
It's also a way of building trust in your eCommerce brand, which helps potential customers feel more comfortable when making a purchase.
Not only will video marketing help you get closer to your customers, but it will also help you reach more people. In fact, a statistic suggests 'Having watched a branded video that they enjoyed, 83% of consumers would consider sharing it with their friends'.  
Search your .Store domain now!

Search for your business name or category. cookies.store or summercookies.store
3. Add Value & Showcase Your Knowledge
Research shows that where both video and text are available, 72% of people would rather use video to learn about a product or service.
Businesses that create educational video content establish authority in their field while sharing their knowledge with their customers. It's a smart way to add value and boost customer interest.
"Whether you're teaching customers how to use your product or providing some life hacks when you add value and showcase your knowledge, your audience will keep coming back for more," points out Deyan Shkodrov, CEO of StreamingVideoProvider.
4. Get In-depth Analytics
Video marketing provides comprehensive data to measure its effectiveness.
You can see how many times people watched your videos and better understand how they engage with your content. Ultimately, you can use your findings to improve your marketing strategy and give your audience what they want.
How To Use Online Video Marketing Tools For eCommerce Marketing
Tight budget? No problem.
There are several types of video content you can work with when your resources are limited: from explainer videos, testimonials, and tutorials to product demos, product reviews, live stream videos, and video ads—to name a few.
You can even resort to using a smart online video editing tool like Lumen5. With tools such as this, you can create epic videos even when you don't have the budget, time, or skills.
For instance, the Lumen5 website uses AI to repurpose content into thumb-stopping videos in a matter of minutes.
Here's how you can use a video marketing tool to create stellar video content:
You create an account with Lumen5.

You enter a URL of an existing post, and Lumen5 will automatically create a storyboard.

You'll receive media that will help you make great designs. You can edit the text and pick photos from the massive pre-built library, as well as choose music to go along with the slideshow. Feel free to customize the text format, highlight words, and add branding elements like your logo and watermark.

You can save your video or share it on social media.
Things to Consider When Using Video Marketing For Your eCommerce Business
Getting Started With Video Marketing
Getting started with video marketing to promote your retail or e-commerce business is a lot easier than you might think.
You don't need a team of people who have been trained to use professional-grade cameras and audio equipment to spread the word about your brand.
If you're a smartphone user, chances are high that you already have a camera capable of shooting 4K video that you carry around with you in your pocket all day long.
You also don't need to set up a brand-new website to publish your videos. Creating a YouTube marketing funnel is just as effective as building your own site to house your content.
In many cases, it's even more effective – especially in regard to how easy your videos will be to share on social media.
All of this is to say that you don't need a lot of money and you certainly don't need a lot of time to get started with video marketing.
In fact, you probably already have access to all the tools you'll need and the ones you don't can be obtained inexpensively.
At this point, all you have to do is decide which of the following OTT examples of video content are right for you.
Using the Video Format to Your Advantage
Once you actually have things set up from an infrastructure perspective, your next step should involve creating different types of compelling video content that your audience will connect with.
This, too, requires you to keep a few key things in mind.
As an eCommerce retailer, you're going to be creating a lot of product videos. To make sure they're engaging and convincing, take the following into account: 
1. Your Videos Should Be Short & Sweet
Don't forget that brevity is the soul of wit. Especially when it comes to a product video, your total running time should be no longer than about 30 seconds in length.
Sometimes you'll need a longer length, and that's fine – but be sure that you're making the most of every last moment available to you.
Not only will this help make sure people watch it all the way through to the end, but it'll make your content far more likely to be shared on social media, too.
Search your .Store domain now!

Search for your business name or category. cookies.store or summercookies.store
2. Your Videos Should Tell A Story
Maybe it tells the story of your business and the challenges you overcame to bring this product into the world in the first place or maybe it's the story of great customer experience. 
In either case, framing your product video around a story that triggers your viewers emotionally and contextually is a great way to engage people. Without context, your video probably won't make any sense.
3. Your Videos Should Be Relatable
Even though you're filming a product video, you still want to come off as emotional and as human, as you can.
If your audience members can relate to your product, they'll have an easier time relating to your brand.
At that point, they'll want to know about the other types of things you sell, creating a ripple effect in the best possible way.
Take the following product video from Marucci, for example. Not only is it a slick, well-produced video, but it also eloquently tells the story of the product (and the many years of customer feedback and research that it took to bring it to life).
Not only does it convey essential information, but it also does so in a way with a genuine customer focus.
Another great example is this product video for the Kelty Linger Side Table.
It explains what the product is and demonstrates how easy the table is to set up and use.
By the end of the video, a viewer has all the information they need to determine whether they actually want to buy the product.
They can see how it will or will not fit into their lives and if they weren't ready to make a purchase at the start of the video, they certainly will be by the end.
There are certainly other techniques that you can leverage to your advantage.
If you sell fitness programs online, for example, you'll likely want to experiment with things like expert interviews.
If there is a particular person that your audience already likes or pays attention to, don't be afraid to showcase that person's opinion on fitness-related topics and other issues that your audience cares about.
Doing this will help you get information and also position yourself as an authority in that niche.
That is especially helpful when you're not really selling a product so much as you are providing a service.
Here is a great example of an expert interview that many retail businesses and other brands can certainly learn a lot from.
YouTube Marketing For Your eCommerce Business
Without a doubt, YouTube marketing makes for one of the most promising digital platforms to market your eCommerce business.
Why are we so confident about this claim?
Because YouTube alone has a user base of over a million (that's almost one-third of all internet users!).
Over one billion hours' worth of video is watched via this media daily. The icing on the cake, YouTube is localized in 91 countries and can be accessed in as many as 80 languages.
And if these facts and statistics weren't enough, in the United States alone, 85% of internet users watch video content across devices.
So, it's safe to say that video marketing, especially YouTube marketing, is the way forward for your eCommerce brand.
Why?
Because the enormity of YouTube's user base is congruent to your eCommerce business's marketing needs.
While thousands of dollars are being pumped towards YouTube marketing to tap the full potential this medium has to offer, money is not the only key to a successful YouTube marketing strategy.
A great YouTube channel is one that constantly puts out quality content and consistently maintains a steady pace of customer acquisition.
In this post, we're going to help you explore the potential of YouTube Marketing for your eCommerce business.
Let's get you started with how you can go about creating and optimizing your eCommerce brand's YouTube Marketing.
How to Create and Optimize Your eCommerce Brand's YouTube Channel
Step 1: Create A Google Account & YouTube Brand account
YouTube is owned by Google and signing up with your Gmail account gives you direct access to a YouTube account.
The next and most crucial step is creating your YouTube Brand account.
First things first, you can start by adding a channel icon and channel art to your page (much like the display picture and cover picture in any social media).
Go ahead to add details like channel description, email address, and so on.
You can also provide a direct link to the company website and social media accounts under the 'About' tab.
Another distinguishing feature of a YouTube account is that it lets you customize your account to appear differently to your subscribed and unsubscribed viewers. Y
ou can customize your account for the unsubscribed viewers to see the 'channel trailer'; a video version of your description.
Step 2: Plan Your Channel's Layout
The next step involves planning and designing the channel layout; one that perfectly complements the needs of your business and the types of videos you upload in your channel.
A color palette and brand theme that is simple, yet captivating, goes a long way. You can even coordinate it with your brand colors and theme
As an additional step, you can segregate your vlogs under a subheading. This will give the users ease of navigation and present them with a series of videos answering all their queries related to a particular topic.
Step 3: Publish Content Frequently
Regularly adding high-quality content to your channel is a proven way to increase user engagement.
Your YouTube Marketing campaign will become truly profitable by achieving increased viewership.
Posting content regularly does just that for you.
It keeps your feed active and increases your web presence. Most YouTube influencers aim for a minimum of one video per week.
Having said that, there is no definition for the 'right amount'. Your business style, content, audience, and your end goal should define it for you.
Another trick to enhance your YouTube Marketing skills is to make a series of videos instead of one long video.
This strategy provides you with enough content to keep you occupied for weeks. Secondly, posting bite-size versions on a particular topic gives the audience ample time to absorb and digest the information you just shared.
However, be sure to research in-depth on your topic. Break it up in such a way that the viewers are craving for more.
Done wrong, this strategy might cost you a whole lot of viewers. So ensure that you have all the right information spread across the right video size.
Step 4: Craft Appealing Video Titles
The title is the essence of any video. Just creating great content is never enough.
Half your viewers will never even click on your video if the title of the video does not appeal to them in some way.
'Click baiting' is another proven YouTube Marketing technique.
You end the title in a cliffhanger. YouTube allows a title length of 100 words. Beyond 50-55 words, the title starts to cut off in the desktop version.
YouTube Marketers take advantage of this technicality and the leave the heading mid-way.
Any curious viewer would have to click on the video to comprehend it entirely.
Search your .Store domain now!

Search for your business name or category. cookies.store or summercookies.store
Step 5: Use Compelling Thumbnails 
Thumbnails may seem like a non-important part for a YouTube video but are any day as important as the main title itself.
Thumbnails should be quirky and colorful to grab the attention of the viewer immediately.
The thumbnails you include should resonate with your content. Having said that, do not try to trick your viewer with a thumbnail and content mismatch.
Similarly, adding your brand logo to your thumbnail also increases your brand presence.
People might not view your video but the presence of your brand on every thumbnail will unconsciously increase your brand image among users.
Step 6: Indulge In Cross Promotion 
Another strategy that works well in YouTube Marketing is cross-promotion.
Be mindful to identify and collaborate with other channels producing similar content.
Cross-promotion can be mutually beneficial and will increase the customer and viewership base.
For instance, if you are selling home products like bedsheets, curtains, pillowcases, and so on, you can tie up with a YouTube channel of a business that sells furniture.
This way you can attract a similar audience and get them to visit your online store and even buy from you after purchasing their furniture!
How To Optimize Your YouTube Channel For SEO
We now know how to create a YouTube channel and run it. However, this alone won't do the trick.
The scenario that your content will be swept under the carpet and never live to see the sunshine is highly plausible, given the massive number of YouTube channels and videos surfacing online.
Optimizing your video for SEO is the second part of the trick. Perform the whole trick and voila! You have increased your viewer base and SEO rank considerably.
Here's how you can optimize your videos and stay ahead in the search results:
1. Write Great Descriptions
YouTube Marketing offers great functionality in the form of a description box. Marketers can give a full-fledged account of what the video is all about.
It is very important to include your keywords in this description. The right keywords will ensure that you rank well in the searches.
2. Use Memorable Domain Names 
Like many popular YouTube channels, you can choose to include short and memorable links to get people to subscribe to your channel.
The best way to do this is to use a relevant domain name that people can remember you by and share with others. Complicated links make this tedious.
Instead, you can use a new domain extension like .store to brand your YouTube channel and redirect people to it.
If you are selling fashion accessories under the brand name 'The Dreamy Store', then why not opt for www.thedreamy.store to get people to visit your YouTube channel?
3. Include Smart Captions & Tags
Descriptions always do not help your video pop in the search results as the keywords for which the viewer is searching with may vary.
Captions hold the baton for you in such a situation. Your video will be displayed in the search if your caption matches the search result.
Furthermore, tags are a blend of common and long-tail keywords that best describe your video.
Tags come handy when a potential viewer makes some loose end searches using common words.
4. Include Call To Actions
It is no secret that a higher subscriber base ensures a better ranking for your videos.
Another fact most people are unaware of is, the higher the likes and comments in your video, the higher is the rank.
This is because more people are interacting and engaging with your videos.
Also, including or saying a compelling call to action like "If you like this video please give it a thumbs up or subscribe to my channel" helps to prompt people to interact with you.
Now that you know all about YouTube Marketing and how to go about optimizing it, you are all set to market your eCommerce business and its products on YouTube.
Remember, continuous efforts to produce high-quality content with optimization can go a long way to increase your eCommerce brand awareness and to increase your subscriber base.
On this note, let's quickly wrap up:
Strategize and plan your YouTube Marketing videos.

Publish high-quality content regularly.

Engage with your subscribers and viewers by responding to their comments and queries.

Optimize your channel and your videos to rank better in the SEO search.
Search your .Store domain now!

Search for your business name or category. cookies.store or summercookies.store
Influencer Marketing For eCommerce
Influencer marketing is the buzzword ringing through almost every social media marketing strategy these days – eCommerce or otherwise.
Recent research has revealed that for every $ 1.29 spent on influencer marketing a return of $ 11.38 can be generated – which is 11 times higher than that of banner ads!
From YouTube influencers to Instagram influencers, social media is packed with powerhouse individuals that brands want to collaborate with. These influencers cater to a large number of people that brands want to appeal to.
It's a no-brainer then! Every marketer wants their brand to jump on the influencer marketing bandwagon.
What Is Influencer Marketing?
Influencer marketing is not a new concept – we have had celebrities endorsing brands and products since as long as marketing exists.
What has changed is the rise in the number of social media stars who are creating content on a daily basis. These influencers enjoy a strong base of followers on platforms such as Instagram, YouTube, Facebook, and Twitter. 
HubSpot defines influencer marketing perfectly:
Influencer marketing employs leading, niche content creators to improve brand awareness, increase traffic, and drive your brand's message to your target audience. These content creators already market to your ideal audience across different channels which allows you to expand your reach across your buyer personas.
However, like every other marketing fad, you should not rush into investing in influencer marketing without a proper plan and strategy in place, and not as a standalone exercise.
It's important to note that the results from influencer marketing, although time-consuming, have a significant impact on your marketing ambitions and social reach.
5 Parameters You Must Consider Before Investing In Influencer Marketing
1. Identify Your Objectives
Influencer Marketing, as earlier mentioned, should be part of your larger eCommerce marketing strategy. While the overall objective should be the same, it is critical to set goals that you want to achieve through influencer marketing. 
You could be aiming at getting more visitors to your website, increasing the number of followers on your social media platforms, creating brand awareness, generating more sales, and so on. 
Whatever be the aim, there will be a different influencer suited to your needs. Additionally, it will help you measure the effectiveness of your influencer marketing activity if you pre-define your goals before initiating a campaign. 
Think about your objectives in terms of SMART goals. Your objectives should be specific, measurable, attainable, realistic, and time-bound.
Furthermore, take the following three parameters into consideration:
Reach:

This is the ability of an influencer to deliver your brand message or content to your target audience through an influencer. With 'reach', you can determine how many people on a particular social media platform are actually seeing your content an influencer is posting. Use tools such as

SocialBlade

to understand the reach of your influencers.

Relevance:

This helps to understand the level of connection your audience feels towards your brand or product through the work of an influencer. For instance, if your audience sees a celebrity they love and admire with your product, they might begin to feel a strong connection to it as well.

Resonance:

This enables your audience to take a specific action because of an influencer's posts and content. Resonance is all about the impact an influencer's content has on your target audience. For example, if a blog post or Instagram post by an influencer drives people to click the link in the blog or in their bio that directs them to buy it, you have yourself an influencer that resonates with your audience.
2. Define Your Target Audience
This is a pre-requisite to any influencer marketing campaign; it is essential to know who you want to target. Based on this, shortlist the influencers who will help you achieve your objectives.
Taking your targeting a notch above is the creation of buyer personas which will help you target your activities towards your buyers in ways and means your buyers are most likely to respond. 
There are tools available in the market that help you identify websites and platforms where your audience visits the most. 
While the benefits of utilizing these tools are multifold, what they all essentially do is help you identify the right social media platform as well as influencers through whom you can reach your audience most effectively. 
3. Find The Appropriate Influencer 
While the above two steps are meant to lead to finding the right influencer for your influencer marketing strategy, you are additionally required to select the most relevant influencer for your brand.
Simply going with the influencers with most following does not necessarily guarantee good results for your influencer marketing campaign; contrarily it has proven over time to be the least effective. 
There are several ways in which you can categorize influencers:
Depending on your objective

Based on the size of audience size (micro-influencers, celebrities, etc)

By type (bloggers, journalists, etc)

Platform-wise (Instagram, Twitter, personal blogs, podcasts, etc)

Based on verticals or topics (health, beauty, fashion, travel, tech, etc).
What is critical is to analyze the topics they cover, how engaged their audiences are with their content, and how effective they would be to influence their audiences into connecting with your brand that they will endorse. 
An additional step here is to pick and choose the right platform for your influencer marketing campaign.
While Instagram marketing remains the top choice for influencers and brands alike, it may not necessarily be the right medium for your product or service. 
Search your .Store domain now!

Search for your business name or category. cookies.store or summercookies.store
4. Approach The Influencers & Build Your Strategy
This may seem like the most obvious thing to do however we are here to tell you that you can choose different ways in which you can streamline your approach to influencers.
One way is to manually search and pick the right influencers and gradually build a long-standing relationship with them.
This will help the influencers to cherish your brand and in turn, create fruitful content customized to your needs. 
Alternately, you can sign up on specific platforms that host a database of potential influencers that you can utilize for your brand.
They have automated systems that you can make use of right from selecting the most suitable influencers to approaching them for your campaigns. 
If you are just starting with influencer marketing, we suggest you take the earlier approach and be selective in your engagement with influencers to create content that is fresh and effective.
Not every influencer engages with his or her audience in the same way, and it is, therefore, important to customize your selling points in the language best suited to the audiences of the influencer. 
Once you approach the influencer, here are some ways in which you can reward them:
Money (offer payment prior to or after the content is created and shared, depending on your agreement)

Swag (such as custom merchandise like clothing, accessories, or product samples)

Free product (give them your product for free)

Access to discount codes and coupons

Promotion on your website, blog, and/or social media platforms
5. Track & Measure Your Campaign
Your audience is constantly evolving with regards to the type of content they consume, where they consume it, and how invested they are in it.
To stay relevant, it is essential that you constantly track and measure your influencer marketing strategy. 
Here are a few parameters that you should be tracking and measuring:
Engagement:

This includes all the various interactions such as the number of likes, shares, comments, retweets, mentions, direct messages, and reposts to other channels.

Reach:

This includes the number of people actually seeing your content through the influencer.

Resonance:

This includes the actions taken by people following an interaction with your influencer's content involving your brand.

Brand Awareness:

This includes quantitative and qualitative metrics such as direct traffic and social engagement; and social listening and awareness surveys.

Clicks:

This includes the total number of clicks you get on the content that the influencer shares about your brand. It could be a direct link to your eCommerce store, a CTA, a social media giveaway, or a signup form.

Conversions:

This includes your

conversion rates

which are an indication of the number of leads who become customers as a result of your influencer marketing strategy.

Return on Investment (ROI):

This includes calculating the return on your influencer marketing investment by dividing the return (or benefit) by the cost of the influencer marketing investment.

Follower Count: 

This includes tracking the number of people following your brand on social media after collaborating with influencers.
The process of selecting and engaging with influencers is not a one-time activity; your audiences may be engaging with a newer and more versatile group of influencers on an altogether new platform.
To bring effectiveness in your marketing campaign, you will need to be present where their attention lies, speaking the language they respond most positively to. 
Measuring the effectiveness of influencer marketing campaigns takes us back to the initial objective you set for your influencer marketing strategy.
You should compare your ROI to your objective to properly gauge the effectiveness of your campaign.
In case you have failed to achieve your objective, relook at your strategy, and try to understand where the problem lies.
You need not wait till the end of your campaign to analyze its effectiveness – tracking your campaign as you go ahead will help you keep an eye out on every step that you've taken before you reach the end of your campaign.
Not Getting The Traction You Expected?
eCommerce brands have this strong intent to get as much traction as possible from influencers, and of course, that's going to be an important element to influencer marketing strategy.
Traction can either mean building brand awareness initiative or driving higher conversions. 
This desperation to successfully and simultaneously achieve both can lead to eCommerce brands overpaying influencers who aren't actually bringing enough traction. Why? Well, there are a number of reasons:
Sometimes a good portion of these macro-influencer accounts followers are robots and don't actually engage, they're there to boost their follower number.

There are a population of influencers who purchase followers or likes for their posts from third party sources – fake engagement

There lies the issue of gauging actual engagements that may result in real followers who may come across as fake followers and vice versa. 
Due to these issues, brands are wasting precious ad-dollars on influencers that are quite simply not worth it. 
Another thing that eCommerce brands should keep in mind is to avoid stuffing products with micro and macro influencers in order to promote them to their audience. This comes across as force-fitting and unauthentic ultimately hampering the brand value of the eCommerce brand. 
Search your .Store domain now!

Search for your business name or category. cookies.store or summercookies.store
How To Win At Influencer Marketing For eCommerce
1. Find Influencers Who Enjoy High Engagement Rates
What is considered a high engagement rate? According to Influencer Marketing Hub, a 3% engagement rate is above average. But why find influencers with high engagement rates? It entails their followers are real, and well, engaging.
A Peersway survey found that for the same budget, Nano Influencers (1k-10k followers) create 10x more content and deliver 3x higher engagement as compared to Macro Influencers (100k+ followers). And micro-influencers deliver 2x higher engagement than macro-influencers.
Why? Because the engagement rates of nano and micro-influencers are higher owing to the fact that their audiences share a stronger sense of connection with them, and most importantly, they are all real people!
The higher the average engagement rate of a digital influencer, the more likely their followers are going to like, comment, share and visit links from their content. This will inevitably result in more sales and brand awareness!
2. Reach Out To A Wider Audience At A Lesser Cost
Of the 5 influencer types, nano and micro-influencers offer the most bang for your buck which is why they have over the marketplace. Nano influencers generally have 1k-10k followers while micros have 10k-50k.
But why are they so effective? Brands refuse to spend big ad-dollars on one macro-influencer (100k+ followers) and find it more beneficial to utilize multiple nano and micro-influencers. You're covering a wider range of the audience using multiple channels as opposed to relying on one.
You can spend less on 10 nano and micro-influencers and reach out to a wider audience as opposed to using 1 macro-influencer.
These influencers are also a very low risk because their followers are real this equates to more real engagement! 
This HypeAuditor graph illustrates that over 80% of influencers have between 1k-20k followers!
Reaching out to more of these types of influencers means you're creating your own mass media channel for your brand and it's products.
3. Build Relationships With Influencers For Authenticity
Tell a story. Find an influencer you can build a relationship with and who believes in and uses your product. This way their message comes across as authentic. 
Authenticity in influencer marketing is the most important key to selling. Audiences don't want to be bombarded with "salesy" content. They want to see a particular influencer talk about a product they genuinely love and use on a regular basis.
Relationships between brands and influencers can benefit both parties. For one, influencers who love a brand and use their products or services might just promote it for free at some stage. This saves brands money and possibly still gets them the traction they're looking for.
4. Make Use Of An Influencer Marketing Platform
So what is an IMP? It's an influencer marketing platform. Utilizing one of these platforms will help to find the very best influencers who don't have fake followers or fake engagement.
These platforms have algorithms to verify that the influencers on their platforms are authentic, real followers with real engagement & high engagement rates.
Some are fairly costly but other influencer marketing platforms are more affordable or free. 
The key takeaway from this article is to build relationships with influencers and use an IMP to find multiple nano and micro-influencers with high engagement rates from real followers.
Your influencer marketing promotions will surely help to generate more sales and brand awareness.
Behavioral & Performance Marketing For eCommerce
As the saying goes, "behavior drives people. people drive businesses". This is why it is essential to understand behavioral marketing and what it means for your eCommerce business.
Until now, data analytics and behavior study of customers was a thing of the future.
Never did eCommerce businesses rely on hardcore analytics and send out targeted emails to customers.
The whole concept of eCommerce marketing was a mystic art. Promotional mail or message was sent to every customer in bulk. In other words, it was a hit and miss method.
Today, eCommerce marketing has changed and assumed a whole new meaning.
It's all about tracking and measuring the behavior of customers, and every single person who visits your eCommerce website.
Search your .Store domain now!

Search for your business name or category. cookies.store or summercookies.store
What Is Behavioral Marketing For eCommerce?
Behavioral marketing is the method by which companies target audiences based on their behavior, interests, intentions, geolocation, and other metrics using web analytics, cookies, search history, and other insights. By finely segmenting audiences based on specific behaviors or definitive user profiles, organizations can provide truly relevant content and offers rather than sending a general message to all audiences.
However, behavioral marketing is more of a science rather than an art.
To put it differently, an increase in the number of visitors (on a product page or web page) will provide more information to analytics and ad platforms about the visitor's behavior. 
Based on the information thus received, your eCommerce business can send better-targeted emails and offers! 
Consumer data, when collected effectively, can be used to create a truly rich and satisfying brand experience for the customers.
Consumers are only engaged with content they're interested in. This engagement level is determined by their previous search patterns and behaviors.
Sending individual-centric messages rather than channel or product-centric messages is the key to winning over visitors and converting them into loyal customers.
But a point that is often overlooked is that data collection can prove to be a very complicated affair. Not to forget, the raising issues of online data privacy and audience listening tools.
Behavioral Marketing Segmentation For eCommerce
In the words of Jon Miller, "Knowing who your customers are is great, but knowing how they behave is even better".
Behavioral marketing segmentation distributes customers based on behavior patterns.
Although every eCommerce business is different and has different customers, here are a few common ways to segment customer behaviors:
1. Geolocation
Geolocation is a sensitive tracking technique and hence often very accurate.
Metrics like continent, country, and region are tracked and hence facilitates local targeting.
Local targeting ensures that the products are sold based on the needs of the particular region.
2. Visit data
This metric reveals the entire browsing history for every customer. It provides details relating to if the customer is new or has visited your website before.
Segmenting visitors by the number of visits helps offer higher-value options to repeat visitors. Based on whether or not your visitor is new or repetitive, you can send out offers or promos to get them to finally convert.
3. Intent To Buy
Data on the intent of a customer is a metric that provides in-depth insight into behavioral marketing patterns of customers.
Two or more unique users might fall in the same segment, say, in terms of their location but might differ in how much they value an offer or new products.
4. Transactional Data
This segment is valuable in analyzing the behavioral pattern of repeat customers.
Based on the volume of purchases and types of purchases made by a customer, you can determine the lifecycle of the customer with your business. 
5. Engagement Levels
Although engagement is a unique metric that varies from business to business, positive data on consumer engagement always implies that consumers trust your brand and their intent to purchase is increasing.
6. Occasion
Behavioral marketing takes into consideration the occasion and/or timing of purchase. General occasions like holidays or personal occasions like a wedding or a birthday are one such metric.
Another metric that organizations usually track is the usual times during the day when the sales activity is relatively high/low.
The advantages of behavioral marketing segmentation can be identified as 4 Ps. They are:
Personalization

– Targeting different groups of customers with different offers at the right time through their preferred channels increases personalization.

Predictiveness

– Historical behavioral patterns influence future customer behaviors and outcomes by predicting future patterns.

Prioritization

– Identifying high-value customers with a potential for business helps make better decisions on time, budget, and resource allocation.
7. Performance – Closely monitoring growth patterns and change in segment patterns helps not only analyze current business health but also track performance against budgeted goals.
Search your .Store domain now!

Search for your business name or category. cookies.store or summercookies.store
Behavioral Marketing Examples For eCommerce
1. Instagram
Paid ads on Instagram are used to target customers based on their interests.
Advertisers have the option of choosing from various interest categories and subcategories provided.
Instagram then publishes the advertisement to target groups that are interested in seeing that particular kind of content. Targeting can be perfected further by selecting a location(s) or type of device.
2. Orbitz
Orbitz, a subsidiary of Expedia Group is a travel fare aggregator website and travel metasearch engine.
As a part of their behavioral marketing strategy, Orbitz displays more expensive hotels to Mac users as compared to PC users.
Their segmentation strategy is based on their research which demonstrates that Mac users tend to spend more on hotels and travel.
3. Zuji
Zuji, an international travel website, serves up personalized advertisements to visitors based on their past browsing and search history.
They track user profiles for metrics like past searches and the number of visits and push personalized and relevant offers to increase the likelihood of a sale.
4. Netflix
Netflix gives recommendations to its users through a service called 'Cinematch'.
Cinematch analyzes search or browsing history, watch history, and watch behavior to show customers similar clusters of content.
Netflix uses the strategy wherein it 'familiarizes' the content to match the user's taste.
Netflix then employs its massive database and predictive algorithms to offer a more personalized streaming experience.
Make a plan, identify the segments that are relevant to your business, and try out some campaign ideas to analyze customer response.
If implemented correctly, you will be truly surprised by the amount of additional revenue you are generating.
Research shows that 76% of businesses do not employ behavioral marketing and hence are unconsciously losing a big chunk of money.
Analyze the data on customer behavior to make better-informed business strategies.
However, it is important to exercise the utmost caution while implementing behavioral marketing strategies, particularly with the rising concern of online data privacy.
Performance Marketing For eCommerce
Performance Marketing has transformed the way products are advertised and sold in the online space.
Performance marketing has opened avenues of tracing and measuring eCommerce marketing and lead generation campaigns, giving marketers the ability to measure everything from brand reach to conversion rate down to every single click.
What makes Performance Marketing such a sought-after form of marketing is the data-driven approach on which it is based.
It helps optimize ROI, allowing marketers to customize campaigns as per the most feasible cost of acquiring customers.
What Is Performance Marketing For eCommerce?
The term performance marketing is a combination of paid advertising and brand marketing put together.
As the name suggests, performance marketing is marketing based on the performance of your advertisements or marketing campaigns.
Performance may encompass any of the desired results right from clicks, downloads, sales, or completed leads. What makes it favorable, is the fact that payouts are done only after the desired results are obtained.
Search your .Store domain now!

Search for your business name or category. cookies.store or summercookies.store
How Does Performance Marketing Work?
Performance Marketing comprises of various players that work in tandem towards achieving favorable outcomes: Retailers or "Merchants", Affiliates or "Publishers", Affiliate Networks or Third-Party Tracking Platforms, Affiliate Managers or Outsourced Program Managers (OPMs), Agencies, Solution Providers.
Each player plays a critical role in the chain of eCommerce marketing and especially for performance marketing to work.
Each member of the group must work together in union for their individual role to then drive the ultimate desired result.
What Are The Metrics Of Performance Marketing?
Performance Marketing can be categorized basis the payment/measurement metrics depending on their results.
1. Cost Per Mille (CPM) or cost per thousand impressions is the price you pay after one thousand impressions are displayed on a given platform.
So, if a marketer is paying 5$ CPM, they are paying 5$ for thousand impressions served, and the impressions are higher for the higher amount invested.
Click-through-rate or CTR is further calculated to assess the true performance of an advertisement, as CPM is more a measure of reach.
2. Cost Per Install (CPI) is the price paid by an advertiser for each download or installation of an app being advertised.
3. Cost Per Click (CPC) is the price paid by an advertiser for each click on the advertisement.
This is preferred by most over CPM as it gives more definitive proof of the impression that millions of views may not provide.
4. Cost Per Lead (CPL) is the price paid by advertisers to connect with a lead generated through an advertisement.
Payment is made only when users fill out a lead generation form within the advertisement. This format works best on social media platforms.
5. Cost Per Acquisition (CPA) is the price paid by advertisers for each lead acquired or converted by them into a successful transaction.
This is most popular among eCommerce websites selling clothes, or other popular consumer products.
What Are The Types Of Performance Marketing?
There are four broad types of performance marketing basis the platforms and marketing strategy:
1. Native Advertising
Native advertising stands for ads that don't look like ads as they merge with and adapt to the visuals and function of the site (or page) they are placed on.
They are dynamic in that they fit into the content the user is consuming, which makes them extremely relevant.
Native advertising allows opportunities to re-target advertisements by repurposing content, educating the customer, thus capturing the customer's interests and intent.
They are measured via the impressions they generate.
2. Social Media Advertising
Social Media Marketing allows advertisers to reach their target audience in a more effective way than any traditional form of marketing.
Different social media platforms are relevant to varied categories of advertising and products.
Advertisers may choose one or a combination of platforms and methods to advertise their products or services depending upon their goals.
The performance metrics for social media are driven mostly by engagement, but some can be targeted at lead generation.
Search your .Store domain now!

Search for your business name or category. cookies.store or summercookies.store
3. Search Engine Marketing
Search Engine Marketing or SEM remains an important type of performance marketing mainly because of the amount of search conducted on search engines by online users, thus providing a significant amount of data as far as consumer behavior is concerned.
Search Engine Marketing may be organic (unpaid) or paid. Performance marketers optimize for CTRs for paid SEM, whereas for unpaid/organic search, they turn to on-site optimization and content marketing.
4. Content Marketing
Content marketing is the key to winning at eCommerce marketing. When done right, it is highly valuable as it contributes immensely towards building SEO value by targeting long-tail keywords.
Blogging is the most common form of content marketing, but you can expand your horizons and venture into creating content like YouTube videos, infographics, presentations, and more.
Content marketing can be compelling and creative and should focus on solving users' problems and concerns.
Also, content marketing can be measured either by compensating as a barter for the said products and services (as in the case of social media influencers or bloggers), or via CPM and CPL.
What makes Performance Marketing successful is that it is a win-win for both marketers as well as the affiliates if the objective and metrics are clearly defined.
It allows for clear tracking of ROI as well as for tweaking your strategy mid-campaign to achieve desired results.
All your eCommerce marketing efforts should be monitored based on the performance of your activities and efforts. And performance marketing ensures that you get the best bang for your buck.
Search Campaigns For eCommerce
Everyone is talking about PPC marketing… but do you truly understand how to use and maximize it for your eCommerce marketing?
Start by asking yourself:
        What is PPC marketing?

        Why is PPC marketing important to my eCommerce business?

        How do I use PPC marketing for my eCommerce business?
What is PPC marketing?
PPC stands for Pay Per Click, a model of internet marketing in which advertisers pay a fee each time one of their ads is clicked.
Essentially, it's a way of buying visits to your site, rather than attempting to "earn" those visits organically.
Search engine advertising is one of the most sought-after forms of PPC marketing and eCommerce marketing. 
It allows marketers to bid for placements in the search engine's 'sponsored links' section when a user searches for a keyword that is related to their business offering.
For example, if you search for the keyword "eCommerce platforms", ads of Spotify and Zoho might show up in the top spots of the Google results page.
Why Is PPC Marketing Important To An eCommerce Business?
The constant expansion of the eCommerce industry is no surprise. Online product searches, especially on Google have been constantly increasing.
This is encouraging more and more businesses to buy into PPC. In the last quarter of 2018, the overall spends of Google Shopping ads rose by 43%.
However, when it comes to searching for products to buy, Amazon continues to be the first stop for many customer's product searches with Google not too far behind.
According to statistics, an average person buys a product within 20 days of searching for it on Google, and within 26 days of searching for it on Amazon.
If you're an expert at PPC marketing, it's appealing to spend all your time at the bigger picture and look for more creative ways, and interesting keywords to drive conversion-friendly and cheap clicks.
Listed below are five effective tips that eCommerce marketers can use to beat their competition without overspending.
Search your .Store domain now!

Search for your business name or category. cookies.store or summercookies.store
How To Use PPC Marketing For Your eCommerce Business?
1. Recognize & Develop Your Long-Tail Keywords
There are customers who have a clear idea of what they're looking for, but they're still not typing the exact product code in their search.
In fact, they're most likely searching for long-tail keywords such as, "polka dot woolen knee-length socks" or "light blue washed boyfriend jeans".
To know what were the exact keywords and phrases that triggered your ads, look at your Search Query Report in the Google Ads Interface.
If you're not sure where to find it, look within a campaign under "Keyword Details".
Sort by the keywords that have resulted in conversions and within that find the long-tail keywords that might contain any specific product details.
For example, imagine you're bidding on the term "hand cream" but with the study, you learn that someone purchased the product on your site after searching the brand, skin type, and fragrance they wanted.
Here, you could use these details to add that long-tail keyword to the appropriate ad group and bid well on it knowing it converts well.
To better understand this, broad keywords are similar to casting a wider net that will ultimately help to catch more fish. 
However, to catch the real gems you must analyze the data and strategize.
2. Balance Your Broad & Specific Keywords
Imagine you have a business of skin creams and you just opened a store on the same street where there are multiple other beauty stores.
Every day customers walk in with questions as they do not have a clear idea of what brand they want or what skin type should they choose.
These customers walk into your store, talk to your employees to get a better understanding, and leave to look for better prices in the other stores.
Now consider those customers who know exactly what they want—the brand, the fragrance, the skin type; every small detail.
These customers are much further down in your sales funnel and are much likely to purchase from you if they walk into your store first.
A similar scenario such as this plays out in the online world when you're bidding on competitive terms. For the example above, those could be "skin creams" or "cheap skin creams".
In this case, the user is exposed to a few different ads.
They may do some research on your website and then make the final purchase from the site that's offering the best deal.
While you may never escape the vicious cycle of paying extra bucks for clicks on more general terms that are highly competitive, you can balance this out by also bidding on some specific keywords.
Here you could include all the important details.
You'll rarely see the same volume of clicks on both broad and specific keywords.
However, note that long-tail keywords are relatively cheaper due to low competition, the conversion rates on these are high because here the customer knows exactly what they want.
3. Bid On The Same Keywords As Your Competitors'
Once you have covered users who are looking for specific products, start targeting those who are searching to buy specifically from your competitors.
Ample searches come from those who've heard about a specific brand to buy from but aren't entirely convinced yet.
These users might be open to exploring other options with better deals.
They just might walk into a different store where they can buy the same product at a better price or have more options and varieties to choose from.
Therefore, it helps to create PPC marketing campaigns that are targeted to competitor's keywords telling them there is a different, better option available.
4. Avoid Using Your Competitor's Branded Keywords
While targeting competitors' keywords is a great strategy, you must avoid targeting branded keywords. Here are a few things that could happen if you do that:
You'll end up paying more for less qualified traffic

If your competitor notices, they may drive up your costs significantly by bidding just a little more themselves

Your competitors could complain to Google and that won't help your business
None of these will benefit your business.
Therefore, instead of targeting branded keywords, do your research to find the broader/specific keywords that your competition is targeting and use that information to inform your own strategy.
For example, if your competitor is bidding on keywords and phrases that can be useful to your business too, then consider including them in your PPC marketing.
5. Be Transparent About The Prices In Your Ads
With the limited number of characters at your disposal coupled with the rising cost per click, it's important to ensure that only those who are interested click on your ad.
Even when you target specific keywords, there's only so much you can gauge from a user who types in general terms.
That doesn't tell whether they're still in research more or are looking to make a purchase.
A way to screen out less qualified leads is to display the pricing information on your ads.
If you let someone know that they'll be spending X amount on the product, they'll click only if they're willing to pay.
This saves your ad spends for those leads who know what to expect, are not scared away by the price, and are much likely to convert.
Search your .Store domain now!

Search for your business name or category. cookies.store or summercookies.store
Chatbots for eCommerce Digital Marketing Strategy
Last year The Guardian declared that chatbots, automated systems that are able to respond to user queries without human assistance, will "transform the way you interact with the internet".
There is no doubt that artificial intelligence (AI) and machine learning are one of the top digital marketing trends in 2018 and it is even predicted that by 2020, customers will manage 85% of their relationship with the enterprise without interacting with a human.
Because chatbot technology is moving so quickly, it's essential for every marketing pro to stay updated. Read further to gain the must-know insights of what is a chatbot and why should you be using it to boost your marketing strategy.
What's A Chatbot?
Chatbot technology is not a new concept, they have been in use for a long time. For instance, The Turing test has been around since the 1950s, while AI (artificial intelligence) programs have been around for decades.
Also, the automated customer-service robots that assist you when you call an 800 number can be considered an early form of chatbots. However today, chatbots are much more sophisticated and they make use of high-level AI that makes many chatbots indistinguishable from actual human communication.
Chatbots utilize AI to mimic conversation, they use Natural Language Processing (NLP) that gives them the advanced ability to comprehend and interpret what a user is saying. What is more, they are constantly evolving – now they are able to reply to users not only in text but also by using audio, videos, and even GIFs.
Chatbots can be connected to a variety of data sources via APIs to deliver information and services on demand. Instead of a one-sided question and answer format, increased intelligence allows the chatbot to change the subject, suggest related topics, and even demonstrate humor and emotion.
There are two main types of chatbots:
Branded or service chatbots

– a solution to improve the services provided by companies and enhance business performance. They are used to improve customer service, optimize marketing strategies, and gather clients' feedback.

Informational chatbots

– they provide important data for the persons who require it. Well-known informational chatbots include Siri, Cortana, and Amazon's Echo. They are not built to serve any marketing function but exist to help people with a wide variety of needs.
Regarding the service chatbots, there are already more than 30,000 active chatbots built into Facebook Messenger, and they're also available on other messaging platforms, such as WhatsApp, Apple iMessage, Wechat, Telegram, Skype, Kik, and Slack, to name a few.
Whether it's a customer inquiry about delivery or a more specific service like ordering food or shopping, chatbots help to provide human-like interactions instead of being a faceless brand. Here are the 8 main reasons you should start implementing chatbots in your marketing strategy today:
1. Become Involved In Conversations On Messenger Apps
Ubisend has researched that just under 46% of users would rather contact a business through messaging than email, while 49% would rather contact a business through messaging than on the phone.
According to statista.com, WhatsApp and Facebook Messenger each have reached 1.2 billion monthly active users. WeChat — 938 million. Consumers are spending more and more time on these messaging apps and companies have to be part of the conversations.
In fact, in a recent study by Retale, 60% of millennials revealed they have used chatbots already, and further 71% said they would try chatbots from major brands.
As a marketer, take into account that consumers prefer to communicate through messaging and don't want to be put on hold for hours. With chatbots, it is easy for businesses to incorporate effective forms of communication in their marketing strategies.
By maintaining a presence on a messenger app via a chatbot, you can save money and at the same time remain available for your customers 24/7.
2. Optimize Customer Experience
According to Microsoft Global Customer Service Report, 66% of US consumers are willing to spend more with a company that provides excellent customer service. Meanwhile, 60% reveal that they haven't completed an intended purchase because of a poor customer service experience.
It is no doubt that customer satisfaction is the holy grail of marketing. To satisfy your customers, you have to be at their service 24/7 ready to instantly answer their queries any time of the day. Sounds impossible from a human standpoint, but easy for chatbots that are available any time showing your consumers that you are attentive and always ready to help them.
Take an example from Just Eat that has added an element of fun to finding takeaways by installing a chatbot that lets people search restaurants near them with emojis and keywords. Customers can type "breakfast" or send a food emoji and get recommendations of results near them.
Thousands of people have used it, on average spending 1.53 minutes interacting with the bot. It has helped drive new customers to encourage repeat orders and improved awareness of Just Eat's partner restaurants.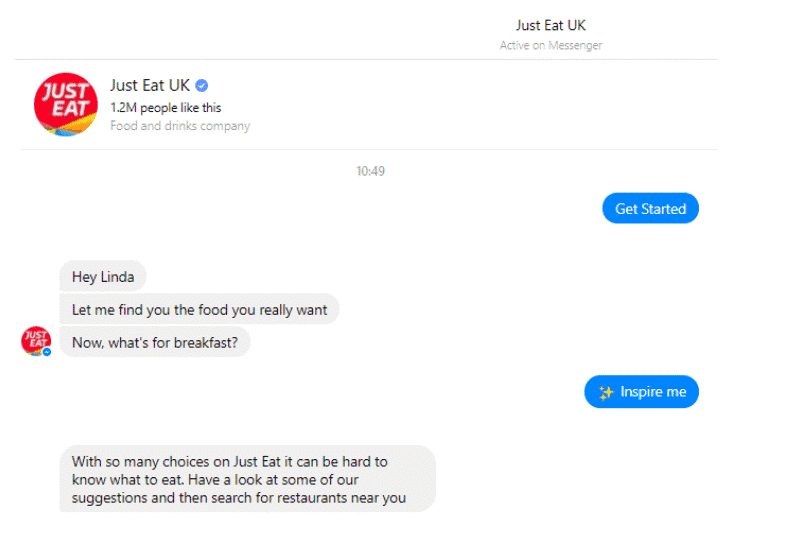 3. Be Mobile
As chatbots come mobile optimized, you don't have to go through any additional trouble to reach your mobile customers. And what is more, they are easy to implement. For instance, Taco Bell's TacoBot app is a chatbot integrated with Slack and it lets users chat, order, and pay directly from Slack. Additionally, the TacoBot app can provide quick answers to questions and offer recommendations no matter where their customers are.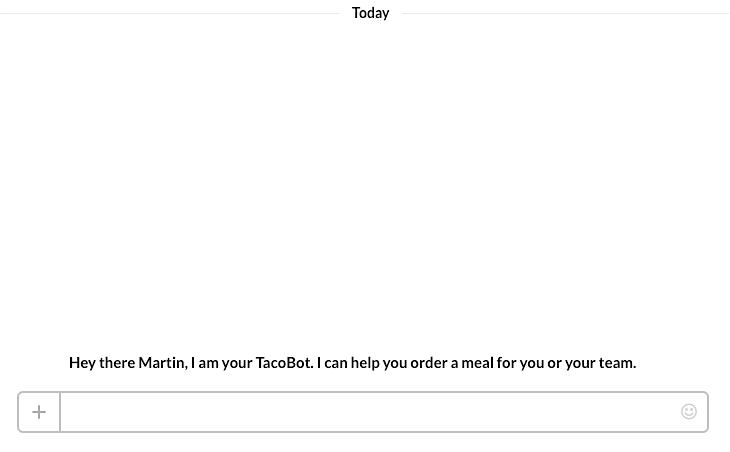 4. Get Valuable Analytical Insights
Chatbots are improving with time and can produce a lot of data about customers, their purchasing patterns, the way people are interacting with your brand, and the level of engagement with your website.
These insights are useful for companies to capitalize upon and can be used for businesses to tweak and personalize future marketing campaigns. It provides essential insights for further improvements to regular problems customers encounter and it makes personalizing a consumer's shopping experience easier.
Another way of getting valuable insights and see how advertising via bot helps your partner companies grow is using URL shorteners (such as Capsulink, Bitly.com) for ad links that provide you with analytics such as visitor's behavior, referrals, locations, and dates to understand how productive the ad campaign was.
What is more, some chatbots are created with the main purpose to gain analytical insights about your customers. For example, Surveybot is a bot that allows you to send your customers surveys after the completion of a task—a purchase, a download, registration, etc.
You can send the SurveyBot-generated link to your Messenger bot to your customers at any point. Afterward, using the information that chatbot has collected, you can create customized messaging that guides the consumer along with his customer's journey, and helps to achieve higher conversion rates.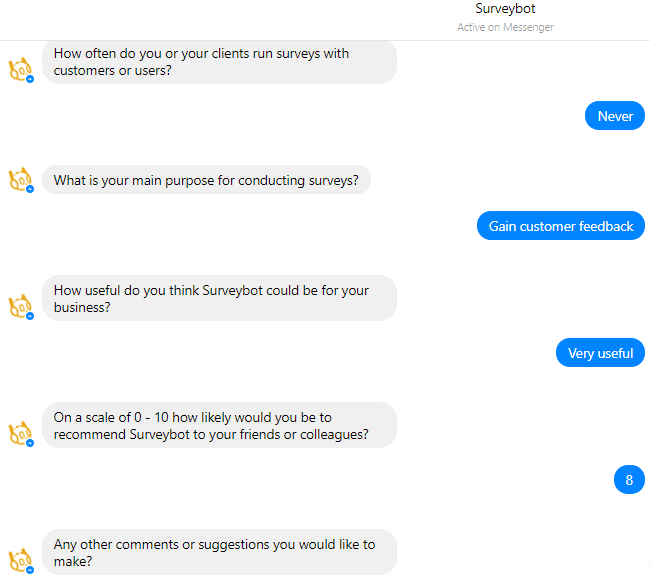 5. Ensure Personalized Communication and Ads
Another benefit of chatbots is the possibility to create personalized ads. When a customer interacts with your chatbot with an inquiry, the chatbot greets the customer and gathers some preliminary information.
Then, the given information can be used to generate personalized advertisements. More importantly, this advertising is intelligent, the help is on-demand, and it will feel like the customer is being assisted rather than sold to.
For example, eBay's ShopBot bot is aimed at helping consumers narrow down the best deals from eBay's over a billion listings. Once you've told the bot what you're looking for, it will ask you to narrow down your choices.
After your selection, the bot texts back some of eBay's listings that match your description. If you click on the item, it will open up eBay in a separate window.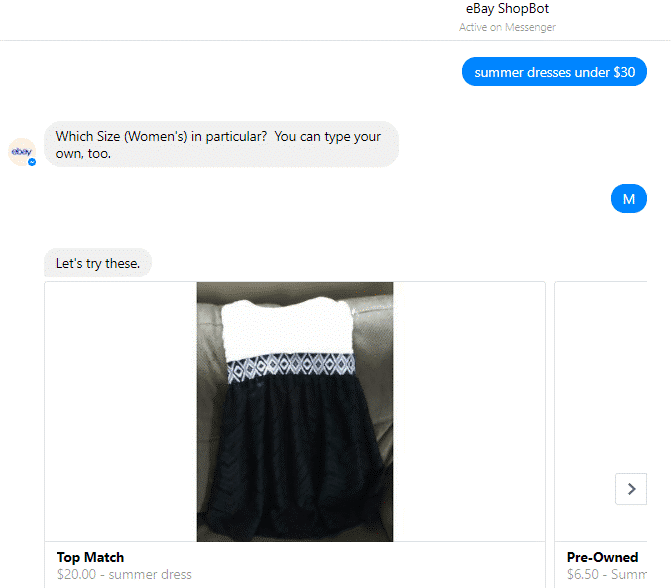 6. Create Proactive And Intimate Interactions
Direct messaging, even though chatbots, enable more intimate interaction with customers. As noted, chatbots provide that your business answers customer's queries any time thus giving them more chances to engage with the brand.
As chatbots are designed to feel like you're talking to a human, customers won't feel like it's purely marketing. While many brands employe passive customer interaction, chatbots are perfect for brands to reach out to their customers first.
With the help of chatbots, you can let the customer know that the brand is present and available to assist, thus boosting the feeling of closeness to the brand.
Adidas has used a chatbot to create an interactive booking process for its female-focused community space Studio LDN. The Facebook Messenger chatbot is the only way for the customer to find out about sessions and register as well as find weekly schedules and information about the classes.
It allows for deeper engagement between the brand and consumer through regular one-to-one conversations. To drive engagement further, as soon as a booking has been made the user receives reminders and messages from influencer fitness instructors.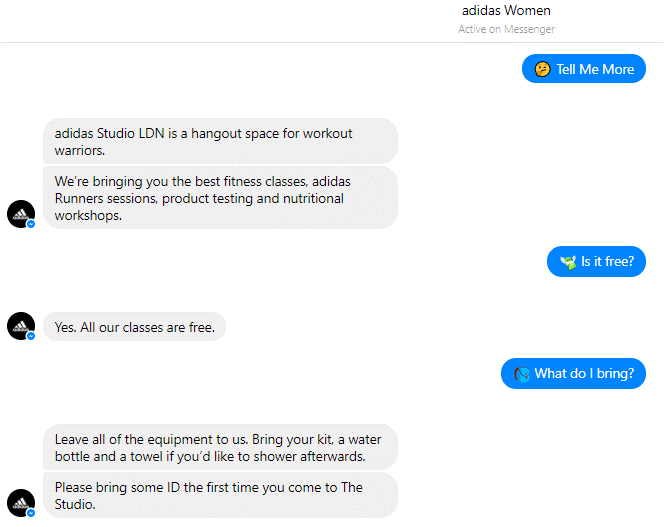 7. Boost The Brand's Creative Storytelling
A lot of great examples of chatbots can be seen in the entertainment space where they enable the narrative of a story to take new places.
For example, the producers of the film Sicario created a Twitter bot that allowed users to find encrypted messages from members of a drug cartel and help the DEA bring down the cartel and TV show Humans created a Messenger bot that allowed users to communicate with characters from the show.
Similarly, Disney's movie Zootopia was advertised by letting users go on a crime-solving mystery adventure with one of the movie's characters – Officer Judy Hops.
Amazingly, users spent an average of 10 minutes interacting with her. So every marketing pro should take the example from the entertainment field for implementing a dialogue with a customer that can occur over multiple sessions to build interest while evoking a brand's positioning.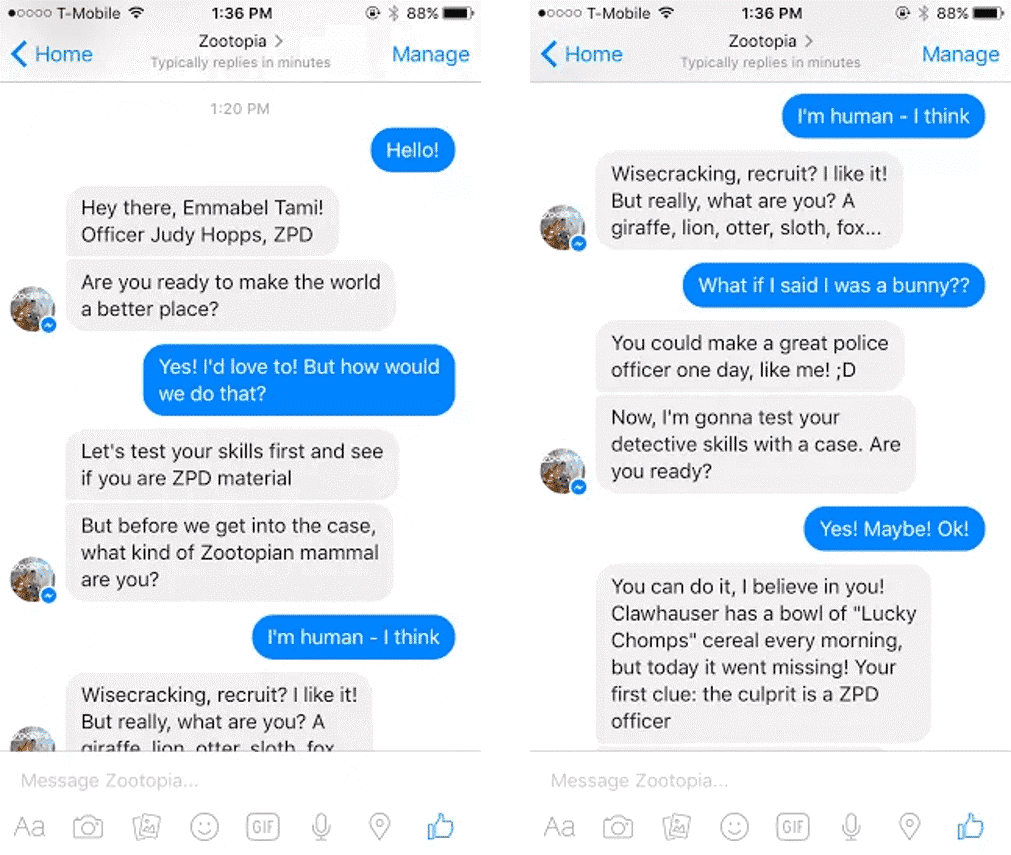 8. Embrace The App Aggregation
App aggregation means that a single chatbot can be connected to multiple apps, allowing marketers to solve multiple customer queries at once.
For example, last year Assist aggregated apps like Uber, GrubHub, Eat24, Onslet, Flowers.com, and others to serve the various needs of customers and Luka (now Replika) offered messaging service for recommendations regarding food, weather, news, or whatever it is that customers want to know.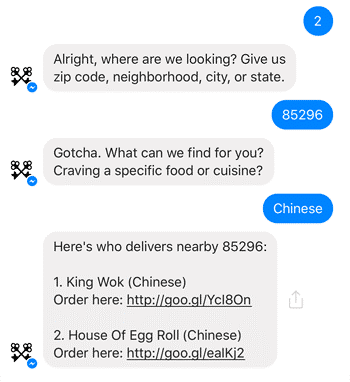 How To Build Your Own Chatbot?
Although they sound fairly complex, chatbots don't actually take that much time to create. Luckily, there are plenty of tools available for you to use to create your own chatbot, for example:
What To Keep In Mind When Building A Chatbot?
Don't build a chatbot just because you can. Have a clear goal and strategy in mind.

Ensure security – make sure you do your research and choose a secure platform.

Give it a unique name that makes it stand out.

Provide users with hints and options on how to get started.

Try to mimic a natural conversation flow, avoid over-complicated grammar.

Make sure to promote your chatbot so people realize your business has one.

Monitor and optimize your chatbot to increase its performance.

Make sure your customers are still able to interact with humans in your business. Chatbots are a great way to improve your customer service but they shouldn't be used to replace actual human interaction completely.
Marketing Tools For eCommerce
eCommerce marketing includes a wide array of activities and functions. From content marketing to Instagram marketing to eCommerce SEO, there's a lot to do; and you can't do it alone. Fortunately, there are several impressive online marketing tools you can rely on to win at eCommerce marketing.
There's one problem though – there are more than 7000 online marketing tools to choose from. As an eCommerce entrepreneur or marketer, you can't possibly sift through such a long list of tools. But fret not.
To help you find the best online marketing tools for your eCommerce business, we've compiled a list of the 8 best ones.
12 Online Marketing Tools For eCommerce Businesses  
1. HubSpot
Price: Free, or up to $3,200 per month for enterprise
HubSpot is a full-fledged multi-faceted online marketing tool that offers businesses the chance to improve their marketing, sales, and customer service functions.
HubSpot offers everything you need to grow your eCommerce business and drive sales.
With HubSpot, you can set up lead capture forms, draft better emails, get basic analytics reports for free, track emails, schedule sales meetings, and live chat with visitors.
Furthermore, you can even set up a help desk and ticketing system, and then funnel your leads into the free CRM to view your prospects and customers.
HubSpot also offers smart integration of other online marketing tools that you can use in tandem to get better results.
Even with the best marketing tools available, a lot of work still goes into carrying out a marketing strategy.
The email marketing automation available from MailChimp is dead handy, but for other areas of digital marketing, you can use HubSpot's Workflows to help you spend less time conducting repetitive tasks.
This tool will let you sit back and relax by allowing you to automate any number of tasks in a concise flow. You can send internal or external notifications, change properties in your CRM and group leads together.
The possibilities are endless and it lets you be more productive while also giving you back time from the more mundane tasks.
Search your .Store domain now!

Search for your business name or category. cookies.store or summercookies.store
2. BuzzSumo
Price: Paid plans start at $79 per month
BuzzSumo is a powerful marketing tool that helps businesses to connect with their target demographic and relevant influencers.
This is a great tool for eCommerce businesses and startups who are unsure of how to reach their target audience and influencers.
Apart from offering insights into current trending topics, BuzzSumo also gives you the ability to view previous trending topics and mentions.
Buzzsumo also has a feature that allows you to learn what parameters you should be monitoring and where you need to make improvements.
BuzzSumo helps you answer all the important online marketing questions and improve where you are falling short.
3. Proof
Price: Pricing starts at $24 per month (based on the volume of your website traffic)
Proof is a marketing tool designed specifically to help your business leverage the power of social proof.  For eCommerce businesses, displaying social proof next to products or on the store is an effective way to increase conversions.
Proof is very easy to use and it integrates with your eCommerce website to display the following information to your targeted customers:
Social media posts

Reviews

Video testimonials

Hot streak notifications

Live Visitor counts
Price: Free for the standard version ($150,000 for Google Analytics 360)
As you probably already know, conversions are key in eCommerce and Google Analytics is the go-to tool for many marketers when it comes to tracking website traffic and measuring those conversions.
Google Analytics is one of the most important search engine marketing tools for eCommerce businesses. It lets you measure goals, online sales, transaction history, and time to convert, as well as monitor exactly where those conversions are coming from.
Once you know what's working for you, you'll be able to adjust resources to maximize conversions. Whether you're using the free Google Analytics service or the 360 Suite, it will offer great insights for your business.
This is a tool that should be part of your daily life as a marketer.
Other analytics tools you should consider using are ClickMeter to track your links and Kissmetrics to understand what people are doing when they view your website and products.
5. MailChimp
Price: From free to $199
For eCommerce businesses, email marketing plays a significant role in helping with customer retention and to curb shopping cart abandonment.
MailChimp is a popular email marketing tool that offers several key features:
Website traffic tracking

Email templates

Drip campaign design

Widespread software integrations
MailChimp is a simple to use tool that helps to automate emails and create smart campaign designs without much effort.
For eCommerce businesses that are just starting out, MailChimp is great.
Email marketing is great for attracting new customers, as well as maintaining relationships with current ones.
Lead generation tools can be used to build an email list, but many eCommerce websites simply use forms or an option to opt-in at the checkout to get people signed up for their email newsletters.
Once you've got some people you can create different mailing lists to target loyal customers with special promotions, while others can be sent information about your best deals to lure them in. MailChimp is the best tool to do this with.
Recently, MailChimp also started offering its marketing automation tools for free allowing users to send targeted emails when triggered by an event, such as abandoned shopping cart items, a new customer signs up, or even a subscriber's birthday.
MailChimp's ultimate goal is to become a holistic eCommerce solution for businesses, so by getting on board now, there may be more positives down the line.
Businesses hosting their e-commerce store on Shopify, WooCommerce, Magento, BigCommerce, or Prestashop can benefit from free integration with MailChimp too.
6. Canva
Price: Plans start free, $12.95 per month for teams, or custom pricing for enterprise
Canva is a simple to use visual editor and subscription service for individuals and organizations who want to create high-quality visuals for their social media posts, website, blog, email campaigns, and otherwise, without having to hire a dedicated graphic designer.
When it comes to online marketing tools, Canva should be on every eCommerce business's list as it makes it easy to design visually appealing elements.
Its drag-and-drop features are handy to create shapes, logos, charts, graphs, and select custom fonts.
Canva also has millions of high-definition stock images, a variety of templates, smart icons, and intuitive illustrations in its library.
This makes Canva a brilliant avenue to create engaging visual content such as infographics, banners, Instagram posts, and so on.
7. Hootsuite
Price: Pricing starts at $29 per month and goes up to $599+ per month for enterprise
If your eCommerce business is actively indulging in content marketing and social media marketing and posting content round the clock, then you should invest in a tool such as Hootsuite.
Just like MeetEdgar and Buffer, Hootsuite is a social media scheduling platform that enables businesses to plan and pre-schedule social media posts.
This enables you to post whenever around the clock and to reach international audiences during their local time. You can also use Hootsuite to identify key influencers and trending hashtags.
Search your .Store domain now!

Search for your business name or category. cookies.store or summercookies.store
8. SEMrush
Price: SEMrush currently has three monthly subscriptions for $99.95, $199.95, $399.95, and a custom enterprise solution.
No eCommerce marketing strategy is complete without having a killer SEO strategy in place. And the best way to ace SEO is to use an insightful tool like SEMrush. SEMRush helps marketers find the most profitable keywords for their eCommerce business.
SEMrush is an end-to-end SEO tool that helps businesses craft a solid SEO strategy by allowing them to perform keyword research, study the keyword strategy used by competitors, perform an SEO audit of their blog, look for backlinking opportunities and lots more.
SEMrush has a massive database of over 120 million keywords. This is probably why many marketing experts rate SEMrush to be one of the most powerful online marketing tools on the market.
For eCommerce, this means optimizing content and CPC advertising so you can get more conversions for less money; thus, SEMRush offers a path to growth hacking.
This tool will even give you an insight into the keywords that have been working well for your competitors and lets you create compelling ad texts.
Another use for eCommerce marketers is that the tool can monitor your brand's mentions and customer reviews, so you can build your reputation and quickly react to customer reviews.
9. Rebrandly
Price: Free for starters. Pro package is available at $69/month.
Rebrandly is a tool that lets you create custom short links, allowing you to put your brand's name on all the links you share. This boosts brand recognition, looks professional, and builds trust with anyone who sees them.
By putting your brand's name on your links, people are reassured that it won't send them to spam. This extra trust can improve click-through rates by up to 39%.
You can even share links using a .store domain enhancing consumer trust even further and letting them know that you're sending them to the shopping section of your site.
These features are useful for any marketing strategy, but for e-commerce specifically, Rebrandly's link retargeting feature is invaluable.
It follows the same idea as the retargeting mentioned above, but it allows you to retarget people who have never even visited your website.
You can add pixels to the links you share on social media, so people who click on a link to media coverage or a review of your business can be retargeted with adverts.
Link retargeting can be used in conjunction with advertising platforms like Facebook, Google, and Twitter.
10.  Shopify's SEO Image Optimizer
Price: Free. Pro plan is available at $24.99/month.
The number of pictures posted on an eCommerce site is staggering. If you're using Shopify to run your website, as a half a million eCommerce platforms are, its SEO image optimizer app will help you optimize all your site's images by applying alt tags to all product images in one go using a formula of your choice.
Creating quality alt tags helps improve your website's experience for visually impaired users and improves your image search rankings.
11. Woobox
Price: Free for starters. The standard package is available at $32/month.
Running competitions on social media is a great way to encourage followers to share their products across their social media platforms.
They can be run alongside a promotion, during a sale or to promote a particular event or product launch.
The more people that share to enter, the further news about you will travel and this should translate into more sales for your company.
Woobox can help you run every kind of contest you could from instant wins to hashtag contests.
You can also use it to create polls and quizzes or to give away coupons.
12. Unbounce
Price: Packages start at $99/month.
This tool's drag and drop editor makes it very handy to create landing pages that increase conversions on your site without the need for a developer.
Unbounce also stands out because of its integration with lots of other marketing tools like WordPress, MailChimp, and Hubspot. If you're using these, Unbounce will seamlessly fit on your toolbelt.
Unbounce also has a WordPress plugin that lets you connect your landing pages with your domain in a couple of seconds, so you can launch them directly from your own .store site.
It also has an interesting A/B testing feature that will let you figure out what headlines, CTAs, and images will improve your conversions.
eCommerce is a highly competitive space and the only way to rise rapidly is to use nifty online marketing tools like the ones mentioned above.
From lead capture to SEO research to analytics, these online marketing tools will help you create a successful long-term eCommerce marketing strategy.
If you're looking to start your eCommerce marketing journey, these tools will do the trick perfectly.
Search your .Store domain now!

Search for your business name or category. cookies.store or summercookies.store
Marketing To Different Customer Segments
Marketing To Millennials
The marketing strategies for businesses heavily depend on the demographics of their target audience. This especially holds true for eCommerce businesses that are marketing to millennials.
From social media promotions to influencer marketing to event marketing, eCommerce businesses need to explore multiple avenues to market their brand and their products to millennials.
Who Are Millennials?
According to Pew Research Center, the term millennial refers to people born between 1981 and 1996  who are often the children of Baby Boomers.
Millennials are marked by their coming of age during the Information Age and their comfort with and dependency on using digital technologies and social media. They are set to become the largest living population in the United States, touching 73 million in 2019.
Millennials are a generation that is projected to spend $1.4 trillion by 2020 -a statistic that has made millennials a marketing buzzword in recent times with brands scampering ways to go about marketing to millennials.
The first bunch of these elusive, opinionated, tech-savvy people is entering its prime spending years and companies are more than keen to revise their marketing strategies to suit the millennials' needs and demands.
 Here are a few of the important factors to consider for marketing to millennials.
5 Things You Should Know When Marketing To Millennials
1. Optimize For Handheld Devices
9 in 10 millennials own a smartphone and checks their phone an average of 45 times a day. They use handheld devices such as smartphones and tablets to compare prices, read reviews, search for discount coupons before making the final purchase.
Millennials are online twice as much as any other demographic and are glued to their mobile screens for consuming information. This makes it crucial for eCommerce businesses to tweak their eCommerce marketing strategy to be favorable to mobile usage.
Not only is it important to optimize for mobile, but you also need to ensure that the customer experience is seamless, interactive, and top-notch. Additionally, ensure that your website loads within 3 seconds and be sure to define clear call-to-action buttons. 
2. Get On Social Media
Social media is an important and almost essential tool for reaching out via marketing to millennials. Facebook, YouTube, and Instagram are the top social networks used by millennials.
In fact, 5 out of 6 millennials connect with brands on social media. Marketing to millennials via social media channels should be an important aspect of your eCommerce marketing strategy as they are the most connected generation.
They resort to social media not only for staying connected with their friends, family, and acquaintances but also consume a lot of news and information through these channels.
They refer to reviews and references made by their connections before purchasing an item so you mustn't be only present on social media but highlight product reviews and user stories on your channels.
Sharing success stories, interesting testimonials, positive customer experiences, etc. can help your eCommerce brand to connect with millennials.
3. Focus On Engagements
23% of millennials spend an average of 5-10 hours a day consuming online content across various channels.
Marketing to millennials involves being omnipresent and engaging with them where they are. Short-term targeted brand campaigns are a thing of the past.
Millennials like to know your company and not just your brand. It's essential to remain consistent with your messaging and your language.
To promote your brand among millennials, you should invest your time and resources in creating video content and establishing your presence on YouTube with short, informative videos, reviews, and even tutorials.
Track and analyze your millennial customers' social media behavior and make sure your online presence is being tracked such that you are prompt in responding to queries, reviews, complaints, etc as posted by them.
User-generated content is another great way of creating content for your brand and engaging with your millennial audience. As mentioned earlier, millennials turn to social proof in terms of reviews and recommendations made by their peers before making a purchase.
Similarly, content created by strangers on the internet will be far more valuable than what the brand promises to deliver.
Search your .Store domain now!

Search for your business name or category. cookies.store or summercookies.store
3. Target Social Groups
The traditional marketing methods indicate targeting a certain age-group to gauge the usability of the product depending on the ing to the target customers' age and stage of life.
Millennials do not follow the traditional way of moving from one life stage to another but are instigated by the social group that they belong to.
Do not mistake this simply to be the social media channel that they are present on. Being part of a social group goes beyond one particular channel.
It is about the social identity that they have created by virtue of their occupation, their friends' circle, their lifestyle choices, and those people they are connected with online and offline.
While devising a strategy for marketing to millennials, analyze, and identify the social identity that your brand would relate to and then target those groups.
A simple example would be fitness enthusiasts. People belonging to this segment live and breathe and talk about fitness and purchase the various devices, products, and diets that aid their journey.
4. Support A Worthy Cause
Millennials are known to respond more favorably to brands that take a socially conscious stand with as many as 50% claiming they would be more willing to make a purchase from a company if their purchase supports a cause.
While devising your strategy for marketing to millennials, make sure you are vocal about a cause that your company or brand believes in.
Although it is important for a brand to be socially conscious, millennials also value authenticity, so make sure you are walking the talk and not simply gaining eyeballs through the cause that you support.
This is especially applicable if you wish to create a sustainable brand and a long-term relationship with your millennial customers, be authentic in your messaging, and keep it no-nonsense.
Marketing to millennials involves a lot of personalization and customizing your marketing strategy to cater to specific audiences after deliberation and analysis of their behavior. Behavioral marketing is a great way to achieve this feat.
Millennials are powerful and influential as a generation, and if your brand is focused on marketing to millennials it is important to understand how they are different from any of the previous generations.
Not only is their purchase pattern different, but the entire purchasing process is also distinct and governed by factors that were traditionally not as important.
They like to be engaged, they want to be part of the brand experience, they value convenience, they are woke(!).
Contrary to popular opinion, they are loyal and they are vocal about their love for a brand and are more than willing to share their opinion with others, which as an online brand you can definitely use to your advantage.
Marketing To GenX
If you are the frontrunner of a successful eCommerce business, you'd know the importance of understanding your audience, creating buyer personas, and studying the demographics of your target buyer. With this study, you would also know that marketing to genX should be a priority.
While marketing to millennials is the need of the hour given their swift rise as the highest spenders, Generation X makes for a promising group of people that have the financial stability and willingness to buy online.
Who Is Generation X?
Generation X or GenX is a small generation in the United States, that makes up a large portion of the purchasing power. They are born in the range of years from 1965 to 1980 and are effectively a technological channel between Baby Boomers and Millennials.
GenX makes up more than 30% of America's population and has a vast purchasing power. Since they cover such a huge portion of the market share, for any eCommerce business to grow, they need to have a strategy in place about marketing to GenX.
Since GenX is sandwiched between to significant generations, to better understand it, it's important to understand the other two generations as well.
Understanding GenX For eCommerce
GenX is considered to be the hardest age group to understand for even the savviest marketers. There are two types of GenXers:
Those born in the earlier phase with characteristics of Baby Boomers – who might have trouble with technology, such as computers and phones

Those born later who have purchasing habits similar to that of Millennials – who are comparatively tech-friendly
Search your .Store domain now!

Search for your business name or category. cookies.store or summercookies.store
In spite of their differences, there are a lot of common points. Below are a few of the things that should be considered when marketing to GenX.
1. Financial Stability
Since their age varies from 39 to 54 currently, they are in their highest-earning years or at high points in their careers. They can't be ignored as they have an impressive influence over both household and company decisions.
2. Security
Since most of them have families with their children in schools, colleges, or early careers, family safety and financial future is one of their top priorities.
Since they hold very strong family values, you need to provide them with a reliable product or service and build a relationship of trust.
3. Life Experience
GenX (as a whole generation) has seen a lot over the years. The moon landing, the Cold War, the Y2K crisis, the internet revolution, and everything in the middle.
They have already seen a huge number of ads and been targeted by marketing over these years. When marketing to GenX, you need to make an impact by conveying a genuine message. 
4. Internet Users
Even after coming across an ad on a TV commercial or newspaper, GenXers tend to research it on the internet. You need to ensure that your company information and every important aspect of your business is available on your website, social media sites, and other professional sites.
5. Personal Marketing
Since most GenXers are parents, they prefer media that reflects their values and prefer authentic brands. Be genuine and transparent when marketing to Genx otherwise they will see through it.
How To Reach GenX For eCommerce Marketing?
Even though they come from a time before the existence of the internet, they have more or less adapted to the change, and have got themselves familiar with it. Most of them are regular internet users and are active on various sites or platforms like social media, search engines, and other online directories.
1. Facebook 
Millennials are often considered to be obsessed with social media, but GenX isn't much different from them. Since a large portion of millennials have shifted to Instagram and Snapchat, GenXers comprise the major population of Facebook.
You can build a Facebook page for your business and promote its post on Facebook and use Facebook marketing techniques to get them to buy from you.
2. Direct Mail
Since they belong to a time before the existence of the internet, GenXers have always liked the concept of direct physical mails. You can send the discount codes or personalized offers via direct mail.
3. Email Marketing
Emails were being used from the very inception of the internet, and hence email marketing is one of those aspects they are most familiar with. It's very cost-effective and easy to execute, it's one of the best ways of marketing to GenX.
4. Video Marketing
GenX loves watching videos, especially on Facebook. If a genuine message is conveyed well in the form of videos it could do wonders for your marketing team.
5. Website 
All the other marketing strategies are in vain if you don't have an ultimate destination for them to reach, which is your website. You can use various tools to understand your customer navigation and to help them find what they're looking for.
Live chat options, pop-ups boxes to prompt customers to join your newsletter or receive a discount code are features your website should have. You can also nudge your users and customers to share their feedback and then make the necessary improvements.
Tailoring Your eCommerce Marketing To GenX
1. Discounts
GenX has been very familiar with discounts through newspapers, magazines, and TV and they still have a massive preference for it. You can provide them an intro-discount to first order.
2. Loyalty Programs
GenX are known for their loyalty. Create reward programs to encourage them to repeat purchases, like a discount on higher purchase, free samples, free shipping, etc.
3. Written Reviews
Collect and post written reviews from your customers and express gratitude to them for taking out the time to do so. Written reviews showcase authenticity and build trust with GenXers.
4. Security
Provide privileges like free return shipping so that they feel secure while purchasing from you. Also, ensure that your return policy is easily understandable on your website.
5. Personal Touch
Connect with GenXers through conversations in the real-world scenario by showcasing everyday situations. Maintaining a personal touch is of the utmost importance when marketing to GenX.
6. Social Ads
Besides just using traditional ad platforms, use online ads. Facebook, Google, and Instagram are good places to start with. Help them reach your website and buying portal through just one click while surfing on the net.
7. Customer Service
Make your GenX customers feel valued by providing timely responses and rectifying any of their issues immediately. With effective customer service, GenXers can become your customers for life.
8. Nostalgia
One of the most effective tactics when marketing to GenX is making them a little nostalgic about important events, music, or anything which they would have connected with back in the day Give them a trip down memory lane when marketing to them and they might just get engaged with you.
9. Optimize for Mobile
Needless to say, smartphones have overtaken laptops and tablets to a large extent and everyone prefers using the internet on their phones because of their portability.
Make sure you optimize your website for mobile, so that it's compatible with every device, information is easily readable, and loads in no time.
GenX has a huge spending power as most have them are well-established in their careers or are retiring after accumulating a lot of wealth in these years.
It's highly important that while preparing your eCommerce marketing strategy you pay close attention to marketing to GenX and come up with separate strategies for them.
Since this generation falls between two poles apart generations of Baby Boomers and Millennials, make sure that you diversify with various marketing strategies to capture their attention. 
They are well-educated and thoughtful buyers, and if you gain their trust once, you won't have to worry about losing them like in the case of millennials.
Search your .Store domain now!

Search for your business name or category. cookies.store or summercookies.store
eCommerce Marketing Agency Vs. In-House Marketing Team
"Do we hire an eCommerce marketing agency or do we recruit an internal marketing team?"
This is a situation every eCommerce business has to face at some point in the business lifecycle.
Consider a situation where perhaps you already have an eCommerce marketing agency working for you but you are considering switching to an internal marketing team to save costs.
Or maybe you are thinking about utilizing both for different marketing projects.
Well, the decision is certainly not easy and based on multiple factors like cost, skill, innovation, and ease of communication at the least.
Various pros and cons associated with both the choices determine if the scale tips towards your in-house team or hiring an external eCommerce marketing agency or maybe both.
Still confused?
To assess your best options start by clearly defining your organization's marketing goals.
Weigh them against your in-house team's strengths and weaknesses (that is if you have one or you are thinking of building one).
If it suffices your requirements, you are good to go. If not, you require external expert help.
Even WSI, a global network of digital marketing agencies itself utilizes a team of in-house marketers supported by numerous eCommerce marketing agencies.
The external agencies support during supplementary marketing execution.
It turns out that there is no right or wrong then!
Let's closely look at 7 key business aspects that will guide your decision-making process when comparing in-house marketing teams against hiring an eCommerce marketing agency.
7 Business Aspects To Consider When Comparing Hiring An eCommerce Marketing Agency Vs. In-House Marketing Teams
1. Company's Culture, Vision, and Mission
Great advertising and marketing is one that stems and draws power from the mission and vision of the organization.
As a more obvious choice, it will work better to hire an in-house marketing team that works keeping in mind the company culture and mission.
An internal employee is much more likely to invest in the company's success and growth.
After all, "Good advertising does not just circulate information. It penetrates the public mind with desires and belief".
But does this mean that an eCommerce marketing agency cannot align itself with your organization's mission and vision?
Undeniably there are higher chances that given a marketing agency's association with numerous clients, it's more genuinely difficult to get a full sense of a company's day-to-day culture and values.
However, there could be an agency that fully aligns with your values.
Research well before making that choice!
2. Skill Sets
At times, an advertising campaign requires skill sets ranging from web development to social media advertising to email marketing to pay-per-click advertising.
Does your in-house team have the whole range of skillsets? If not, are you ready to hire an entire team?
In cases like these, eCommerce marketing agencies are up and running and already equipped with knowledgeable professionals who specialize in all these areas of digital marketing.
In short, agency teams can be your one-stop solution and might even cost you less than hiring an entire team with all the required skill sets.
Make an informed decision by weighing all the pros and cons and weighing the cost against the benefits derived in both the scenarios.
3. Changing Technologies
The digital marketing landscape is changing continuously and online marketing tools that worked yesterday might not be effective tomorrow.
You are bound to lose a lot of business if your organization is not abreast of the latest digital marketing practices.
Staying up-to-date, with the latest digital marketing technologies, forms the very core of any eCommerce marketing agency.
They are often the first to lay their hands on new and ground-breaking technologies.
Base your decision by determining your advertising needs well and take your pick!
Search your .Store domain now!

Search for your business name or category. cookies.store or summercookies.store
4. Communication & Availability
Open, efficient, and real-time communication is the key to keep any marketing plan running smoothly.
The whole process becomes smooth with an in-house team.
The team is always available for brainstorming sessions, content approvals, and meetings; both scheduled and impromptu.
An eCommerce marketing agency, on the other hand, isn't always available or accessible.
They cater to numerous clients and hence the day-to-day communication is limited.
Sometimes an external agency might be available only on email or phone with a weekly or monthly face to face meeting.
Well, both methods are equally good but how they work for you depends entirely on your need and preference.
5. Urgency
Let's consider that your competitor has just launched a dynamic content website.
This new website is hurting your sales and driving away your customers.
To take matters into hands immediately and to repair any further damage you too would need to design a dynamic content website.
In such a situation, the urgency of the matter defines your choice for in-house marketing or an external eCommerce marketing agency.
If you have the time, you can go ahead with publishing that job opening, reviewing resumes, conducting interviews, calling references, and so on to hire the right resource.
Need to put that fire out now? Then a marketing agency is your only choice.
Agencies are well-equipped and can jump in quickly and efficiently to make those necessary changes to your advertising strategy.
6. Creativity
"Creative without strategy is called art. Creative with strategy is called advertising".
Sometimes having an in-house team may work to your disadvantage.
Being solely devoted to a particular organization with a signature style of advertising may stagnate creativity.
On the flip side, an eCommerce marketing agency has numerous clients and hence is always exposed to fresh ideas.
Well again, there is no good or bad.
If you are looking to develop a campaign for which your in-house team lacks the required creativity, employing an agency is your answer.
7. Cost
Cost plays a major part in driving the whole decision of employing an in-house team or recruiting an eCommerce marketing agency.
The average salary of a marketing manager is upwards of $60,000.
Consider the entire cost and take into consideration the need to hire managers, marketing specialists, web developers, and so on.
An agency, on the other hand, charges a fixed amount.
Also consider additional cost saved on office space, and the other required hardware and software.
The decision will depend on your cost bearing capacity.
To sum it all up, the answer to hiring an eCommerce marketing agency or hiring an in-house team entirely depends on your goals and needs.
Take into consideration the above-mentioned factors and weigh your options.
Still indecisive? Consider coming up with a strategy to utilize the best of both worlds.
Use external help in areas where you lack expertise, or even with new and trending technologies. And rely on in-house power for the day to marketing activities. 
Whatever the case, strategically make your decision to either hire the right eCommerce marketing agency or recruit an in-house team.
Search your .Store domain now!

Search for your business name or category. cookies.store or summercookies.store