Let's face it. The primary objective of any eCommerce business is to boost sales and drive conversions.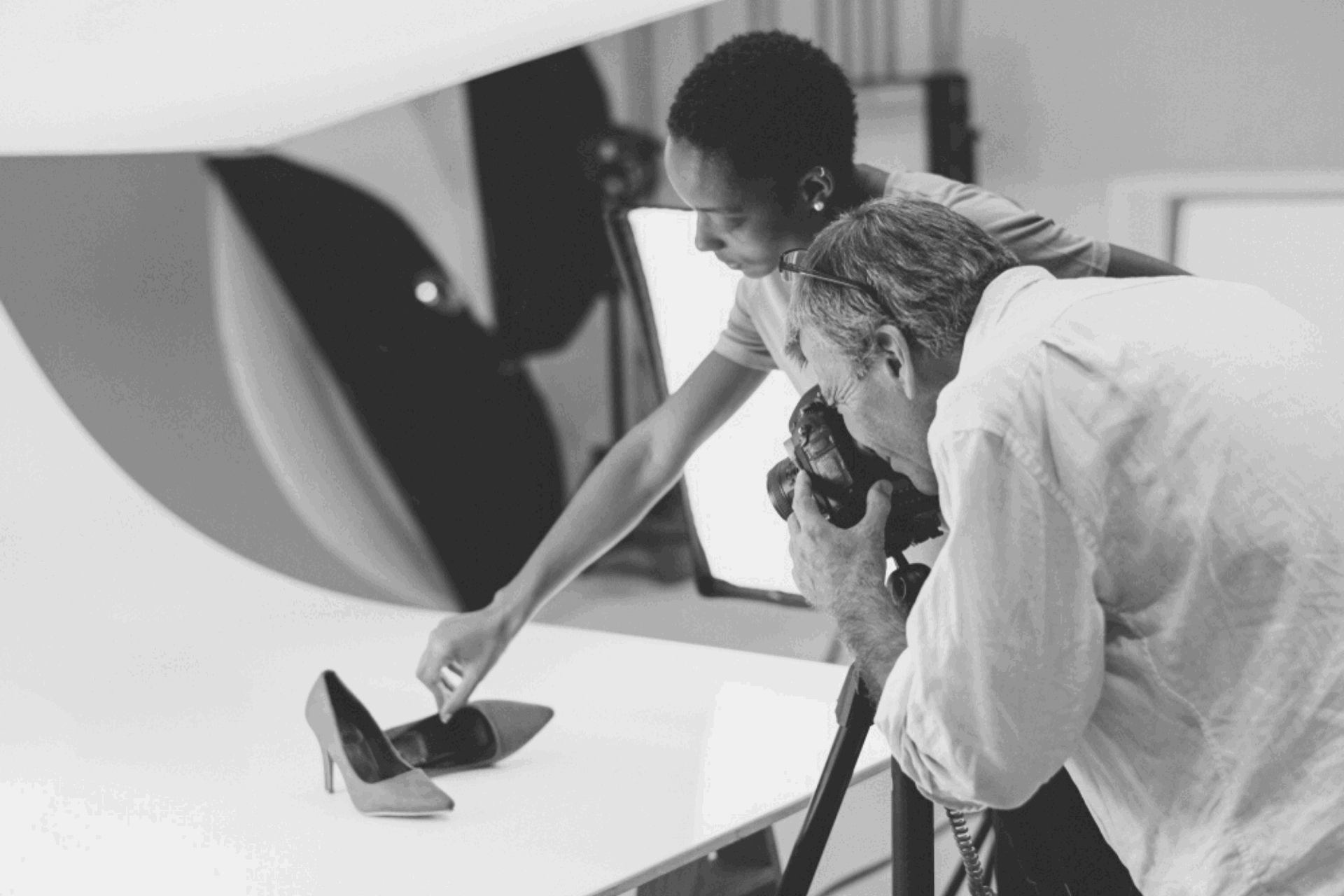 While working on your eCommerce SEO strategy, lead generation campaign and social media strategies are critical to driving conversions and increase traffic, the final decision to buy your product will be taken by your customer on your product page.
Apart from serving as a platform to facilitate your sales, a good product page helps build trust among your potential customers.
To help you boost sales, we have listed a few things that you to keep in mind while creating or redesigning your product pages.
Product Pages – 8 Ways To Boost Sales By Optimizing Them
1. Highlight The Call-to-Action Button
Your call-to-action (CTA) buttons should be easily visible on your product page.
While this may seem like an obvious hack, many e-commerce websites have a CTA button that is barely visible or one that appears after a user scrolls down on the page.
Highlighting your CTA button where your user can easily spot and click on it leads to a much higher conversion rate. Some websites also use a dynamic CTA button – one that is visible even as the user scrolls down the page.
Another factor to consider is the color of your CTA button. While it is important to follow the color theme and brand pallet of your eCommerce store's design, including colors that do not merge with the layout is critical.
You need not choose colors that do not fit into the overall brand tone and pallet of your online store; you can choose one that stands out on the page – preferably one that is attractive yet contrasting with the background.
Include compelling CTAs that bring about a sense of urgency to prompt people to click on it.
CTA's such as "Only 1 piece left in stock" or 'Special discount for the next 2 hours only" will surely help to boost sales.
2. Write A Detailed Product Description
Your product copy should talk about the size, material, and color of your product at the bare minimum.
You should also include examples and applications on how and where the product can be used.
Your product description should not only mention unique and special features of your product but also cater to the senses of your potential customers.
It should speak to them and help them to understand how your product can be a good fit in their lives.
While SEO is a factor to consider when writing the product description, ensure that the information shared on your page is authentic and stays true to your product as well as your brand.
A great product copy that addresses people's queries will do wonders for your online store and help to boost sales.
3. Include Pricing and Shipping Details on the Product Page
In case of products priced within a reasonable range, a description related to price might not be essential – just listing the price can do the talking.
However, for products that fall within a higher price range, a short description justifying the premium pricing helps in convincing the customer to make the purchase.
Shipping details with regards to the expected date of delivery, delivery cost, return policy, should also be mentioned on the product page.
This helps increase your sales, especially when the delivery is fast enough and free.
For a premium or limited-edition product, customers might be willing to wait longer or pay the delivery fee.
This is especially likely for customers based in less accessible locations.
Including all the pricing and shipping information will help people make a well-informed decision and doing this will help boost sales for your eCommerce store.
Search your .Store domain now!
Search for your business name or category. cookies.store or summercookies.store
4. Use the Right Images
Your product page should be peppered with high-quality and visually appealing images of your product.
The same should be followed on your social media handles.
With Instagram marketing picking up for eCommerce businesses, investing in high-quality images will help people get a better understanding of what you are offering.
High-quality images will lead to a more convincing conversion.
Showcase multiple images of the product, that highlight your product features as well as use-cases.
Including an image that conveys the scale or size of your product helps immensely.
In case of clothes or fashion accessories, show images with your product that are worn by a model.
This will help customers better imagine what your product will look like in a real-life application.
For better results, showcase your product in a 360-degree view, especially one that has different elements at the back as compared to its front.
Another feature that helps greatly is the option to zoom in to your product.
While you may list details of the material of your product in the product description, allowing users to zoom in to the image will help them to have a closer look.
This will help in convincing them of the quality of your product and in turn, boost sales.
5. Use Product Videos
Product videos or gifs make for great visual features to sport on your product page.
Your product videos can either be about how to use your products, in case it is a unique one, or just to show what it will look like on a person.
Using videos or gifs of your product being used in various scenarios can also help your customers relate with their use case.
The duration of your video, however, needs to be short, ideally up to a maximum of 20 seconds.
In the case of products where you need to show the assembly, the duration can be longer – but try to keep it within a minute.
Compelling videos are not only easy to consume but more convincing as a means of visual content.
You can definitely boost sales and drive conversion by investing in short, high-quality, application-oriented videos.
6. Show Availability of Products
To boost sales, you can use a tactic that triggers emotions. For instance, the 'fear of missing out' emotion is something you can use to your advantage.
Include a number that displays the remaining products you have in stock.
This is especially significant in case your product is available in lesser numbers or is currently out of stock.
Make sure the customers know about it while viewing the product, and not after they click on the buy button or during checkout.
This may hamper their experience and in turn the sale of your products.
When the product is available in lesser numbers, it also works to create an urgency in the minds of the customers and can lead to an immediate sale.
7. Showcase Similar Products
Include an option to show variants of your product (if available) or products similar to the one being viewed by your customer.
Highlighting other products that go well with the product being viewed also helps in increasing your sales, as the customer may opt to purchase both together.
For example, if the customer is viewing black formal shoes, the product page can display black socks as an option to be purchased along with them.
Showing what other people have viewed or purchased, that is similar to the product being viewed by the customer, has also known to boost sales on e-commerce websites.
8. Include Customer Reviews Or Ratings
Nothing convinces your customers more than word-of-mouth.
The best way to do it on your online store is to include reviews and/or ratings from other customers about your product and services.
You can include reviews left by customers on your social media pages as well.
This adds to the authenticity of your products and brand experience in the garb of social proof.
Make sure you do not filter out the less flattering reviews – exceptions can be made for the usage of vile language if any.
Search your .Store domain now!
Search for your business name or category. cookies.store or summercookies.store
Product Description: Write A Product Copy That Sells
Simply having the right product to sell on your eCommerce store won't convert browsers into buyers.
You need a supporting product copy or eCommerce product description to lure your visitors into making that purchase.
So, how alluring is your product description? Does your product description simply describe your product and how it works? Or does it entice a visitor to click on 'buy now'? The trick is to engage, inform, persuade, and sell.
Writing a product description seems deceptively simple and easy to craft. But there's no real way to find out if your product copy is armed to sell.
Your product copy must talk about the product, its uses and benefits, and how all of this aligns with the buyers' needs.
While working on your eCommerce SEO strategy, lead generation campaign, and social media strategies are critical to driving conversions and increase traffic, the final decision to buy your product will be taken by your customer on your product page.
Apart from serving as a platform to facilitate your sales, a good product page helps build trust among your potential customers.
Quite some feat, isn't it? Don't panic, because with this post we zoom into how you can create product descriptions that let your brand's personality shine and help establish a connection with your audience, and to get you to sell the product.
Before we start, here are three non-negotiable ground rules for writing any product copy.
A complex product must include a detailed description that addresses all of your buyers' apprehensions and concerns.
Every description must be written to inform and persuade.
Always, always, always include high-quality product photographs.
Optimize your product page to rank in search results.
1. Conveys Value Proposition
What makes your product unique? How is your product better than others in the same segment? What utility and value can your buyer enjoy? Subtly include the problems that your product addresses and coagulate the benefits of your product with its features to make for a convincing plea.
2. Consider Brand Guidelines
Write a description that is in line with your overall brand theme, tone, and voice. Smartly use emotional appeal to draw customers and play the 'FOMO' card. Paint a picture that sells a lifestyle brand and not just your product. Avoid making your product description too salesy.
3. Include a Description of Materials
Product description 101 suggests including a description of what the product is made of. Clearly specify if it's a cotton shirt, a wooden chair, a plastic bottle, and so on.
In the case of a service product, write about what is included as part of the deal.
4. Include Dimensions and Weight
This is specifically important if you are selling furniture or fashion/apparel. Include clear measurements of all furniture products on offer. These dimensions will help your customer to make a purchase decision.
If you're selling clothing, including a size chart and measurements of each part of the body that your clothing intends to touch and cover.
5. Format Your Description
For your prospects, formatting will either draw attention (or away) from your product.
A great eCommerce product description involves good photos, bullet points, clear buttons and CTA's, paragraph breaks, and a seamless mobile experience.
6. Crisp And Precise
Keeping your brand voice and tone in mind, draft content that clearly talks about the benefits of using your product.
Always remember, you are writing for one person and not a horde of strangers visiting your website. Speak to that one person's pain and desires and craft a description that addresses those pain points.
How To Write A Great eCommerce Product Description?
1. Do your Research
Before you begin writing an eCommerce product description, conduct thorough research.
Dive deep into understanding your target audience and ask yourself 'how does your target audience think, talk, and write?' And 'how do they aspire to think, talk, and write?'
Include a description that establishes an emotional connection with your end-user. Another research tip includes studying how other companies in this niche are doing.
What are their product descriptions? Refer to players that have found success with their product descriptions.
2. Identify Your Customer Personas
Failing to understand your customer persona is a recipe for ineffective copywriting.
Clearly demarcate who your target audience is, what their needs are, what their desires are, what pain-points bother them, and connect this to what your product offers.
Knowing your audience will help you to shape a tantalizing product description and ultimately influence purchase decisions.
3. Add a Dash of Humor
Inserting a dash of humor can move your audience to act on your CTA almost incautiously.
Not only does humor add personality and entertainment to make your copy engaging, but it also helps to hold the attention of your target audience and thus brings you closer to the ulterior motive of selling the product.
A top-tip here would be to smartly use wit and humor to cheer your audience and not mock any sensitive topic that may lead to a negative impact on your brand experience.
4. Include The Art of Storytelling
The art of selling includes nifty persuasive techniques such as storytelling. Include a short story of 2 to 4 lines to engage your prospect and makes him forget that he is being sold to.
Use simple language to pepper your story with wit and humor to get the reader's undivided attention.
This way, you can highlight the benefits of your product and also lower the barriers posed by other traditional persuasive techniques.
5. Include Customer Reviews
Probably the most surefire way to put your prospective buyers' purchase concerns to rest is to show them that they are not the first to buy this product.
Including reviews, testimonials, ratings, company logos, certifications, or any other form of 'social proof' to convince new buyers that they are not making a bad decision.
You can also use customer reviews to create compelling product descriptions for instance if a customer says. 'I wasn't sure if the batteries would last me long enough', you can add and state that the batteries are tested long-lasting lithium-ion batteries designed for intense use.
Search your .Store domain now!
Search for your business name or category. cookies.store or summercookies.store
Product Pricing: How To Price Your Products
A constant challenge of running an eCommerce business is figuring out how to price your products. It is very important that you set your prices right.
Your products need to be priced smartly so that they are conducive not only for your profit margins as business owners but also agreeable to the customers.
While you may choose a particular pricing strategy out of many, pricing models effectively are meant to help you arrive at a selling price for your product or service depending on your ultimate business goal.
Here are a few things you can keep in mind when faced with the question of how to price your product.
18 Tips On How To Price Your Products
1. Identify Business Goals
Business owners, be it a large or small business, need to first ensure that their business goals are identified correctly.
Why? Because it plays a huge role in deciding the price of your products. You need to be very clear whether the goal is to make money or gain market share, or both.
Making money from a business entails generating enough revenue through the sale of your product or service such that you not only break even on your base price but also generate profit margins that can be utilized to expand your business and achieve high sales volumes.
Therefore, it is essential to first chart out your business goals before figuring out how to price your products.
2. Understand Business Priorities
Business priorities might not only be restricted to generating high-profit margins, especially in the case of a small business, the focus can also be on gaining market share.
In such scenarios, you can't set the price too high for your product or service, which will need to be closer to the base price.
Your business priorities will also have influence in deciding whether or not to opt for an omnichannel retail strategy or apply another simpler revenue channel. This will determine how you sell your products and how to price your products.
3. Know Your Customer
Getting to know your target audience is extremely critical before you come up with fixed costs for your product or service.
You can resort to undertaking market research or analyze the behavior of your existing customers' basis the data available.
You need to understand their preferences, their buying pattern (if they would be willing to pay a higher price for a good quality product or go for the one that is most cost-effective, and so on.)
Segment your customers into buckets and accordingly set your prices right. This will help you to address the dilemma of 'how to price your products?'.
4. Know Your Products' Costs
The most fundamental requirement that your pricing models need to fulfill is to cover your costs and then factor in profit margins.
It is therefore essential to know exactly what is the cost of manufacturing and distributing your products.
Before you set your prices, you need to consider both fixed costs as well as variable costs.  Cost for procurement of raw materials, manufacturing cost, maintenance cost, logistics & shipping, marketing, et al.
While several business owners choose to sell their products at the bottom line prices, it might not be a great pricing strategy and not necessarily suit your business goals or ensure sufficient profit margins.
In order to be profitable, it is important that you at least break even on the base price and then sell it at a higher price (cost-plus pricing strategy) to generate enough revenue to keep the business sustainable.
5. Know Your Revenue Target
For businesses that have a foothold in the market, in order to sustain or grow further, it is essential to have a target for revenue generation.
Since profits can, in turn, be used to further expand the business. Your target revenue has a very important part to play in deciding how to price your product and how to drive sales.
The selling price of your product and the sales volumes are major contributors to ensuring you meet your revenue target. Depending on the number and kind of products you sell your pricing strategy can vary.
For example, if you're selling only one type of product you may resort to cost-plus pricing in order to make higher profit margins, whereas you can resort to variable costs and pricing strategy for different products if you're selling multiple products.
6. Know Your Competition
This is extremely critical especially when the target is to gain market share, as business owners can fix costs at a lower or higher price as compared to competitors.
In case your product is higher quality as compared to competitors or you wish to establish your product as being premium, you can set your prices higher than competitors.
In case you wish to gain market share and the quality of your products is at par or lower than available in the market, you can't set the price too high and might need to charge bottom line or lower prices in the market.
7. Know Where The Market Is Headed
Beyond knowing the price of products and services being offered by your competitors, it is extremely critical to analyze the demand for your products, what your customers' expectations are from your product, and if there is a new trend that is emerging that may vary the way you do business.
Factors such as costs of raw materials going up or down can vary the way you set your prices for products as you may want to raise your prices in case the raw materials become more expensive.
It is also important to keep a check on new players in the market and what the existing competitors are up to – their sales volumes, pricing strategy and pricing models, and their market share – even if it is a small business.
You may need to rethink your pricing models basis on how the market is behaving.
8. Raise Your Prices Periodically
You will always need to reconsider the prices of your product and lower or raise your prices depending on factors affecting your production cost, or even the demands of the market.
You may be selling at a lower price when the demand for your product may have increased, which can give you a window to raise your prices when it is guaranteed that customers might be willing to pay slightly more for the product.
Same is the case with lowering your prices – in case your pricing strategy is not generating enough sales volumes, and especially if there are multiple options available in the market, you may want to lower your prices closer to the bottom line or base price.
Setting your price too high may hamper your overall business and it is, therefore, a safe bet to have variable costs as per the market demands.
Search your .Store domain now!
Search for your business name or category. cookies.store or summercookies.store
9. Understanding The Indirect Competition
Even though how you should price a product varies quite a lot between B2B and B2C offerings, what most founders miss out on is the indirect competition vying for their customer's money.
Customers not only compare the products and services they want to buy, in your vertical but even outside of it.
Find out what your common indirect competition is, understand how you compare, and price your products accordingly.
10. Split Test and Validate With Actual Customers
Pricing is an important decision and should not be done on assumption, but by leveraging actual data. A great way is to create a landing page that describes your product and its price, along with a credit card form.
The only catch is that you use an A/B testing tool to showcase different prices to different user subsets.
The next step is to analyze how many credit cards you collected at different price points, and accordingly, decide the final price of your product. Remember not to charge the cards at this step.
11. Break Out Tiers
Tiered pricing is a pretty simple way to find out which features are most valuable and which price points will drive the highest conversion rates.
Even though many first-timers would get attracted to the cheapest package, you can test different price points without publishing prices publicly by offering to upsell packages to existing customers through segmented market automation.
12. Bottom-Up Pricing
Bottom-Up Pricing is a great way to find out the perfect price for your product. Firstly, you need to ask your customers for a fair price as per them.
Once they sign up, start raising the price gradually for newer customers until you notice a fall in the percentage of people signing up. The price you reached before the fall would be the right pricing structure for you.
13. Asking For The Sale
There is a huge difference between people saying how much they are willing to pay for a product, and actually paying for it.
Theoretical or hypothetical answers do not reflect reality, and many entrepreneurs make the mistake of relying on the former.
Instead of asking for such theoretical answers, ask for the sale and start pre-selling your products.
You will realize quite soon, how much customers are willing to pay for your product, and you can price it accordingly.
14. Do Not Underprice Products
Even though a lower price would attract more customers, it's not a good idea to underprice your products.
Once you have created a price image of a product, it could get tough to increase the price later.
If you want to get more customers, focus on providing better value at that price than your customers, rather than reducing the price and comprising the quality.
As and when your efficiencies improve, you can always reduce the price accordingly.
15. Determine Desired Profit Margins
It's great to understand how much a customer is willing to pay for your product, but it won't matter if it's not enough to cover your expenses and generate a profit.
The end goal of every business is to generate profits, and the purpose of every price is to provide a profit margin on a given product.
Calculate the costs incurred in creating, servicing, and eventually selling a product, determine its price accordingly, and then see if people are willing to buy it.
If not, then you need to understand that the product isn't fit for that price and the cost of creating it needs to be reduced.
16. Build Brand Loyalty
Brand loyalty sometimes plays a bigger role than pricing. Once you have built a loyal following of customers, and they are convinced that your product is the best quality product they are going to get, you can keep increasing the price.
The only catch is to not increase the price so much that you actually start harming your brand loyalty. As long as the customers don't feel that you are taking undue advantage of them, you are good.
17. Find The Right Anchor
An important aspect of product pricing is price anchoring. Most people do not even have a clue of what the ideal price of a particular product should be.
To estimate the ideal price, they simply look at clues or anchors that are immediately available to them on the spot and then decide whether they want to buy the given product at that price.
Just like these anchors could be the price of a product sitting on the shelf next to yours at a brick and mortar shop, in this case, it could be of a similar product online. Take advantage of that and make sure you anchor your right.
18. Focus Geographically And Demographically
You need to search demographically and geographically to find out who you are actually targeting. People from different places have different spending capacities and purchasing power.
Besides, different kinds of people have a different outlook on spending on a particular product. If you don't take all that into consideration while determining your pricing strategy, the whole thing could go for a toss.
The end goal is to find the sweet spot where the price is neither too low nor too high. It needs to be priced in a way that customers feel that it's worth their money and end up buying it.
8 Effective Product Pricing Strategies
Arriving at the correct product prices requires analytical thinking, market research, and a lot of math. And in a highly competitive market, the right price can make or break the potential sale of your goods and services.
Every seller would ideally like to maximize profits with each sale. However, it might not be the best way forward. To help you pick the perfect pricing model, we've enlisted 8 pricing strategies for you to choose from.
1. Cost-Plus Pricing or Keystone Pricing
As far as pricing strategies go, this pricing strategy involves setting a high mark-up or simply doubling the manufacturing cost of your product.
The high price thus set can help maximize profits on your products.
In situations where your product has slow inventory turnover, significant shipping or handling cost, or is scarce in its availability, keystone pricing might be the right strategy.
However, in situations where the same product is easily available with other retailers, your sales might suffer owing to the higher price.
2. Target Return Pricing
Target return pricing is basically when you set a target on the return of investment (ROI) on your product.
Your desired rate of return combined with the manufacturing or acquisition cost will help you arrive at the target return based pricing.
While this may not maximize profits, target return pricing strategies will help achieve ROI.
The drawback of this strategy is that it does not consider competition pricing or any other scenario which can help you establish the correct pricing for your product.
3. Value-Based Pricing
Value-based pricing helps decipher the price of your products or services based on their market value.
You can arrive at the price basis the value your products bring to your customers.
When it comes to eCommerce pricing strategies, this pricing strategy is very effective as it considers the demand for your product and pays attention to what a customer wants and needs.
Pricing your product basis what the customer would want to pay is effective in driving more sales and building stronger relations with the customer.
4. Competitive Pricing
Competitive pricing or Economy Pricing refers to setting a price for your product lower than your competitors.
This can be achieved by cutting down on costs for marketing and promotions.
Among the myriad eCommerce pricing strategies, this strategy is especially effective for selling to price-conscious customers, who can easily be converted owing to lower costs.
While this pricing strategy has competitive advantages in terms of price, make sure that you do not lower prices to the extent where it turns into a loss-making venture.
5. Bundle Pricing
Bundle pricing involves selling your goods or services as a package at lower prices than they would cost if sold separately.
Commonly observed in grocery stores and home essentials, bundle pricing also works on apparel and other clothing accessories.
Bundle pricing is one of those eCommerce pricing strategies that can be used for a variety of eCommerce businesses.
This is effective to sell products that are unsold or in less demand owing to a higher price.
Bundle pricing may not work well for products that you want to sell more individually at their actual price.
6. Penetration Pricing
Penetration pricing is extremely effective for brands or products that have newly entered the market and are looking at gaining market share, and for existing ones with the same goal.
Also known as discount pricing, penetration pricing strategies involve setting a temporarily low price or promotion price on the product in order to gain market share and attract price-conscious customers.
While this method has clear competitive advantages in terms of price, do keep in mind that penetration pricing strategies may not be very effective if you're entering the market with a unique product.
In such a scenario, you can resort to price skimming, which involves entering the market at a higher price and then gradually lowering the prices as your competitors catch up and the demand is less.
7. Psychological Pricing
This pricing strategy appeals more to the emotional side of a customer than the rational side.
You must have observed products being priced at 999 instead of 1000, or ending in odd numbers instead of a round-up to the nearest multiple of ten.
Psychological pricing strategies give customers a sense of saving money on the product and help increase your sales.
For instance, price skimming is also a type of psychology pricing.
8. Premium Pricing
A very effective pricing strategy for luxury products or services, premium pricing strategies essentially stand for selling at a price which is higher than the market standard.
The high price or premium must be justified by higher quality, scarcity, or exclusivity.
Correct marketing and branding have a major role to play in retaining premium pricing.
Search your .Store domain now!
Search for your business name or category. cookies.store or summercookies.store
eCommerce Product Photography: Make Your Product Pages Attractive
"A picture is worth a thousand words," this adage still holds true especially when talking about eCommerce product photography.
According to research done by Thermopylae Sciences+Technology, humans process images 60,000 times faster than text.
In fact, according to a survey, 95% of B2B buyers prefer more visual and descriptive content over a lengthy copy.
If nothing, this clearly establishes the importance of eCommerce product photography. However, now all online store owners can't invest in very expensive product photography props, especially those who've just launched their online store.
Just having good product photography ideas is not sufficient to build an online store. In this article, we explore some promising eCommerce product photography tips and tricks for good quality product photos that you can use not just to increase sales but also for your eCommerce digital marketing strategies.
What Are Some Tips For eCommerce Product Photography?
To click high-quality professional photographs, you'll need the right equipment. Some key eCommerce product photography equipment includes
a good camera,
a tripod,
a plain/white background,
a table,
a well-lit room
Professional Camera
A lot of smartphones today come with a great camera. If you have one of those, then you could use it. The quality of the photo depends more on the technique than the camera.
The camera is just one of the many essential factors behind capturing a good photo. However, it's recommended that, if you have the resources, then opt for a professional DSLR camera.
You could also consider getting a tripod to avoid any blurry images.
Search your .Store domain now!
Search for your business name or category. cookies.store or summercookies.store
A Plain/White Background
A plain/white background is recommended to create contrast with the subject. If a white background is not available, try looking for any plain or light-colored background.
Buying some poster board from a local art store is also an option that you could explore.
Placing the product on an elevated surface close to the window allows it to have natural sunlight, which is soft.
Additional Props
Depending on the product, you could consider adding other eCommerce product photography props in the picture. For example, if you're taking a picture of a dress, then you could consider including a necklace that would go well with the dress. This could also be an upselling trick.
How To Photograph Products For Your eCommerce website?
Here are a couple of ways you can get good photographs of your products.
Online Tutorials
There are plenty of eCommerce product photography tutorials available on YouTube. Watch a few to get an understanding of how to do eCommerce product photography.
Camera Specs
Study and find out the various features of your camera and how you can use them to get good quality photographs.
Some of the cameras are fully automatic, while some allow manual adjustments. If you don't want to go to adjustments, you can capture your product photo in auto mode. 
White Balance
Set your white balance as needed. Make sure to change image settings to the highest quality, preferably RAW. This is the largest file your camera can capture, and it uses the full depth of the camera.
However, such a photo needs to be edited in software such as Photoshop or Lightroom. Select the highest quality image setting available (Superfine) if RAW is not available.
Manual Mode
ISO
If you want to add more details to your photos and wish to make certain adjustments, manual mode is perfect for you. To achieve this, study the ISO feature of a camera. The lower the ISO, the lower is the noise captured. The ISO is used to control the sensitivity of the sensor. Typically an ISO of 100 works well. 
To learn more about ISO and how it works, watch this video by Brent Hall.
Preview your image through the eye-piece of the camera. To get maximum depth of the field, set your f/stop to the greatest number available. 
Shutter Speed
The next big challenge is setting the shutter speed. The lower the shutter speed, the more light will enter.
Shutter speed may vary from 1/60 to 1/4; this signifies the fraction of second for which the shutter will remain open.
You need to adjust the speed till there's adequate light as viewed from the eye-piece. This is one of the most important eCommerce product photography lighting techniques.
Aperture
After setting the shutter speed, move on to set the aperture. Use the exposure level indicator on the camera to set the value for aperture.
If you adjust the value to be positive, you get a brighter exposure, while a negative value gives a dark exposure.
Zoom
Cameras generally have two kinds of zoom options available- digital zoom and optical zoom. If your camera has an optical zoom, try zooming-in as much as possible. Try avoiding the digital zoom as it will decrease the image quality.  
How Do I Take Good Photos Of Products To Sell Online?
If you want to sell online then here are some tips/hacks that you can keep in mind for effective eCommerce product photography.
Lighting Of The Room
Make sure to switch off all the extra lights inside the room as it will interfere with the set. Place the product on a table or a raised surface close to the window or underneath a light source.
Setting up the item at the desired position is another important factor. Usually, it is recommended to place the product in the middle of the frame with ample light coming on it. 
Reflector Cards
Having a reflector card can help produce desired reflections. Try positioning it at various angles to see which one gives the best effects.
It would be best if you avoid using wide-angle lenses as it can result in unnatural distortion while capturing an image.
The product photography camera settings should be set according to the best view from the eye-piece. 
According to Melis Steiner of Melis+Dainon Photography, "Every lens has a natural distance to the subject that should be maintained to represent the subject as it appears in life."  
Photo Editing
Before uploading a picture, edit it on software such as Photoshop or Lightroom to enhance its look and bring out the important features. Photo editing is recommended to ensure that the photo you upload is polished and professional.
One more factor before uploading a product photo to a website is the size of the photo. You need to resize the photo to fit it in the HTML container. Keeping the image size 1.5 times larger than the container makes it a good fit.
30+ Websites To Outsource Your eCommerce Product Photography
Listed below are over 30 websites that offer professional eCommerce product photography.
| | | |
| --- | --- | --- |
| Sr. No. | Website | Description |
| 1 | jazystudio.com | Best Product Photography in Pakistan. Jazy Studio is a leader in eCommerce product photography specializing in clothing, jewelry, home goods, food, beauty, and luxury consumer products. With incomparable professionalism and reliability, our in-house team of photographers and retouchers will help you build and maintain the desired product photography of your brand. |
| 2 | puneproductphotography.com | Professional ecommerce product photography for online portals and ecommerce websites. Premium product photography service in Pune. |
| 3 | seanofarrell.ie | Graphic Design, Video and Photography, Web Development, Online and Offline Marketing. Ecommerce product photography. Ethnography Study of Kinvara. Popcorner Movies podcast and YouTube channel. Good Shepherd Banner. Yougi Product Photography. Shardborne Website Development. LimBrick City – A Very Merry BrickMas. LimBrick City – Brixford Poster. Tony Clarke School Books – Instant Messaging. |
| 4 | snap36.com | Snap36 specializes in high volume, cost efficient 3D and 360 degree ecommerce product photography, providing spin photography services & solutions for ecommerce sites. |
| 5 | jofotostudio.com | ecommerce product photography boutique studio |
| 6 | apparelwest.com | Product Photography Studio, Product Photographer Los Angeles, ghost mannequin photography, Apparel Photography, clothing photography, fashion Photography, Studio Photography, Photographer, Amazon Product Photography, Amazon Marketplace, Ghost Images, Website Photos, Ecommerce Product Photography Los Angeles |
| 7 | markcolliton.com | Experienced freelance creative & ecommerce product photographer based in   Central London UK – Top quality results at competitive rates. Visit website   for more details. – Mark Colliton Photography London UK |
| 8 | ecommercephoto.co | eCommerce Product Photography for Amazon, Shopify & more. High Quality US Based Product Photography. Quick, Easy & Affordable. Product Photography That |
| 9 | snappyfly.my | Affordable Ecommerce Product Photography. Professionally Taken Product Images. Starts from $15. The More Images You Need, The More Affordable It Gets! Contact us at +65 6262 6162 or [email protected] |
| 10 | ecommercephotography.in | We provide all services Related to E-commerce, Like Ecommerce Product Photography, Image editing, And Cataloging on these location Vashi, Navi Mumbai and Pune. |
| 11 | shopozilla.com | Shopozilla is a one stop solution to setup and grow your E-Commerce Shop. Start Selling without paying any commission.   Our services include – eCommerce website development, eCommerce product photo-shoot, product data entry, digital marketing, product promotions and website hosting.  Call us to know more +919772165599 |
| 12 | aproductphotography.com | We deliver crisp and sharp amazon / eCommerce product photography. We are located in Lehi Utah. You can drop off your products or ship them to us. |
| 13 | productphoto.com | Covid-19 Update -Yes, we remain open and ready to serve your product photo needs. Please Note Temporary Shipping Address below for all orders. No Credit Card Required. Pricing & Rates. Amazon Product Photography. Commercial Product Photography. Products on White Photography. Ecommerce Product Photography. Product Photos for Ecommerce, Amazon and Print. Ready to Get Started. |
| 14 | clippingpath.es | A Specialized eCommerce Product Photo Processing Studio who provides clipping path, eCommerce product retouching service. Get a Free Trial. 50% Discount on bulk orders. |
| 15 | marsh-studio.com | Advertising & Ecommerce Product Photography |
| 16 | clickersart.com | Trusted photography production house. We specialize in quality Photography & Video Production for ecommerce product photography and commercial shoots. |
| 17 | globalphotoedit.com | Global Photo Edit is the Best Photo Editing Company in India offers Ecommerce Product Photo Editing, Photo Editing, Ecommerce Image Editing services. |
| 18 | ecommphotos.com | We provide specialized ecommerce product photography services to both the local Boston area as well as all around the country. Contact us for a quote today! |
| 19 | entrendz.in | Serving best professional photography in Lucknow since 2014. Professionally managed commercial photography services firm offering high quality, eCommerce product photography, unconventional photography, videography and digital promotion solutions. We provide best professional photography in Lucknow & ecommerce photography india. |
| 20 | clippingmasterzone.com | Clipping Master Zone is a leading Clipping Path & Photo Retouching Service provider that offers Image editing service, Professional photo editing service, Background Removal, Jewelry Retouching & Ecommerce product photo editing for web use and other Photoshop services etc in USA, UK, EU. |
| 21 | photoeditingservicesco.com | A professional photo editing services company with 10+ years of image editing services offers photo retouching services to professional photographers who are into real estate photography, wedding photography, portrait photography, ecommerce product photography, stock photography, and more. Upload your images and get retouched now! |
| 22 | grapixmart.com | No matter what kind of branding effort a product needs, the creative edge is enough to take it beyond the ordinary. Our experience in working with various mediums, gives us the advantage of understanding what kind of creative communication is best suited for a particular medium. Grapix Mart offering best quality Graphic Designs, basic to advance responsive Website Design, logo design, ecommerce product photography, seo and digital marketing services, print designs, 3D interactive, photo editing services, ps |
| 23 | pxdriver.com | Professional Photo Editing Services in a wide range of categories. Ecommerce Product Photo. Editorial Product Photo. Video Editing – Product Intro. Sign up for our newsletter now. ECGalaxy , All Rights Reserved. Terms & Condiotions. |
| 24 | phototouchexpert.com | Image Editing Service. Headshot Retouching Services. Photo Enhancement Service. Newborn Photo Retouching Services. Clipping Path Service. Photoshop Hair Masking. Ghost Mannequin Service. Convert to Vector. Ecommerce Product Photo Editing. Wedding Photo Editing Service. They are constantly working both Day & Night Shift to Deliver Image just in time for you. |
| 25 | dynamicshoot.com | DYNAMIC SHOOT is a leader in eCommerce product photography specializing in clothing, jewelry, home goods, food, beauty, and luxury consumer products |
| 26 | nicoleherrick.com.au | Affordable, high quality commercial ecommerce product photography (white background) including ghosted mannequin & amazon imagery. Melbourne & Australia wide. |
| 27 | bangaloreproductphotography.com | Ecommerce product photography in Bangalore. Fashion, editorial, advertising, product and eCommerce photography. |
| 28 | montrealproductphotos.com | Your Ecommerce product photographer. We are a Montreal based product photography studio. We specialize in product photography for your catalog, website, online store, the Amazon marketplace, print, and more. If you are looking to save time, money, and effort while creating better quality product images, montrealproductphotos is here to help. Get in touch with us. |
| 29 | ecomphotographer.com | Leading Ecommerce Product Photographer Delhi Gurgaon. You can't give up. You need to be consistently awesome. Integrating Traditional Concepts In Modern Ecommerce Market. Image processing has rocketed to popularity in recent times. The domain of E-commerce found a fitting technique in image processing. The primary objective is to render visible and appealing images to the potential consumer base. |
| 30 | zoommantra.com | Ecommerce product photography is a must for online sales. ZoomMantra produces Explainer Video and Film Video Production House in Andheri East, Mumbai. We are known as Video Production Company. also to Fashion Photography, 3D Animation & 2D Animation studio. |
| 31 | artone.us | Shopify expert and eCommerce product photographer specialize in creating STYLISH shopify website, magento eCommerce website, still product photography, and fashion catalog photography at affordable price in Los Angeles, USA. |
| 32 | assetfactory.co.nz | Photography Studio Auckland. Produce more images in a shorter time period. Capture video & photo, Fashion Photography, eCommerce product photography & Flat Lay. |
| 33 | wearepromoter.com | We Are Promoter, Youtube Video Promotion, Product Photography, Digital Marketing, Graphic Designing,ecommerce product photogrphy, logo design, advertisement design, ads design, brocher, banner, social media post, social media advertisements and ads, wearepromoter, wearepromoter.com |
In Conclusion
Before you get into eCommerce product photography, watch some videos and read up on the various equipment you might need.
However, before going into that kind of investment, it is advisable to have a plan in place that highlights what would be the theme of your products, the various props you might need, and the kind of equipment and tools that would do justice to the project.
If needed, you could consider hiring a freelancer or an agency to do this for you.
Search your .Store domain now!
Search for your business name or category. cookies.store or summercookies.store