If you ask any successful entrepreneur what helped them get there, you'll most likely find one element besides hard work and dedication; self-education.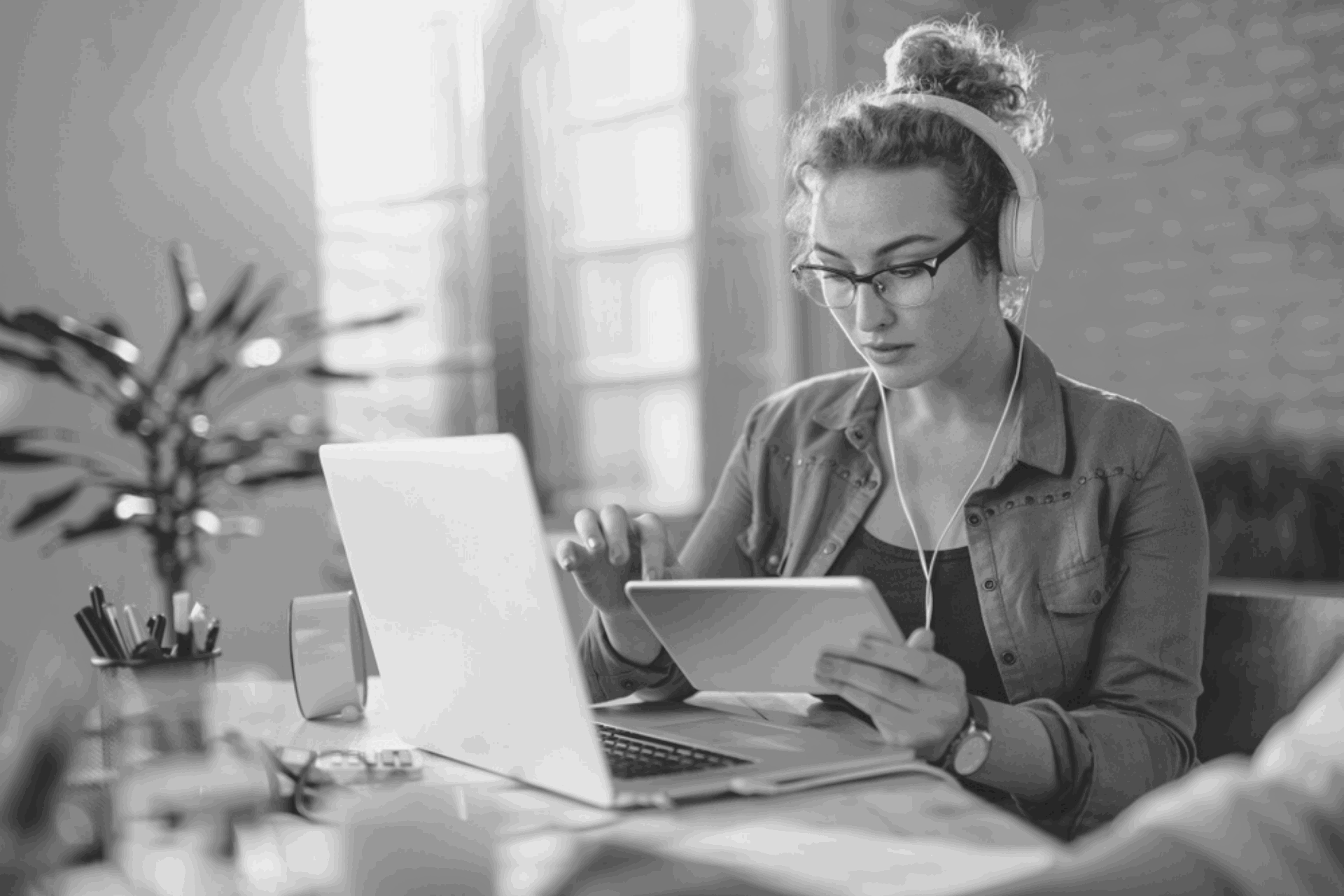 Books, blog posts, videos, experience, all together constitute an entrepreneur's self-education.
However, there's one thing that adds its own distinct value, and that is an eCommerce podcast.
It lets you listen, learn, and grow while you're traveling for work, going for a jog, getting ready, or any other basic activity.
An eCommerce podcast could be a detailed conversation with an industry expert or an audio documentary with captivating stories.
Let's understand the concept of an eCommerce podcast in detail.
What Is An eCommerce Podcast?
A podcast is an audio program like talk radio, that is usually pre-recorded and made available on the web later. It's often released in an episodic way like TV shows, where an episode could last a few minutes to hours.
An eCommerce podcast allows listeners to learn from the experiences of successful entrepreneurs, get tips on different kinds of businesses, learn about how to enter a particular niche or industry, and so on.
The biggest perk of a podcast is convenience; you can listen to it and gather information at possibly any time, where even reading a newspaper or book wouldn't be possible.
Types Of Podcasts
Not all podcasts are the same. There are different ways to approach a podcast, and each one has a different end goal.
Sometimes, podcasts don't stick to a pattern themselves and keep shuffling between styles. Let's look at the different types of podcasts:
Interviews – In this format, the podcast host interviews industry experts or other interesting people. It is usually direct and based on a particular topic based on the podcast's theme.
Conversational format – Though this might seem like an interview, it's more organic and casual than an interview. Instead of stuffing the structure with questions and answers, it is allowed to flow with the conversation.
Educational podcasts – Educational podcasts are informative in nature. The goal of these podcasts is to deliver information directly to the listeners and educate them about a particular topic.
Why Are eCommerce Podcasts Such A Great Idea?
Let's find out why is it such a great idea to listen to eCommerce podcasts.
Learn From eCommerce Experts
Even though anyone can start a podcast, the popular are usually hosted by industry experts like successful entrepreneurs, thought leaders, or marketing experts.
By listening to such podcasts, you could gain valuable insight into the industry and how everything functions there.
It can help you gather the know-how that you had been missing out on by simply listening to people who have already done it.
Some podcasts even allow listeners to ask their questions, providing a great opportunity to get advice from experts.
Search your .Store domain now!
Search for your business name or category. cookies.store or summercookies.store
Discover Industry Trends
Nothing is constant, especially in the volatile world of eCommerce. You will need to make sure that you are updated with whatever is going on, whatever is new, and whatever has become obsolete, to remain in business.
eCommerce podcasts keep you on top of what's going on in the market, with all the necessary updates. Besides providing general information on trends, you can also dive deeper into a particular trend that applies to you.
Listen To eCommerce Podcasts Anywhere
Convenience and accessibility are the biggest perks of listening to eCommerce podcasts.
You don't need to be completely involved like when reading a newspaper or a book, and still, gain all the knowledge you want.
If you have a busy schedule where you are unable to devote time to read or watch something, an eCommerce podcast could fit right in.
Just listen to it when you are doing another chore, traveling, working out, etc.
Choose From A Pool Of eCommerce Podcast Topics
eCommerce is a magnanimous field in itself, and you might not want to learn about each and everything.
But the good thing is that there are podcasts that are based on different topics, niches, industries, etc. and you can just pick the one that talks about your area of interest.
An eCommerce podcast could help you gain knowledge about your field that you might not get from anywhere else.
Besides, you can always increase the number of podcasts you listen to and even from different fields if you are into more than just one yourself.
eCommerce Podcasts That You Should Be Listening To
1. eCommerce Evolution
Hosted by Brett Curry, eCommerce Evolution is a podcast by OMG eCommerce.
Curry interviews industry experts, merchants, and vendors in every episode to provide listeners with valuable information about the eCommerce market. 
eCommerce Evolution is a great podcast for people who enjoy listening to interviews and are intrigued to know about perspectives beyond retailers.
Even though some of it might seem very technical, the diverse viewpoints will gradually give you a good hang of it.
2. eCommerce Conversations From Practical Ecommerce
The Ecommerce Conversations from Practical Ecommerce is a podcast that is primarily focused on success stories.
It also educates listeners about effective leadership and management skills in various aspects of product procurement and placement.
This is a great podcast for entrepreneurs who want to know what worked for successful brands. They will definitely find valuable tips that they can apply to their own businesses.
3. The Fizzle Show Podcast
The Fizzle Show Podcast has been a great source of actionable eCommerce business advice since 2013.
It is dedicated to providing budding entrepreneurs the support they need to achieve their business goals.
Usually, an episode features an interview with an established business owner, where they talk about content marketing, productivity, audience growth, and so on.
New business owners who are really passionate about what they are doing would love this podcast.
Search your .Store domain now!
Search for your business name or category. cookies.store or summercookies.store
4. Mixergy
Mixergy is designed to educate budding entrepreneurs on how to crack interviews at successful enterprises.
The host, Andrew Warner, started Mixergy in the early 2000s which now interviews entrepreneurs who share how they started and grew their businesses.
5. eCommerceFuel
eCommerceFuel Podcast is one of the oldest and renowned podcasts in the eCommerce industry.
Hosted by Andrew Youderian, it covers various topics like brand-specific reports, information on industry trends, tips on building a leadership team, and more.
Besides having a podcast, eCommerceFuel even runs a business development program that has partnered with companies to help them in accelerating growth and implementing best practices.
6. My Wife Quit Her Job
My Wife Quit Her Job is a podcast operated by a married couple who had left the corporate world and entered the eCommerce market.
It is dedicated to people who want to leave the traditional workforce and dive into the eCommerce world as solo entrepreneurs.
Steve Chou, the host of this podcast, provides comprehensive guidance on how to get started and look for growth opportunities.
Even though the podcast is targeted towards newcomers, it does provide information that can help entrepreneurs at all levels.
7. 2X eCommerce
2X eCommerce, the brainchild of eCommerce advisor Kunle Campbell, focuses on how to grow, acquire customers, improve results, in today's saturated market.
This eCommerce podcast covers business success stories and also covers how direct-to-consumer businesses have achieved growth goals.
If you want to know how to overcome the competition and grow your business quickly, this could be a great podcast for you. 
8. eCommerce Minute
Hosted by John Suder and Bart Mroz, eCommerce Minute is a daily podcast that is focused on updates within the world of eCommerce.
They release a seven-minute-long episode every day from Monday to Friday.
Even though the duration is much shorter than regular podcasts, the best part about this is that it's short enough for you to manage time easily.
It's a great podcast for eCommerce owners who want quick and relevant information regularly on a lot of generic yet important topics.
9. Nerd Marketing
Led by eCommerce entrepreneur Drew Sanocki, Nerd Marketing offers comprehensive newsletters, paid conversion courses, free courses, and growth audits, besides the podcast.
Their podcast is a trusted eCommerce marketing podcast that touches on eCommerce topics and business-related content like travel tips.
Nerd Marketing is well suited for both beginners and experienced pros who are interested in learning about light topics from an authentic source.
10. eCommerce Influence
eCommerce Influence is a conversion-centered eCommerce podcast that mixes business profiles with industry strategies and updates to provide extensive access to valuable information.
The podcast page on their site has a great keyword system for easy searching.
The podcast covers a wide range of eCommerce topics, including SEO optimization and hiring practices.
It's really helpful for professionals who want to educate themselves about niche areas by searching for relevant content instantly.
11. Future Commerce
Future Commerce is a retail-focused podcast that focuses on research and media strategies in the industry.
Even though the topics are not as direct as other eCommerce podcasts, it still manages to offer a great outlook on emerging eCommerce trends.
It is a great podcast for experienced eCommerce owners who are looking for specific information on company innovations and high-level strategies.
Its content ranges from general industry news to business or company-specific development.
12. The Jason & Scot Show
The Jason & Scot Show is a great eCommerce podcast that airs weekly. The hosts of the podcast are Jason Goldberg (Chief Commerce Strategy Officer – Publicis Communications) and Scot Wingo (Founder and Executive Chairman -ChannelAdvisor).
The show covers timely news and trends in the world of eCommerce, interviews with industry leaders, and a detailed perspective of key topics about online retail.
If you want to dig into the nuances of eCommerce and know what makes businesses successful, this could be a great weekly listen for you.
The best part about this eCommerce podcast is that it touches on everything from business strategies to technologies along with in-depth and interesting commentary by the hosts.
The dual host structure adds to the value by providing a great opportunity for discussions between two eCommerce thought leaders. 
Search your .Store domain now!
Search for your business name or category. cookies.store or summercookies.store
13. Smart Passive Income
Hosted by Pat Flynn, Smart Passive Income is an offshoot of his successful blog where he helps people in starting their journey of entrepreneurship.
The podcast offers weekly coaching and Q&As for budding entrepreneurs who want to get their business ideas up and running or convert side hustles into a full-fledged business. 
It is best suited for small business owners or entrepreneurs who are just starting out as it can provide the much-needed coaching to get your business off the ground.
14. eCom@One With Richard Hill 
CEO of eComOne, Richard Hill interviews some of the most passionate people in the world of eCommerce in his weekly podcast, eCom@One.
He gets them to talk about the highs and lows of their journey, their secrets to success, and how they scaled their eCommerce sites.
From email marketing to PPC advertising to mental health, every episode has actionable tips and tricks that are sure to help an entrepreneur in improving their eCommerce business.
With full spectrum coverage of online retailing, this eCommerce podcast is great for CEOs, eCommerce professionals, marketers, and entrepreneurs.
15. Core of Commerce
Core of Commerce is a rather direct eCommerce podcast that covers diverse topics related to eCommerce entrepreneurs today.
Each episode has content that is relevant to the transforming state of the industry, including interviews with business experts on topics like building loyalty and branding and how to manage upgrades to popular eCommerce software.
Doesn't matter if you are new or have experience in the field of eCommerce; this podcast would offer something valuable to you anyway.
Since the episodes are not very frequently posted, it's a great choice for people who don't prefer listening to podcasts occasionally.
16. eCommerce Masterplan
Hosted by Chloe Thomas, eCommerce Masterplan provides an actual master plan for everything in eCommerce.
It talks about how to introduce handy tech tools into the business, attract new customers, and save time in operating an online store.
This eCommerce podcast interviews prominent people in the industry who share their thoughts and experiences about teaching tools and techniques.
The advice provided is easy to understand and implement, and helpful in making your business successful.
17. eCommerce Paradise
eCommerce Paradise is an eCommerce resource that focuses on high-ticket dropshipping, offering online courses, turnkey services, private coaching, and a successful podcast.
Their podcast is far more niche than the others out there.
As it serves a specific corner of the market, it could be invaluable for people who operate in this space.
Besides covering high-ticket dropshipping in detail, it also covers general topics like SEO.
Conclusion
An eCommerce podcast is a great tool that provides information in a convenient manner that is easy to digest and can make way amidst the chaos of modern life.
You can just take it with you on your smartphone and listen to it whenever you want.
While podcasts are entertaining in nature, an eCommerce podcast brings along a lot of knowledge and value along with the entertainment element.
Every eCommerce podcast has something different to offer and you need to find out which ones are great for you.
To give you a good start we listed some of the best eCommerce podcasts that are there above.
Search your .Store domain now!
Search for your business name or category. cookies.store or summercookies.store