Guest blogging is a promising content marketing strategy for those who are in the market to gain targeted traffic and relevant backlinks that give them valuable SEO juice.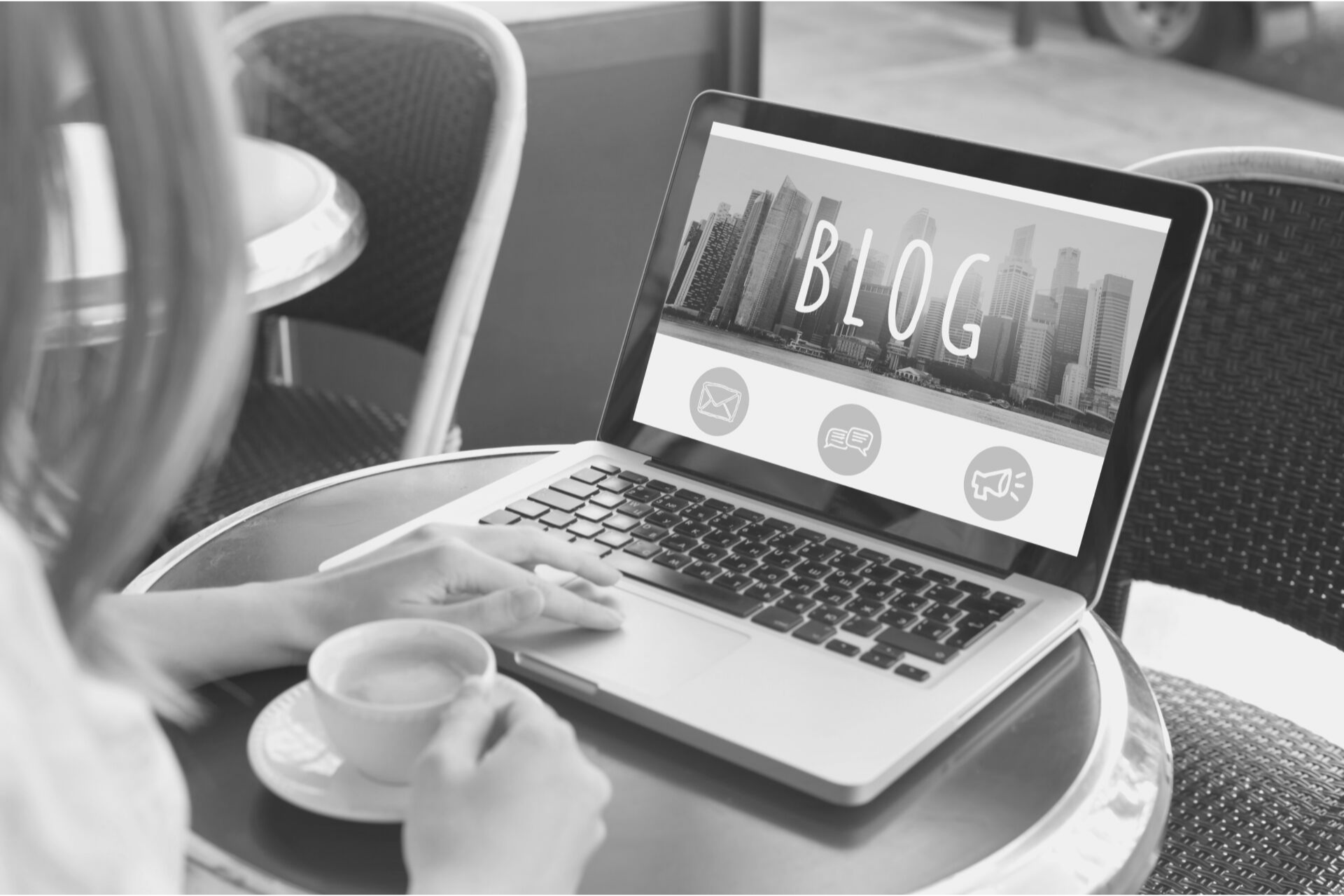 However, back in 2014 Google's former Head of Web Spam, Matt Cutts announced the death of guest blogging saying, 'Okay, I'm calling it: if you're using guest blogging as a way to gain links in 2014, you should probably stop."
Does that mean that guest blogging is dead?
Definitely not!
Thousands of brands and people still use guest blogging as one of the main strategies to build links to their website.
What has changed is the approach towards it.
Today, if you want to get outstanding results from writing guest posts, you need to approach high-quality websites that are sharing truly useful content.
Why Guest Posting?
Guest posting is like a marketing tactic as it's symbiotic where the publishers and writers both benefit from each other. Here's why guest posting is a great idea:
It helps in learning about the entrepreneurial space online and picking up writing techniques from bloggers who are already established in the industry
It provides value to an audience who might not be aware of your brand, giving your the opportunity to grow your audience
It helps in building solid relationships with online industry leaders.
This article targets all the important aspect of guest blogging:
1. How to find relevant targets for guest posting
2. How to write high-quality guest articles
3. How to score backlinks when nothing seems to work
1. How To Find Relevant Targets For Guest Posting
To write a guest post you need a website that is accepting articles and is actively looking for good content.
Beyond that, you'll have to ensure that the website you are pitching to is credible and will help you meet your goals.
There are multiple ways to find such websites.
One of them is using a simple Google search. Run a set of specific queries to find websites that are happy to accept guest posts. For example:
[topic /keyword phrase] + "contribute"
[topic / keyword phrase] + "write for us"
[topic / keyword phrase] + "guest posts"
Another effective way is to find people in your industry who actively guest blog and run a search query with their name.
It will give you access to all the websites where they have contributed and that you can pitch to.
You can even do a quick Twitter search of "guest post" or "guest article" and that can bring up some websites or guest authors that you can go after.
Search your .Store domain now!
Search for your business name or category. cookies.store or summercookies.store
Assessing the credibility of the website
Finding websites is only one part of the equation. The next step is to ensure that these sites are worth your time and will help you meet the goals for your guest blogging strategy.
Pick one of the websites you have identified and use Moz's Open Site Explorer to check the site's domain authority.
The tool will tell you how well your website is regarded on the Internet and if it will provide any value in terms of links and traffic.
Moz's scale is from 0 to 100 and the higher the score of the site, the better the website.
While Moz doesn't specify what score counts as good domain authority, SmartInsights created a pretty helpful chart of the average domain authority in different industries.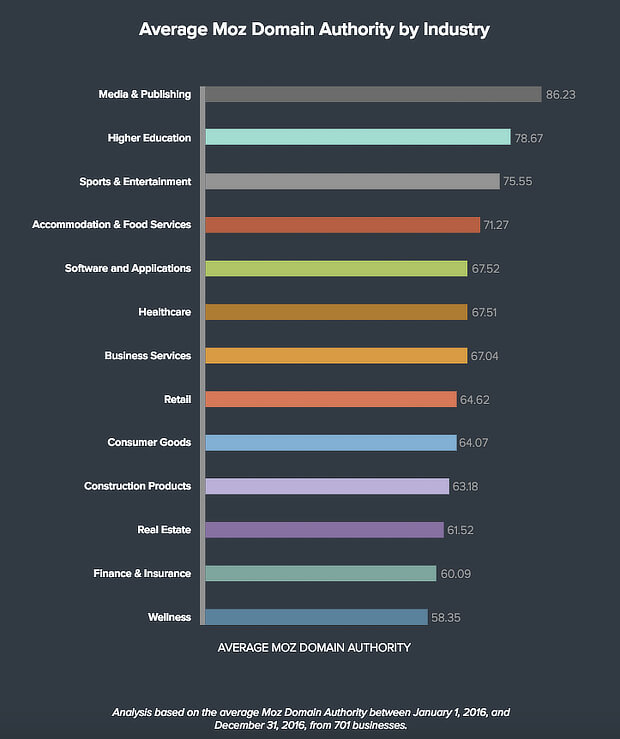 Another trick is to check for the website's email subscribers, the average shares their posts get, their social numbers and average social engagement.
Websites with powerful numbers will put them up in front for you to see. It gives you a good idea of the size of the potential audience you could reach.
2. How To Write High-Quality Guest Articles
As soon as you have a spreadsheet ready with the list of websites to target, you're going to face the next challenge.
How do you come up with that many good article ideas?
It's easy to brainstorm 5-6 good guest post ideas but if you want to scale this activity and get maximum returns out of it, you'll need to generate these ideas weekly.
The following three copywriting techniques can help you with that.

1. The Splintering Technique
One of the key aspects of high-quality blogs is that they are long and detailed.
The lengthy nature of the blog means you need to make it easy for the reader by inserting backlinks to the different sections of the article in the sidebar.
The quick jumps are great for accommodating different kinds of readers who are looking for specific information in the article and don't want to go through the whole thing.
The idea here is to break this lengthy article into "splinters" and create smaller, standalone articles from it.
These splintered posts can then be submitted as guest posts.
The win here is these splintered articles don't take too long to write. All the hard work and research is already in place. It just needs a bit of polishing and the article is good to go.
This is a great overall content marketing strategy.
Quick tips:
Write your hero piece that is detailed and long with all possible information
Break this hero piece into splinters and submit each one of them as a guest article to another blog.
2. The Robin Hood Technique
In case you're not aware of who Robin Hood was; he was a guy who robbed from the rich and gave it to the poor.
Popular blogs are popular for a reason—because they have a ton of high-quality content.
Lesser-known blogs are not popular for the opposite reason—because they don't have a lot of top-notch content.
So, why not be the Robin Hood and "steal" the great content ideas from popular blogs and offer them to the lesser-known blog?
Don't literally steal content from a blog because that could get you in legal trouble.
Instead, take inspiration from that content piece and build on top of it until it has your unique voice.
You'd be surprised to know how open lesser-known blogs are to such high-quality content and you can be sure that they will promote your blog everywhere.
Search your .Store domain now!
Search for your business name or category. cookies.store or summercookies.store
3. The Perspective Technique
You can write about the same topic multiple times with a different perspective. For example, a topic on guest blogging can be about:
Best practices of guest blogging
How to use guest blogging to enhance your SEO
Tips to be good at guest blogging
By changing the perspective slightly, the same idea can be covered in various ways depending on the readers of the website you're submitting the article to.
For each guest post idea that you come up with, you can create a list of unique variations by altering the perspective. This will give you an additional 5-7 unique topics easily.
The best way to write high-quality guest articles is to combine all three techniques:
Use the Robin Hood technique to find popular content ideas
Use the Splintering technique and break that big idea into smaller subtopics
Use the Perspective Technique to cover those subtopics from different angles
3. How To Score Backlinks With Guest Blogging
Learning about how to effectively go about guest blogging is great in theory.
However, as soon as you take all this hard work and great article ideas to websites, you may face a ton of roadblocks.
Websites might turn down your article ideas
They may strip your link from the article without any intimation
The negotiations can go on for months
The links that you get don't add as much value as you'd hoped
These problems are common, and often inevitable. But there are a few hacks you can use to solve them.
i) Be very particular about the quality of your content
This is non-negotiable. The whole objective of guest blogging is to get your writing published on legitimate blogs and get a relevant backlink in the bargain.
Some websites will allow you to publish a low-quality article if you pay them, but they'll never post that article for free.
Paying for guest posts is a direct violation of Google's guidelines and can negatively impact your site's ranking in the search results.
This is especially true when it comes to getting your blogs published on some of the industry-leading blogs.
They care about their reputation and are particular about the articles that go on their website.
So, to make it to the top blogs, you must focus on the quality of your content.
Moreover, this will help you build a portfolio of awesome content published on well-known blogs and you can use these as social proofs in your outreach emails.
Search your .Store domain now!
Search for your business name or category. cookies.store or summercookies.store
ii) Pitch for more blogs than you can handle
As soon as you get on the bandwagon of guest blogging, you'll realize that it's a long process and it may be a while before your article gets published.
So, while you're waiting for a reply, pitch the same topic to other blogs. That way you'll have a queue of bloggers open to publishing your articles.
Meanwhile, if the first website reverts, then tell them the truth:
Sorry, you weren't responding so another blog took the idea. But I'm sure I can suggest some more ideas that will be great for your readers.
Sometimes this little trick makes them eager to publish your next article because they know other bloggers are looking for it.
iii) Write for blog's where you haven't published before
It's no secret that bloggers are cautious about who they give their outgoing links to.
Some do this because they're concerned that Google might punish them for linking out too much or linking to not-so-great websites.
Others think that by not linking at all, they might improve their rankings.
So, don't worry too much if the guest blogging site refuses to accept a backlink to your site.
Editors often don't approve when guest bloggers link to their own web properties. But they don't mind if you link to some other reliable resource.
So, take advantage of that fact and add a backlink to your guest posts on other blogs.
Apply PageRank logic—the more links that point to a page, the stronger a link from that page is.
How To Do An Effective Guest Post Reachout
When you contribute content to another blogger or brand's blog or website, it's called guest posting or guest blogging.
Guest posting becomes easy when you have a list of relevant and niche-related host blogs that you can reach out to.
However, to do this you need to first examine the blog and what it's about so that you can provide a post that will appeal to its audience.
The end goal of your guest post should be to impress their audience enough to visit your blog or online store.
Even after you acquire the list, you need to study their blogs well, review them, get a good hang of their voice and approach, and most importantly, understand their audience.
For effective guest posting, you need to carefully plan, observe, engage, and finally pitch and write thoughtfully to capture host blogs and their audience.
How To Do Guest Posting Reach Outs That Convert?
When you are trying for guest posting, the real challenge is to get the host blog to accept your blog. As easy as it might sound, it takes some time and a well-formulated plan to get it done.
Start by picking host blogs from your list that you think to match well with your writing. Start engaging with them on different touchpoints to show them that you could be an asset to their community.
If you know other bloggers, ask them to introduce you to a few host bloggers to save time and increase your chances. In the beginning, at least do this with five host blogs that you pick from your list.
That way you have enough time to connect with and build a good rapport with them and their audience. We've elaborated on all the steps of the process in detail below to help you.
1. Pick Five Host Blogs From Your Guest Post Opportunities List
First of all, you need a list of host-guest blogs that belong to your niche and match well with your brand. The list could consist of as many as hundreds of possible guest posting opportunities.
Once you have the list, pick five host blogs from it that you can target every week. This will give you the time to carefully study each blog and plan how you want to pitch your guest post to them.
Sometimes the list of your guest posting opportunities could get too long and overwhelming. But this plan will make it easier for you to target them properly, without compromising your pitch.
2. Read Their Posts
Scan through each blog's posts and find out which ones have maximum reach and engagement. Study those and find out what it is about them that they are connecting with the audience so well.
Find out their tone of voice; is it casual or is it interactive with surveys, polls, contests, etc? Note down your findings of a spreadsheet to keep a record of the blog's characteristics.
3. Read Comments On Those Posts
A great way to understand their audience is by reading through the comments on these posts. Observe the commenters who engage the most and how they are interacting with the host bloggers and other readers.
4. Comment On Some Of Their Posts
Find out relevant posts that you can comment on and make sure that you post thoughtful and helpful comments. You will also need to reply to the readers who reply to your comments in order to build healthy discussions and insights among readers.
Making a pitch in the comments section is a Big No. Doing so could make you come across as someone who relentlessly pitches for attention.
Maintain professional conduct and impress the host and the readers with the value you are providing with your comments. Once you have made an impression here, converting the pitch would be a cakewalk.
5. Follow Their Social Networks
Follow the social accounts of the host bloggers and pay heed to the following:
How they are engaging with their followers

How they are promoting their posts and products on social media

How responsive are their followers and if they are engaging well or not
6. Engage On Their Social Networks
Just like you posted comments on their blog, you can grab their attention by engaging with their posts on social media as well. Don't like or comment on every post as that will make you look spammy.
Like, share, retweet, or comment on posts that you genuinely connect with. If done right, social media can help you in building great relations with host bloggers and their social media audience.
7. Review Your Guest Posting Opportunities List
Based on your study and research, review the host blogs that you'd picked. Shortlist the ones that have an interactive and engaging audience and share relevance with your brand.
8. Write A Personalised Pitch
Understanding a host blog and its audience is the first and most important factor in helping you craft your pitch for guest posting.
If you send over a generic pitch that you are sending everyone else, you will probably receive a generic No as the answer too.
Popular host blogs receive hundreds of emails every day asking for guest posting. If you don't stand out with your pitch, you are going to land up in the rejection pile just like the others.
These tips will help you craft a guest post reach out that converts:
Address the blog owner by name

Don't use a generic pitch

Mention the title of the blog post you liked of theirs, and what exactly did you relate to

Share the title and a little brief about the post or idea you want to suggest

Give them a reference of your writing

Take a polite and passive approach instead of a pushy or aggressive one

Proofread your pitch to avoid grammatical and spelling errors
9. Send Your Pitch To The Host Blogger
Once you have followed all the above steps, you are ready to email your pitch to the host blogger. No need to get impatient as it might take some time to receive a response.
If a host blogger really likes your pitch, they might reply soon as well. Either way, do your job and move on to the other host blogs and repeat the process every week.
Final Thoughts
Getting your guest post published is not the last step.
Make sure you engage and make the most of that post by following these simple steps:
Leverage social media by promoting your posts and engaging with the posts that the website where you published your article shares.
Ask your friends and colleagues to share your post.
Respond thoughtfully to the comments on your blog. It's one of the easiest ways to boost your comment count and improve engagement.
Starting an eCommerce business? Build it on a .store domain!
Search your .Store domain now!
Search for your business name or category. cookies.store or summercookies.store