In a previous article, we deep-dived into understanding how you can start selling jewelry online and build an online jewelry store. While getting started is considered the hardest part, sustaining in a competitive environment and building your jewelry brand online is another challenge altogether.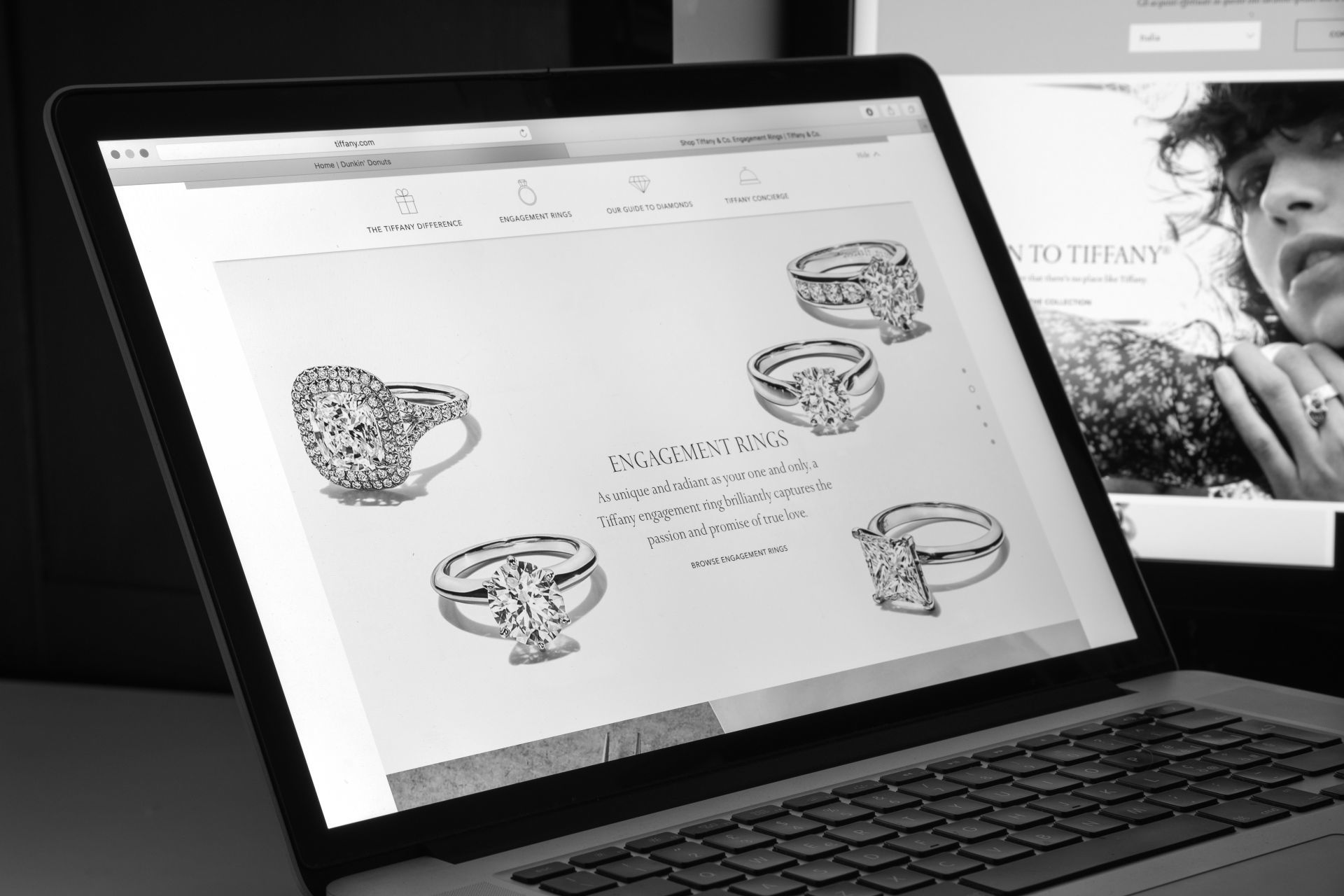 However, it's not all bad. Building your jewelry brand online is a journey of excitement and learning, one that will transform your humble business into a powerhouse authority.
The results are worth the effort.
Search your .Store domain now!
Search for your business name or category. cookies.store or summercookies.store
It's simple. If you want your online jewelry business to find success, you need to build a strong online brand around your business.
This means showcasing your brand's authenticity and building a strong base of potential customers.
To help you get started with building your jewelry brand online, we've put together seven handy tips.

7 Handy Tips To Get You Started With Building Your Jewelry Brand Online
1. Pick A Brandable Domain Name
The first step of starting your jewelry brand online is to create a website or online store for it. And the first step before you build a website or online store is to pick a domain name for it.
Most eCommerce and online businesses overlook the importance of a domain name. This is probably down to the unavailability of meaningful names on traditional domains such as .com or .net.
Not many entrepreneurs and marketers understand the true value of a domain name.
Your domain name is the first touchpoint for people to get an understanding of who you are and what you do.
A complicated or clunky web address will not only confuse people but it will also lend an air of uncertainty about your brand.
Your domain name should invoke the notion that your jewelry business is a trustworthy brand.
The best way to do this is to pick a domain name that is short, memorable, and meaningful and to pair it with a domain extension that is relevant to what you do.
For your online jewelry brand, you can pick definitive names on a new domain extension such as .store.
For instance, if your online jewelry brand is called 'The Diamond Place', then you can opt for www.diamondplace.store or www.thediamond.store instead of www.thediamondplacestore.com.
75+ Jewelry Brand Names on .STORE
2. Build Your Social Media Presence
Creating a strong social media following is the key to get your name out there and get people to understand what you are offering.
Social media has the power to increase your brand's visibility and product discovery, eventually driving in more site traffic and leading to conversion.
In fact, a major chunk of consumers admit to the fact that social media plays a crucial role in their buying decisions and statistics suggest that 95% of millennials follow a brand on social media.
So, it's pretty evident that building a social media presence is the way to go.
The question then is – which social media platform to focus on? Since jewelry is a highly visual product, focusing your social media efforts on platforms such as Instagram marketing and YouTube videos will prove to be effective.
Don't do simple images and videos like most other jewelry brands. Get creative with what you want to show.
Showcase your jewelry products modeled in everyday life, how customers are styling their jewelry, and catchy photography that matches your brand's tone and ambitions.
Think about what unique attributes set you apart from your competitors and find innovative ways to bring those benefits to light.
For instance, if your bracelets sport a unique clasp or design, post high-quality photos or short videos that highlight the utility that it provides and the smart engineering behind it.
Don't miss out on the value and advantages of using features like Instagram Stories or Facebook Live to engage with your audience in real-time.
Done right, these engagements can potentially drive massive conversions and site visits.
3. Invest In Paid Advertising
With millions of brands and businesses having taken to social media, it makes sense to keep a budget aside for carrying out paid ads on Instagram and Facebook or even YouTube.
It's probably the best way to grab people's attention and redirect them to your profile and subsequently, to your online store.
It's a known fact that Instagram or Facebook Ads boost search results on Google. You can even partner with other leading websites to sponsor your content on their website or run display ads.
You can use various analytics tools to understand where your customers spend maximum time, what type of ads have got the maximum engagement, what interests them, and so on.
This information and insight will help you to get an understanding of what type of ads you should run and on which platforms and at what times of the day or week.
Search your .Store domain now!
Search for your business name or category. cookies.store or summercookies.store
4. Harness The Power Of Email Marketing
Despite the immense power of social media, email marketing remains the key to lead generation.
Increasing your list of email subscribers brews a base of customers that can regularly interact with your business thereby leading to increased online sales.
The first step to build a list of email subscribers is to incentivize your users to get them to subscribe to your emails. To do this, you need to offer a benefit to your users that they find hard to pass up.
Study your target customer base to understand what they will value and offer it as a means to get them on your list email subscribers.
The next step is to create content that is personalized and relevant to every individual subscriber. This content should be high-quality and should prompt users to visit your jewelry store.
For instance, you can include periodic suggestions based on previous jewelry searches or previous purchases and you can also send weekly newsletters highlighting new promotions.
5. Indulge In SEO & Content Marketing
Search engine optimization (SEO) is the basis for winning at organic marketing.
It is the most effective long-term investment that you can make towards building your jewelry brand online and to rank above your competitors on search engines.
The key to winning at SEO is to include relevant keywords throughout the content of the website and to publish fresh content regularly.
Include keyword-rich product descriptions and customer testimonials.
SEO and content marketing go hand in hand. In order to ace your SEO strategy, you will need to invest in crafting a content marketing strategy that will help to establish you as a leader in your niche and contribute in your endeavors towards building your jewelry brand online.
Frequently create blog posts that talk about the latest happenings of your industry, trends in the market and designs, any queries and questions that your customer have, and so on.
Content marketing and blogging offers a chance to capitalize on trending long-tail keywords which your jewelry brand can rank for.
Sharing this content actively on your social media handles will enable you to build traction and to gain impressions and engagements.
Search your .Store domain now!
Search for your business name or category. cookies.store or summercookies.store
6. Contribute To Other Sites
Another great way to build your jewelry brand's online presence is to strategically partner with leading sites and contribute content about your brand there.
This will help to increase brand awareness and attract backlinks from credible websites – a necessary ingredient for SEO.
For instance, if you are selling jewelry on other larger retail or eCommerce websites, you can consider contributing guest posts on that website.
You can also contribute value-driven articles on styling and fashion advice on leading fashion magazine websites like Forbes or Vogue, or include articles on wedding jewelry on specific websites.
7. Onboard Influencers
Influencers are holy-worshipped on social media and hence it makes sense to have leading fashion influencers to endorse your product and promote your brand name.
This makes influencer marketing a supremely effective way to start building your jewelry brand online.
Depending on how much you are willing to spend and the size and nature of the jewelry you are offering, you may choose to work with micro-influencers or influencers who enjoy a rather larger following.
When it comes to influencer marketing, your main focus should be to get a strong engagement rate.
Most influencers have anywhere from a few hundred thousand to millions of followers.
The objective should be to reach and engage a major chunk of their fans and entice them to visit your store or social media profile.
You can even have an influencer marketing strategy in place to understand how you will reach out to these influencers, how much you'll pay them, and the duration of the promotion.
Final Thoughts
For your online jewelry business to catapult to success, you will need to work towards building your jewelry brand online.
The best way to do that is to follow the tips we've mentioned above as they will enable your jewelry brand to grow online and transform into a force to be reckoned with.
Starting an online jewelry store? Build it on a .store domain!
Search your .Store domain now!
Search for your business name or category. cookies.store or summercookies.store